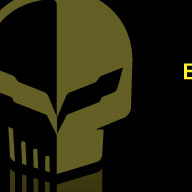 Not already registered?
Register
here.
| | | |
| --- | --- | --- |
| | 2015 Le Mans 24hr: Post Race | |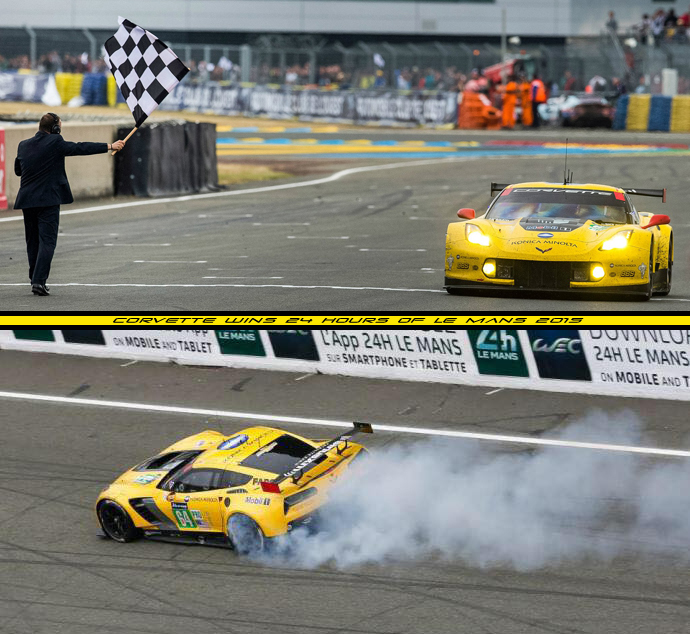 | | |
| --- | --- |
| June 15 2015 10:53:42 PM EST | |
Now that we have all had a chance to sleep and recover from the celebratory hangover, let's review what happened.

The week started off strong on Wednesday. Both cars showed competitive times. Everything was looking positive.

Thursday Jan Magnussen in the #63 Corvette C7.R had a massive accident in the Porsche Curves. The cause: a small rock was caught in the throttle linkage. The car was unable to be repaired on site, so the team had to withdraw the car from the race for the first time ever.

Lucky, Magnussen checked out ok and walked back to the garage himself. Fortunately Pratt & Miller make the safest race cars around. Unfortunately Magnussen seems to be the team's crash tester: Laguna Seca 2009, Le Mans 2011, VIR 2014, and Le Mans 2015.

VIDEO: Jan Magnussen crash at Porsche Curves
Official Team Statement

Magnussen shared, via Skype at the National Corvette Museum viewing party, that the car would take approximately one month to repair. The team plan on shipping the 2014 car, now owned by Larbre Competition, back to the USA to use in the next two rounds of the Tudor United Sportscar Championship: Watkin's Glen and Mosport.

Down to one bullet in the gun, Corvette Racing came together and put all focus on the #64 car for the race. 2nd place was not an option.

Race day: The challengers from Porsche, Ferrari, and Aston Martin all put on a great battle. We seen 3 wide action on the Mulsanne, pit strategy, mechanical failures, accidents, and more.

All of the stars were aligned. The #64 Corvette C7.R was the only car in GTE-Pro to have a flawless race, and took victory by a 5 lap margin.

This marks Corvette Racing's 8th Le Mans win. First LM24 win since 2011. This also completes the triple crown of winning Daytona 24, Sebring 12, and Le Mans 24 all in the same year. Our research shows that this in only the 3rd time in history that this has been done. Shelby-America Inc in 1966 with the GT40, Oreca in 2000 with the Viper GTS-R, and now Corvette Racing in 2015 with the C7.R.

OLIVER GAVIN:
"Winning Le Mans is always a fairy tale story. The way everything turned out over the week, with the No. 63 Corvette having its issues and not being able to start the race¦ the way the team all came together and led us into the race and enabled us to have this fantastic result today, it's just amazing. It's just been one of those days where you're waiting for something to spring up, like another hurdle to come in your way to stop you from taking a victory. It was a spectacular race for Tommy and Jordan and myself - one of those events where you're having great races with Aston Martin, Ferrari and Porsche but in the end we were the strongest car and we ended up coming away with victory. This is my fifth victory here at Le Mans, and I'm absolutely thrilled to come back here with Corvette Racing. I'm a very happy man."

TOMMY MILNER:
"Where do you start? It's unbelievable to be here with Corvette Racing and to represent the U.S., Chevrolet and Corvette at the biggest race in the world. It's one thing to race but it's another thing to actually achieve that. It is something that has happened twice now, but you don't expect that for one thing. It is just an amazing feeling... a sense of accomplishment. All the hard work that goes into coming here, and I only see part of it. The guys at the shop... when you look at all the people here to make this happen, to achieve victory is incredible. I'm just super happy to be here and be a part of it.

"Then you look at the storyline for us for the week. You have the one car that goes out in qualifying. Typically after many accidents you can fix it, but that one was big enough that there was nothing we could do here. To have the whole team band together and work together throughout the weekend and throughout the race to do exactly this and get a win... I know all the No. 3 guys are disappointed a little bit with what happened after qualifying. But this was definitely a team victory. It's very cool to be a part of it. I can't thank those guys enough to be here in what is a difficult scenario. I've been there. It is difficult to be at a track and not racing. But for them to do whatever they can to help us, help the team, help Chevy and help Corvette achieve victory, this was a team win for sure."

JORDAN TAYLOR:
"I'm obviously a little speechless about the whole thing. The goal in sports car racing and almost any kind of in motorsports in general is to win Le Mans. To win with Chevrolet and Corvette Racing as an American driver doesn't get any better than that. Being with the team for four years now, and the last two years only being able to do Le Mans with the team is tough. I have to thank them and Chevrolet for still believing in me and just to come and do this one-off race with them. So in one way I am happy for the team, but in another way it is a good way to say thank you to them."

JIM CAMPBELL, Chevrolet U.S. Vice President, Performance Vehicles and Motorsports:
"I am proud of how the No. 63 and No. 64 drivers, engineers and crew came together to rally around a single Corvette C7.R entry for the race after Thursday's unfortunate incident. They prepared thoroughly and had each others' back all race long. Perseverance, teamwork and execution were keys to the winning effort." "It was very emotional to be in the garage with the entire team when the checkered flag dropped," he added. "The Corvette Racing team simply never gave up. The enthusiasm of the Corvette and Chevrolet owners was overwhelming, and we received messages of support from around the world. The team even did multiple Skype sessions with National Corvette Museum members that were watching the race at the NCM theater. It was also great to see a full Corvette Corral here at Le Mans.

"Racing enables us to transfer leanings from the track to design, engineer and build the best and safest Corvettes for the showroom."

MARK KENT, Director of Chevrolet Racing:
"This victory adds to what already has been a terrific year for Corvette Racing and the Chevrolet Corvette C7.R. Today's win at Le Mans goes alongside our successes in the Rolex 24 At Daytona and Mobil 1 Twelve Hours of Sebring. It shows the depth of our strengths and determination of everyone at Corvette Racing, GM Powertrain Performance and Racing team, and Pratt & Miller. I'd like to commend all of our partners who contributed to our eighth Le Mans victory."

PHOTO GALLERY: 24hrs of Le Mans
VIDEO: Celebratory Corvette Burnout
VIDEO: Race Highlights (20 min)

We would also like to thank all of the fans who participated in the dialog and enjoyed our 24hr Twitter coverage. We wouldn't do it if it were not for you.

| | | |
| --- | --- | --- |
| | 2015 Le Mans Class Victory for 64 | |

| | |
| --- | --- |
| June 14 2015 11:22:36 AM EST | |
| | | |
| --- | --- | --- |
| | 2015 Le Mans 24hrs: Race Info | |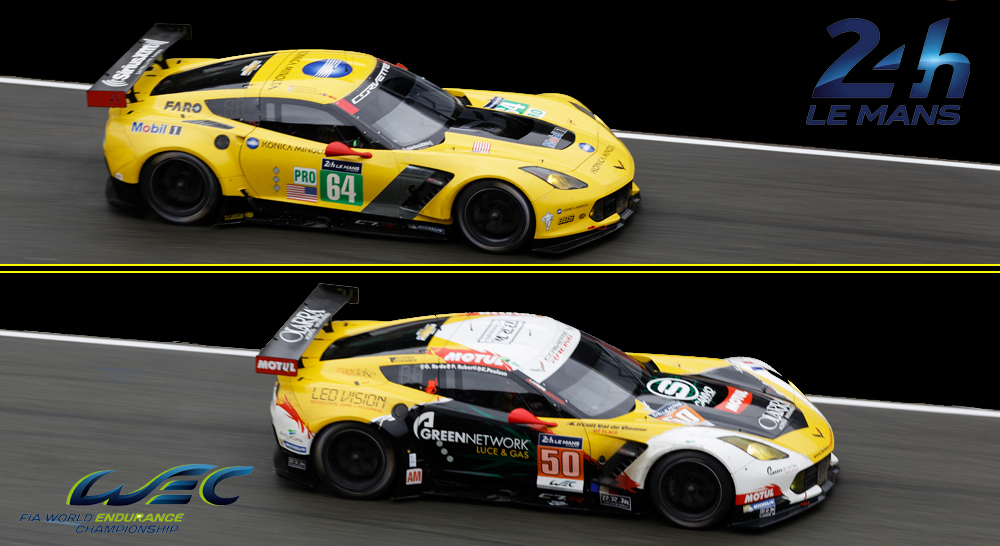 | | |
| --- | --- |
| June 07 2015 04:30:51 PM EST | |
Spotter Guides
Radio Le Mans
Entry List
Schedule of Events
Weather
World Clock

How to Watch:
US TV Broadcast
- Saturday, June 13 (8:30 a.m. to 12 p.m., FOX Sports 2)
- Saturday, June 13 (7 p.m. to 8 p.m., FOX Sports 1)
- Saturday, June 13 (11 p.m. to 12:30 a.m., FOX Sports 2)
- Sunday, June 14 (3:30 a.m. to 7:30 a.m., FOX Sports 1)
- Sunday, June 14 (7:30 a.m. to 9 a.m., FOX Sports 2)
- Sunday, June 14 (9 a.m. to 9:30 a.m., FOX Sports 1)

Online Broadcast Options
-FOX Sports GO (Saturday, June 13 at 8:30 a.m. to Sunday, June 14 at 9:30 a.m.)
-FIA WEC App
-Corvette On-Board Streams

Websites:
-FIA WEC
-24h-lemans.com
-lemans.org (ACO)
-lemans-tv (Dailymotion)


Twitter:
-FIA WEC
-24hrs of Le Mans
Teams
-Badboyvettes
-Corvette Motorsport
-Corvette Racing (GTE-Pro)
-Larbre Competition (GTE-Am)
#63 Drivers
-Jan Magnussen
-Antonio Garcia
-Ryan Brisco
#64 Drivers
Tommy Milner
Oliver Gavin
Jordan Taylor
#50 Drivers
-Gianluca Roda
-Paolo Ruberti
-Kristian Poulsen

| | |
| --- | --- |
| May 28 2015 08:14:35 PM EST | David James |
| | |
| --- | --- |
| May 03 2015 12:25:21 AM EST | |




| | | |
| --- | --- | --- |
| | 2016 Corvette Z06 C7.R Edition | |

| | |
| --- | --- |
| April 27 2015 10:59:37 PM EST | |

Chevrolet has introduced the 2016 Corvette Z06 C7.R Edition – a road-going, track-capable homage to the Corvette Racing C7.R racecars. It's offered in Corvette Racing's signature yellow livery – or black – with coordinated exterior and interior accents.

Only 500 examples of the C7.R Edition will be built and all will include the Z07 Performance Package with carbon ceramic brakes, as well as a specially serialized vehicle identification number. They go on sale later this year.

"Corvette Racing's legacy and technology were significant influences on the development of the Corvette Z06 and the new C7.R Edition honors the direct link between the racecar and the production model," said Harlan Charles, Corvette product and marketing manager. "It also advances Chevrolet's plan to offer special-edition models that offer a unique, personal ownership experiences, which become important parts of Corvette's legacy."

Here is a complete list of content and unique features for the 2016 Corvette Z06 C7.R Edition:

-Offered on coupe and convertible models with 3LZ trim
-Available in Corvette Racing Yellow Tintcoat (new for 2016) or Black exterior colors
-C7.R Edition graphics package
-Z07 Performance Package with Brembo carbon ceramic brakes and Michelin PS Cup 2 tires
-Yellow brake calipers
-Black wheels with yellow accent strip and Corvette Racing-logo center caps
-Visible carbon fiber ground effects package
-New visible carbon fiber hood section
-Grilles and vents finished in Spectra Gray Metallic
-Jet Black leather interior with sueded microfiber accents on the instrument panel and doors
-Sueded microfiber-trimmed Competition Sport Seat, steering wheel and shifter
-Yellow contrast stitching throughout the interior
-Carbon fiber interior trim package (high-gloss)
-Corvette Racing sill plates
-Numbered C7.R Edition interior plaque showing the build number, starting with VIN 700001
-Special indoor car cover with C7.R graphics.

The Z07 Performance Package includes Brembo carbon ceramic-matrix brake rotors that improve braking performance and contribute to greater handling through reduced un-sprung weight. The Z07 package also includes adjustable front and rear aero components for unprecedented aerodynamic downforce and Michelin Pilot Super Sport Cup 2 tires for enhanced grip.

"The Z07 Performance Package enhances overall performance to make the Corvette Z06 one of the most track-capable cars you can buy off the dealership floor and still drive it to work every day," said Charles.

"Combined with the 650-horsepower supercharged LT4 engine, true aerodynamic downforce and performance technologies such as Magnetic Ride Control, Performance Traction Management and an electronic limited slip differential, the Corvette Z06 C7.R Edition offers capability matched only by an elite fraternity of the world's supercars and special-edition exclusivity that is sure to make it an instant collector's item."

Additional updates for the 2016 Corvette Z06 include a new, available front curb view parking camera, power-cinching hatch/trunk latch, new available design packages and more. Complete details are available here.