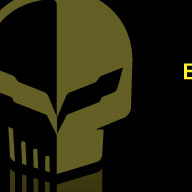 Not already registered?
Register
here.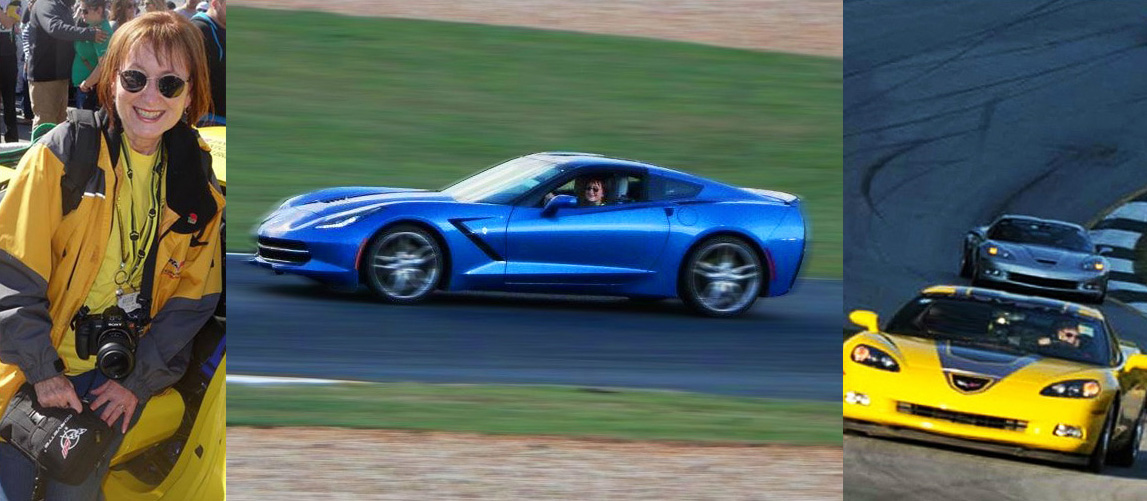 | | |
| --- | --- |
| February 04 2016 11:42:14 AM EST | |
How passionate of a Corvette Racing fan is Charley Robertson?
Pretty damn hardcore in our book:
She currently owns 3 Corvettes, including a C7 Stingray and a special GT1 race edition in velocity yellow and Jake on the hood - for a lifetime total of 10.
She has been a supporter Corvette Racing since 1999 and was present at the grueling and historic 2001 Daytona race, probably the greatest Corvette race of all time.
She is a lifetime member of the National Corvette Museum.
She regularly writes and contributes her racing photos to Vettes Vue Magazine, posts daily to Corvette forums and sends out daily email blasts that keep us all updated on all things Corvette Racing.
And now she's told us that she's going to LeMans in June. That's pretty damn hardcore.
Charley needs an access pass to the Corvette pits so she can continue her excellent and unique reporting -- the question is, how do we make this happen?
| | | |
| --- | --- | --- |
| | 2016 Daytona 24hr: Corvette Scores 1-2 Victory | |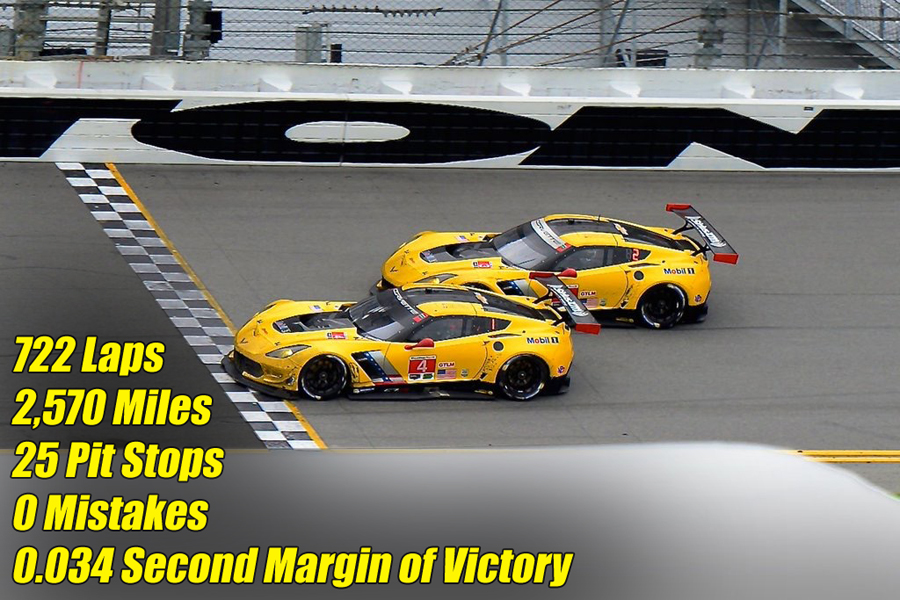 | | |
| --- | --- |
| January 31 2016 10:09:10 PM EST | |
The 2016 Rolex 24 Hours at Daytona was a race for the ages. A new era of GT racing starts here. With all new cars from Corvette, Ferrari, BMW, and Ford, as well as an updated Porsche, the bar was set high and the competition delivered.

In the off-season, the voices of fans and teams were heard. The BoP practices IMSA had been using were not working. As Doug Fehan explained at a Corvette owners meet and greet over the weekend, GM opened up their wind tunnel to IMSA and tests were run on every car (in 2014 trim). The information was shared with all the manufactures, and some not-so surprising results were found. IMSA, with the collaboration with the ACO, have now come up with a new balance of performance process. A new proprietary scrutineering data logger system, mandatory on all GTLM and GTD cars, that measures various things such as RPM, throttle position and airbox pressure. According to Fehan, these data loggers cost approximately $18,000 USD per car. All of the manufactures are extremely excited about this, and judging by the car to car performance from this race...it works very well.

Practice 1, 2, 3 and Qualifying were all in rain conditions. Corvettes qualified 6th and 8th, but never really tried to lay down a lap time due to the conditions.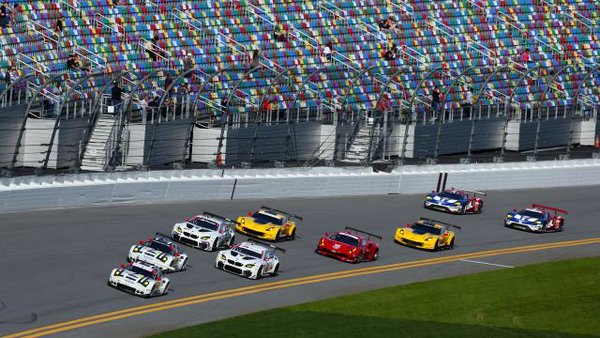 Photo Credit: Marshall Pruett

The hype coming into the weekend was all about Ford's return to GT racing with the new GT. Chip Ganassi Racing has been testing the new car for months, and showed that they had the pace in the pre-race practice sessions, but there is no replacement for real race experience for new car development. Both Fords were out of contention within the first hour with mechanical and electrical issues. Both cars were repaired but continued to have problems throughout the 24hrs.

Throughout the afternoon, evening, and into the night, battles ensued up and down the GTLM field. Every manufacture lead the race multiple times.

At the 13 hour mark, the #3 Corvette was turned around by former team mate Olivier Beretta in the #62 Ferrari, pushing Jan Magnussen back to P8. The #3 team fought back through the night and eventually got back to the front of the field.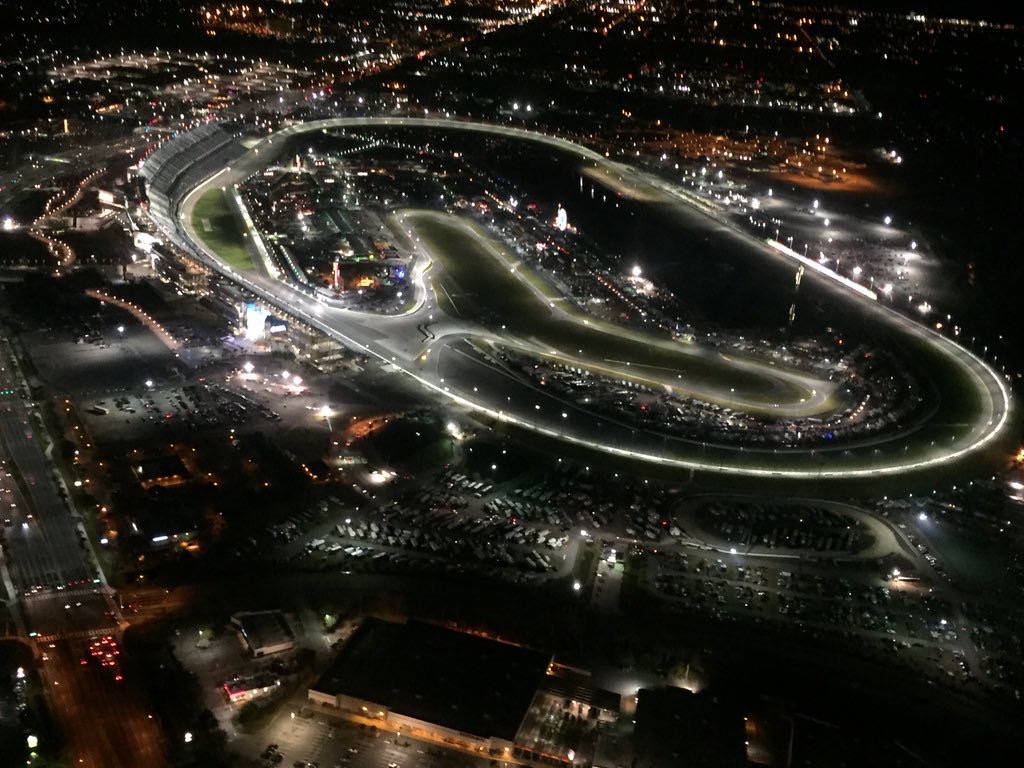 Photo Credit: Jamey Price

Hours 18, 19 and 20, both Corvettes lead the field 1-2 until in hour 20 Marcel Fassler in the #4 Corvette ran the red light at pit exit during a full course caution period, prompting a stop plus 60 second hold penalty. Fassler owner his mistake, took the penalty, and was pushed to the back of the GTLM field, but still on the end of the lead lap. Later a safety car came out, allowing the #4 to close the gap the the rest of the GTLM field, and it was game on.



Photo Credit: Sput Dodge - Sports Car Unleashed

With about an hour left, and final pit stops completed, the race was on between the #912 Porsche, #4 Corvette, and #3 Corvette. Oliver Gavin in the #4 Corvette pushed to the maximum. Earl Bamber in the #912 Porsche involuntarily conceded the position at the International Horseshoe after Gavin snuck the Corvettes nose in and bumped the Porsche wide.

"Earl and I were racing hard. There were a couple times were I slammed on the brakes and I just managed to miss him," Gavin said. "I knew that we were quicker, our car was better, and it was getting towards the end of the race. The gloves are off. I just left my braking a little too late and he opened the door a tiny bit and so I stuck my nose in there."

Antonio Garcia overtook the Porsche as well, putting Gavin in his cross-hairs. The question on everyone's mind wasn't whether or not Garcia could catch him, but would the team let them race when he does.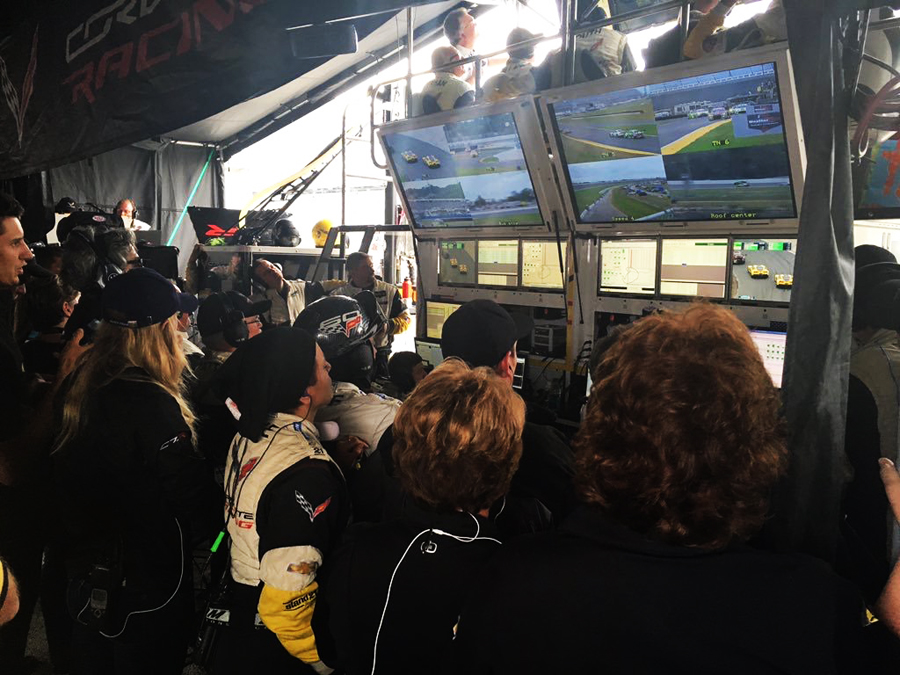 Photo Credit: Corvette Racing (Twitter)

"As soon as he passed the Porsche, I asked my engineer 'how this is going to work?' He tells me that Doug (Fehen) says we're clear to race, as long as we race clean and fair," explained Gavin.

Gavin and Garcia proceed to produce some of the most nail-biting entertainment ever seen on a race track.

"I knew if we had an incident, we'd be in really hot water. But racing Antonio is so much fun, he's hard, he's tough, but he's fair. He's a really good friend, so it's really fun racing against him. It got really close a few times, but it was so much fun. A great race."

Garcia scoped out Gavin for several laps, but was unable to make a pass until he made a bold move on the outside of the front stretch. Garcia made the pass, but overcooked the entry to turn 1 and Gavin slipped right back by. As the checkard flag came out and the Corvettes came around, Garcia made one more desperate attempt on the high side the the Daytona banking. Gavin crossed the finish line with a margin of victory of 0.034 seconds. The closest in class finish ever at Daytona.

"What you saw today was simply the two best road racers in the world with the two best cars in the world," said Doug Fehan. "You'd be hard pressed to find a better race than this. You don't spend 23.5 hours working this hard and not let those guys continue to race."

VIDEO: Gavin & Garcia Battle for Victory at 2016 Daytona 24hr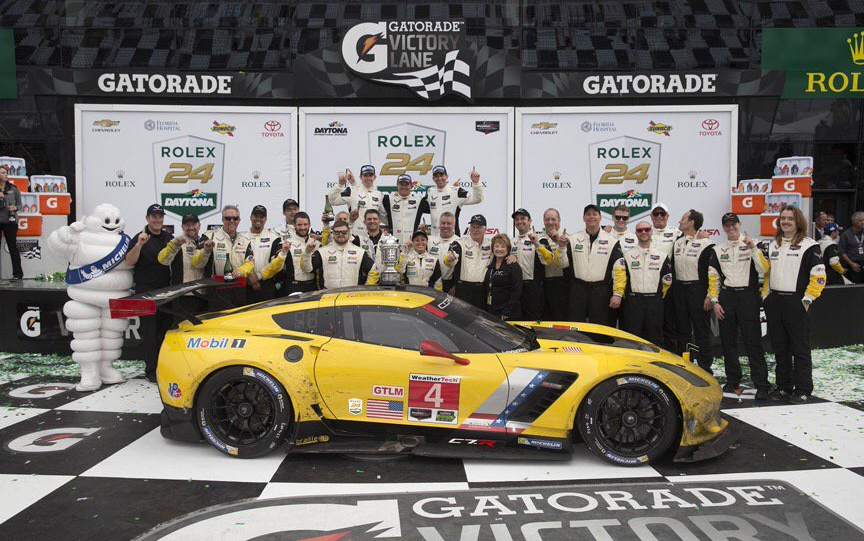 Photo Credit: GM Media
| | | |
| --- | --- | --- |
| | 2016 Daytona 24hr: Race Info | |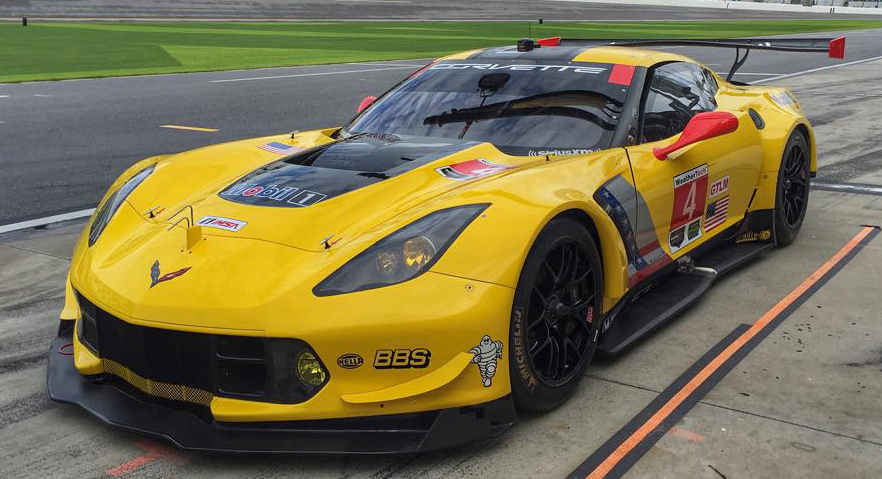 | | |
| --- | --- |
| January 26 2016 11:38:12 PM EST | Tommy Milner |
| | | |
| --- | --- | --- |
| | 2016 - The Cars & The Drivers | |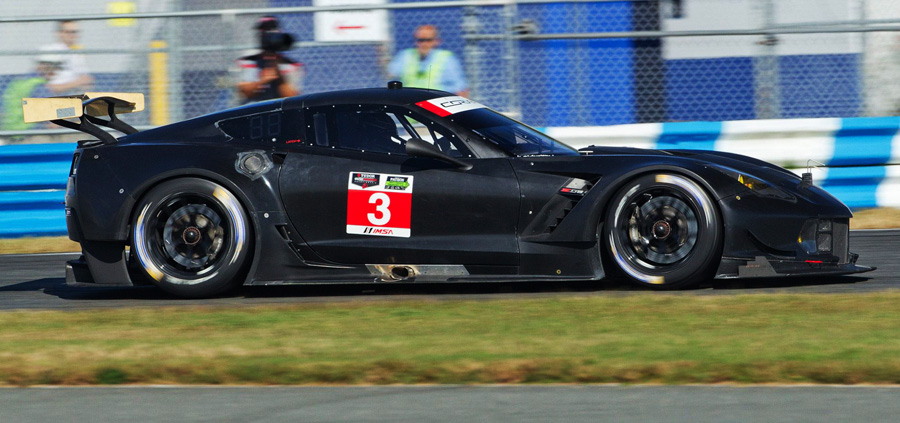 | | |
| --- | --- |
| November 24 2015 01:54:17 AM EST | Super Chevy |
THE CARS:
For 2016, the focus has been to improve the aero package and also incorporate enhanced safety features on the Corvette C7.R. The new car has a more aggressive setup with the addition of a larger front splitter and rear diffuser, along with side rocker splitters and a relocated rear wing. The new rules also require cars to have a roof mounted escape hatch to aid with driver extraction in case of an accident.

PHOTO GALLERY: November Daytona Testing


THE DRIVERS:
For the 2016 IMSA season, the core 4 drivers will remain unchanged. Antonio Garcia and Jan Magnussen will drive the #3, and Tommy Milner and Oliver Gavin will drive the #4.

For Daytona and Sebring, Audi LMP1 ace drivers Marcel Fassler and Mike Rockenfeller will complete the team's lineup.

For Le Mans, Jordan and Ricky Taylor will join the team. This will be Jordan's 3rd year with Corvette Racing and will be defending his 2015 win. Ricky, who has driven at Le Mans twice already, will make his debut if the factory squad.
| | |
| --- | --- |
| November 13 2015 04:23:41 PM EST | |

After the talks of GT convergence failed, the ACO established a new set of regulations for the GTE class to more distinguish the cars from GT3 cars. Among the most visible changes are the larger front splitters, larger rear diffusers, rear wing location, and other minor aero differences. There are also new safety requirements, including a roof hatch and removable driver seat.

The cars will roughly have a 20 horsepower increase and 15 kg weight reduction, roughly equating to a two-second per lap decrease in times at Le Mans.

New for 2016, but not due to the regulations, is turbocharged engines. This adds another level of complexity to the controversial BoP process. IMSA has adopted the ACO/FIA turbo power management system in an effort to fine tune the process.

Existing GTE cars will be grandfathered into the FIA World Endurance Championship for next year, with GTE-Am remaining open to only cars one year or older and old cars being completely phased out by 2018.


Corvette C7.R
5.5L V8
VIDEO: Sebring Test 10-23-15
VIDEO: Sebring Test 11-11-15

Corvette Racing is back with the C7.R with new upgrades for 2016. Still rocking the tried and trusted small block Chevy.


Ford GT LM
3.5L EcoBoost V6
PHOTO GALLERY

The news that shook the automotive world. Ford is back in GT competition 50 years after the historic 1-2-3 overall win at Le Mans. This new car is the first carbon tub GTE car, now allowed by the 2016 regulations. Chip Ganassi Racing will campaign a 2 car team in IMSA and a 2 car team in WEC. All 4 cars will race at Le Mans.


Ferrari 488 GTE
3.9L twin-turbo V8
PHOTO GALLERY

Ferrari returns with the new 488, now with a twin turbo engine. Expect Risi Competizione to be back in the IMSA series and AF Corse in WEC.


BMW M6 GTLM
4.4L twin-turbo V8
PHOTO GALLERY

The Z4 is dead. BMW is now using the M6 platform for all of it's global motorsports. The New GT3 and GTE versions will debut in January 2016.


Aston Martin
4.3L V8
PHOTO GALLERY

Aston Martin most likely will only be seen in WEC this year, but they too will have a revised car. They have opted to go down the refinement route rather than an all new car by focusing primarily on the underfloor aero.


Porsche 911 RSR (GT3 car pictured above)
4.0L flat-six

Instead of building a new car for 2016, Porsche has elected to modify their current car. Each manufacturer is allowed to make one modification, granted the car fits into the defined performance window. Porsche has opted for a larger rear wing for its 2016 model. They will also carry over the same engine.




| | |
| --- | --- |
| November 09 2015 02:30:48 PM EST | |

2015 was a year of highs and lows. Victories at Daytona, Sebring, and Le Mans are the big take aways of the year. Something that hasn't been accomplished by a single team in over a decade.

Corvette Racing may not have taken the IMSA championship, but they did win the North American Endurance Championship.

Of course BoP was the big talk of the season again unfortunately. With the introduction of all new cars, and turbo-charged engines next year, IMSA will have their hands full while the fans remain on edge.


2015 IMSA Tudor United Sportscar Championship - Race Broadcasts
Daytona
Sebring
Long Beach
Laguna Seca
Watkins Glen
Mosport
Road America
VIR
COTA
Petit Le Mans


Corvette Racing has been seen testing, (VIDEO), the 2016 spec C7.R at Serbing. Most notable difference we can see to the extended rear wing and larger rear diffuser, as we have seen on others such as the Ford GT.

The primary squad of 4 drivers, Antonio Garcia, Jan Magnussen, Oliver Gavin, and Tommy Milner will all return in 2016.

More to come...