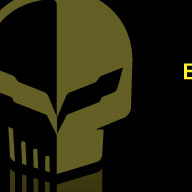 Not already registered?
Register
here.
| | | |
| --- | --- | --- |
| | 2015 VIR: Post Race Comments | |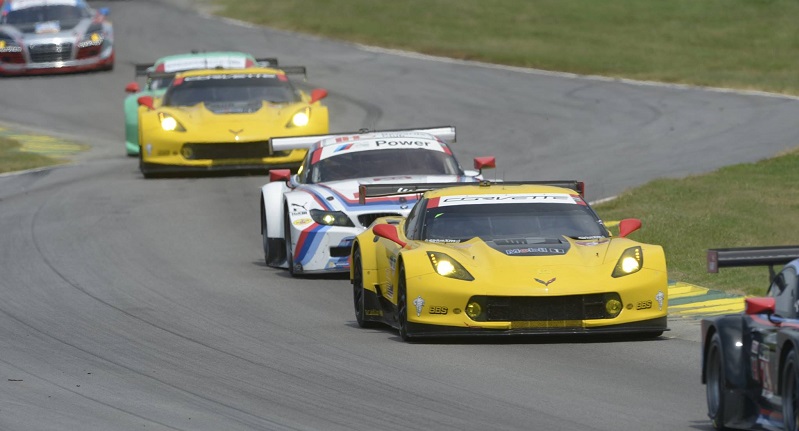 | | |
| --- | --- |
| August 26 2015 11:29:27 PM EST | |
No doubt, we are seeing deja vu all over again. The post-Le Mans break AoP adjustments IMSA has implemented on the GTLM class have put the Corvettes in an uncompetitive position once again. If the AoP does not change again, Corvette Racing and Chevrolet will have been stripped of a chance to win the driver's and manufacture's championship 2 years in a row. Even the usually neutral Fox commentators mentioned the gap in the AoP on multiple occasions.

Porsche has gained the most from this year's mid-season AoP adjustments, dominating the last 3 races and finishing 1-2 in the last 2 races by a considerable margin as far as GTLM usually goes.

As fans, we bleed our teams colors. Some of us at times can get a little more vocal then others. Just understand that we are passionate about the sport, and all we want is for all teams to have a fair chance.

In theory, AoP can make for some excellent close competition, and we have been witness to this for many years. But we have also been witness to AoP gone wrong for one reason or another. As fans we are not privileged to all of the behind the scenes, but in most cases it is political between manufactures and the sanctioning body.

In 2014 it was no coincidence that SRT Viper was given an AoP adjustment advantage. Corvette could do nothing but watch the championship slip away, while in the points lead all season long, and watch Viper win the driver's championship at the last race, then proceeds to exit the sport. The same is taking effect in 2015. Although Porsche is not leaving the sport, they were uncompetitive in the first half of the season, mostly due to their own shortcomings. Now they lead the championship with 2 races to go.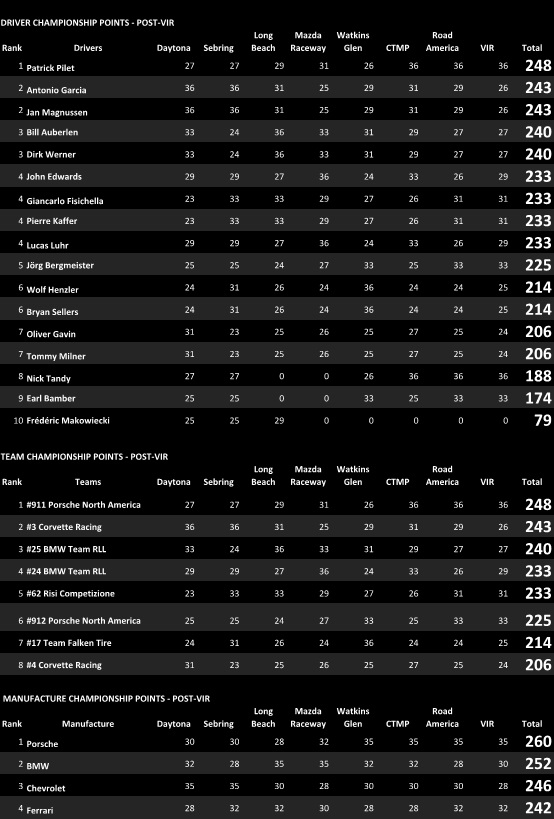 VIDEO: 2015 VIR Qualifying
VIDEO: 2015 VIR Race Broadcast

Next Up: Circuit of the Americas - Sept 17-19 (IMSA & WEC)

| | | |
| --- | --- | --- |
| | 2015 Road America - Results & Other News | |
| | |
| --- | --- |
| August 17 2015 12:43:14 AM EST | |
The #3 crew returned to Elkhart Lake, WI with the freshly rebuild chassis that suffered the massive accident at Le Mans. Jan Magnussen and Antonio Garcia held a 2 point lead over the #25 BMW.

AoP Adjustments: Effective at Road America

The Ferrari and Porsche both had weight and aero adjustments before the race, and it showed on track. They were the quickest cars all weekend.

#3 Corvette qualified P2 and #4 was P5. The top 4 cars in GTLM broke the previous lap record for the GTLM class.

Come race day, it was clear there were two separate races. Corvette vs BMW and Porsche vs Ferrari. There was no chance to keep up with the Porsche's pace, and ultimately Porsche finished 1-2.

The important was with the championship leaders #3 Corvette and #25 BMW. Jan Magnussen and Antonio Garcia fought hard and pulled off a 4th place finish, ahead of both BMWs. The #3 now has a 4 point lead in the Championship.

The #4 Corvette, despite having a flawless run, could only manage a 7th place finish.

ANTONIO GARCIA
"I was excited, and at some points angry (during a battle with the No. 25 BMW) but that is where it is. We are heading into the last few races of a championship. Everybody needs to run as hard as they can. I wouldn't say that I wouldn't have done the same thing, but probably; everybody tries to find the limit on protecting. At the end of the day, we didn't touch, we didn't have any major issues. He got caught on the only way - in traffic. At the end of the day I played my card. Traffic is part of the deal. I really used my opportunity to go by. It was difficult since I got back in the car again on our second stop. During the first stint I was saving my tires just in case, then I was just 100 percent the rest of the way because I needed to pass everybody out there. We went off sequence (on pit strategy) so we probably forced most everyone to follow us, and at the end of the day it paid off. They stayed out as much as they could. I was really aggressive when I needed to be and I passed all those cars when they were on their first two or three laps. To be fair looking at our pace, that was the best result we could achieve today, so I am happy with that."

JAN MAGNUSSEN
"To start out with, things were pretty good. I liked the balance of the Corvette. I lost some time at the end of my stint with pickup on the tires. It might be something I'm doing or something that we need to try and help the car with to not produce all the pickup. I'm not sure why I had it in the warmup and during my stint. It's something we have to work at for the next race."

OLIVER GAVIN
"I think we all drove really hard, and raced hard with the BMWs. It was a little frustrating at the end there. I thought I was racing Lucas (Luhr) pretty fair, but he put me in the grass coming out of (Turn) 13. I'm a little frustrated about that. I didn't think that needed to happen, but sometimes that is just racing. I looked after the tires reasonably well throughout the stint, and really gained some time back on all the guys in front of me. But there were definitely two races in the (GTLM) race today. There was the Corvette/BMW race, and then there was the Porsche/Ferrari race. When it is like that it is just very demoralizing and very frustrating that you can't have everybody in the class racing overall for all of the positions. We knew from the very start that we didn't have a chance to finish on the podium unless either one of the Porsches or the Ferrari broke down. I hope the series is going to look at and do something about that before we go to VIR, otherwise the rest of the season is going to be very frustrating."

TOMMY MILNER
"The track felt pretty good. The sun certainly helps the grip level. We fought really hard with the cars around us. There was some tight and good racing. We really have nothing for the factory Porsches. They're in a different class. We've really done nothing wrong today."

DOUG FEHAN
"Today, I think we did the best with what we had to work with. It was a very interesting race between our Corvettes, the BMWs and the Falken Porsche. I know the fans got a kick out of it. We would have liked to have a higher finish but with the way the cars are situated right now, that wasn't going to be. We advanced ourselves in Driver and Team championship points and gathered points in the Manufacturer Championship. We'll move on to Virginia where we're hoping for a better result. We're going to work hard to achieve that."

Post-Road America Championship Points

VIDEO: Road America Qualifying
VIDEO: Road America Race Boroadcast
VIDEO: Sounds of Speed From Road America
_________________________________________________________________________________

OTHER TEAM NEWS
ARTICLE: Corvette Racing Celebrates 8th Le Mans Win with Detroitís Corvette Team
VIDEO: Corvette Racing - The 24 Hours of Le Mans 2015

OTHER SERIES NEWS:
Rolex/Tudor Sign 10 Year Partnership Extension
WeatherTech Named New Title Sponsor of IMSA SportsCar
2016 IMSA Schedule Announced
Ford GT Tests at Road America
Acura Evaluating NSX GT3 or GTE
BMW M6 GTLM in Build; 2016 TUSC Effort Being Finalized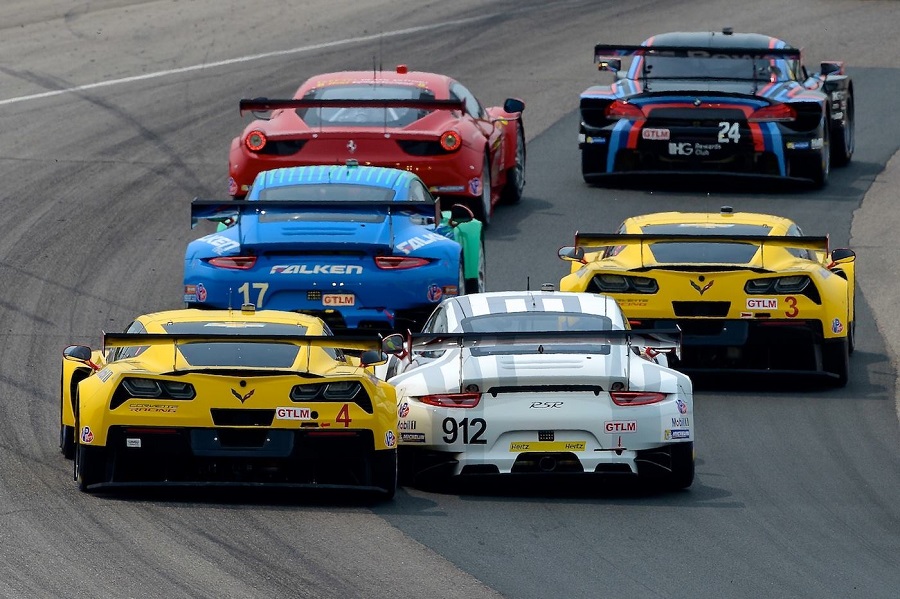 | | |
| --- | --- |
| July 14 2015 03:39:51 PM EST | |
Corvette has had a 73% winning record at Mosport (Canadian Tire Motorsports Park) over the past 15 years. This year the #3 Corvette comes to Mosport tied for the lead in the championship points with the #25 BMW.

The #3 Corvette qualified P5 and the #4 Corvette was P7. The #4 team elected to change all four tires for the start of the race, pushing them to the back of the grid, P8. Both teams claim they missed the setup in qualifying, but from 1st to last in GTLM was only covered by 0.7 seconds.

Race day was another tough fight from the back. Both Corvette were quick, but so was the competition. The GTLM freight train did lap after lap after lap nose to tail, with only the top two leaders occasionally pulling a gap on the rest. The combination of high speeds and equal performance made passing very challenging for anyone.

The #3 had to push hard to make a pass on the #25 BMW (tied in the points), in the last laps of the race to manage a podium finish. This puts the #3 Corvette back into the points lead by 2 points going into Road America. The #3 also managed the quickest GTLM race lap at 1:15.340.

The #4 managed to push from 8th to 5th in a good effort given the circumstances.

This race really shows the level of competition in the IMSA GTLM class, and really shows how important qualifying can be despite how small the margins are.

ANTONIO GARCIA:
"When you have that kind of spread of only three or four tenths from first to eighth at this track, you can't really pass. It was like a train of GTs all around and nobody could slipstream because everyone was pulled by each other. I couldn't really go much faster and I decided to start saving fuel at the end of my first stint. So I think that saved us a lot which enabled us to run four or five laps at the end by myself, and that combined with a good last pit stop gave us an opportunity. If I might have been a second ahead I might have been able to go on to get second place. But third position with what wasn't the best pace we've had this year is a positive result. We just need to focus a little bit more with track position with our Corvette. For sure qualifying is definitely important, especially on this kind of track. If the championship comes down to tracks like Road Atlanta, even if it's a nine-hour race, we definitely need to be up front because then things are much easier."

JAN MAGNUSSEN:
"For sure. I think the BMW ran out of tires at the end there. Antonio did a good job taking care of his. So with two laps to go, Antonio had a chance and he took it. It was fantastic. It puts us back in the points lead. We're very, very happy. It didn't look like that was going to happen at the beginning of the race. It was so difficult pass here. Track position was so important. I felt like in most areas we had an advantage over the other cars. But when you're in traffic and in the draft and you don't have the downforce when you're stuck behind the guys in front of you, it makes it really difficult. To come away here in third place is a fantastic result. It was really a great job by the whole Corvette Racing team."

OLIVER GAVIN:
"There was always traffic in front of us, around us and passing us. It was a matter of managing the car and staying out of trouble. Our Corvette was pretty loose. It wasn't that comfortable to drive and we had a bit of downshift problem. There was some kind of emergency mode the car went into, but we figured that out with Tommy in the car. I was able to sneak by one of the Porsches after he was hit by the DeltaWing, but he was able to get by me when I had one of the issues downshifting. It's a tough day. We didn't have the ultimate pace to race the guys up front. So it was all about maximizing the points we could get today."

TOMMY MILNER:
"We've seen here in the past where it's hard to pass. You can get stuck behind some guys who aren't that much slower than you are, but every tenth counts in our class. In the end, I'm happy with how the race went. I would have loved to have gotten another podium, but I'm proud of how we kept fighting and got our Corvette better for the end. Antonio and I were kind of pushing our way trying to get those BMWs. It's tough here. Passing is not easy for anybody and it's frustrating. I certainly can see that toward the end, I lost quite a bit of time. All in all, our Corvette was good. It was fast. It's just one of those races that now you can look back and go, 'man if we had run a little bit better, we would have been ahead of some of those guys.'' So we'll just use that for more motivation going forward and try to qualify as high as we possibly can."

DOUG FEHAN:
"It was a very interesting race today. Into the program, we simply didn't have the speed to compete at the front. What we did was make up for it with great fuel strategy, tremendous pit stops and at the end had adjusted tire pressures so we could run faster laps. You race till the end, and today Jan and Antonio were beneficiaries of the Corvette Racing mantra, 'Never give up.'"

VIDEO: Qualifying Broadcast
VIDEO: Race Broadcast

-NOTE: The chassis that was damaged at Le Mans has been repaired and will be back racing at the next round at Road America on July 25th. The Larbre Competition car will be shipped back to the team this week. The next round of the FIA WEC is the Nurburgring 6hr on August 30th.
| | | |
| --- | --- | --- |
| | 2015 Watkins Glen - Results | |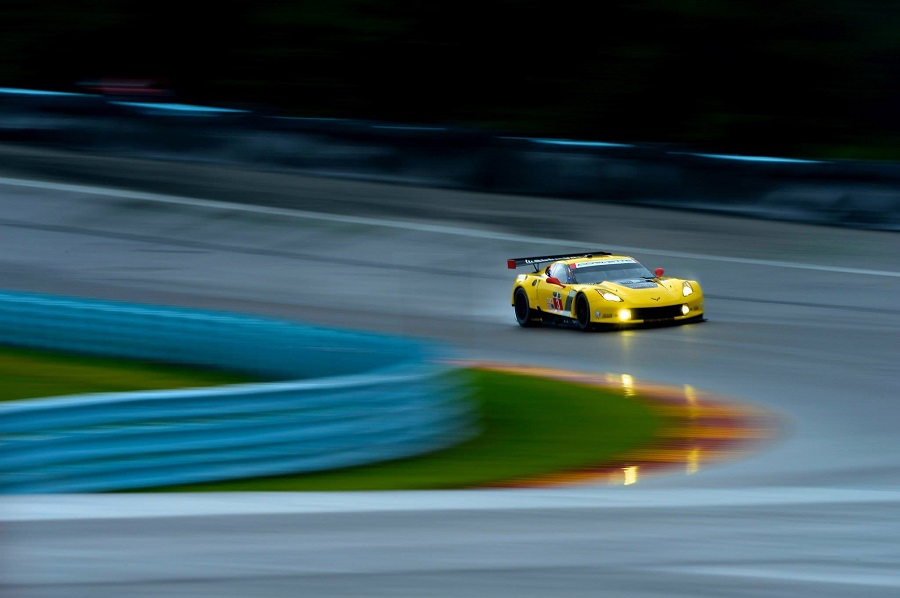 | | |
| --- | --- |
| July 06 2015 02:57:09 PM EST | |
Fresh off the victory at Le Mans, Corvette Racing headed to New York to the famous Watkins Glen International for the 3rd round of the North American Endurance Cup.

With the team's #3 car being rebuilt from the massive crash at Le Mans, the team borrowed the 2014 chassis from Larbre Competition to compete.

It was a soggy weekend at the Glen. Qualifying was rained out, so the starting order was set by championship points. This put the #3 Corvette on pole, and the #4 started P6.

DOUG FEHAN, CORVETTE RACING PROGRAM MANAGER: "The Race Director's decision today was the right thing to do. The safety concerns of qualifying in these conditions far outweighed the benefits. The Sahlen's Six Hours of The Glen is always tough but fun, and our previous practice sessions should be enough to meet the challenge. There is no doubt tomorrow will bring yet another epic endurance battle."

The opening hour of the race was very sketchy with the majority of the field on slicks, and monsoon like rain hit the circuit. The #4 Corvette spun off early and lost a lap in the process. The team fought back and eventually lead the race. In the final hour, the #4 had contact with another car while fighting for grip in the harsh conditions. The from suspension was damaged and unrepairable.

The #3 Corvette ran a great race, but the conditions made it impossible to take chances or make passes. The race was red flagged and eventually ended under caution. The #3 Corvette finished 4th.

ANTONIO GARCIA, NO. 3 CHEVROLET CORVETTE C7.R:
"That was a nightmare, I have to say. There were a few points when it was very scary. When I got in the car, I went out on slicks and then it started to drizzle. After awhile we went on some scuffed wet tires from this morning, which were OK for five to 10 laps before it really started raining hard. I could barely stay on track and aquaplaned before and when I was behind the safety car. For sure this was a race to reanalyze a lot to see what we did good and the mistakes we can learn from. Fourth place out of here means we minimized the damage somewhat, especially for the championship."

JAN MAGNUSSEN, NO. 3 CHEVROLET CORVETTE C7.R:
"I think we got away with a better result than we probably should have. Fourth place isn't too bad right behind the BMW for the championship. It was probably the least amount of damage that could be done. Everyone did a fantastic job this weekend with the 'new' car but we still have a little bit to go. We have some time to think before Canada and hopefully we'll be back to where we need to be. Today was a really difficult race for anyone to make the right decisions at the right time and to adapt to the situations was really difficult. The start of the race was really scary on slicks when it wasn't the conditions for slicks. But we made it through and came home with good points for the championship. We won't be celebrating but it's good enough."

OLIVER GAVIN, NO. 4 CHEVROLET CORVETTE C7.R:
"It was ultimately a disappointing day for us. We had been good and quick, Tommy got us into the lead, and we caught a break on strategy to get ourselves in a good spot. Our Corvette was good in the dry and appeared to be decent in the rain. Unfortunately when I came to take the restart, I came into Turn One around a GT Daytona car and all of a sudden the 911 was on my outside; I knew I was in trouble because in the rain there is grip only on the outside right at the exit. I tried to slow up but when I hit the apex and at the front of the car it felt like I hit glass. It just skated away from me. I never want to have any contact with other drivers. There was just nowhere I could go. Trying to slow the car gently and roll through was my best option. I don't know if I could have done anything else. I'm just really disappointed for the Corvette Racing guys. We got ourselves back in the hunt after being in a difficult spot early on. I'm just sorry we couldn't come out with a result that I felt we deserved."

TOMMY MILNER, NO. 4 CHEVROLET CORVETTE C7.R:
"The conditions today were really tough. From driving in fairly wet conditions on slicks and then on wets was the right call. The series did a great job in letting us race while we could, and then when it was too wet they threw the caution and red flag. From my perspective, they did everything right. The lap where I thought I was going to wreck on the straightaway was when they threw the caution. It was just an unlucky day for us. Ultimately, I'm really proud of our guys for fighting back. We lost a chance early to get us back on the lead lap, but Chuck (Houghton, engineer) and the rest of our team were on the ball to get us back up to third, and I was able to drive to the front. I was happy with that and the strategy in the end. There are a lot of positives to take away from today."

DOUG FEHAN, CORVETTE RACING PROGRAM MANAGER:
"Intense rain always creates havoc and the Sahlen's Six Hours of The Glen was no exception. We had cars capable of winning and led on a couple of occasions throughout the race. But 25 percent great car and 25 percent great team was not enough to get the job done; we simply didn't have the element of 50 percent good fortune in the equation today. So we will go back, evaluate our effort, regroup and get ready for Canadian Tire Motorsport Park - the fastest track on which we compete. That event should be an awesome battle!"

VIDEO: Race Broadcast - Part 1
VIDEO: Race Broadcast - Part 2
VIDEO: Race Broadcast - Part 3

Current 2015 Championship Points - Post Watkins Glen:
1. #3 Corvette - 157pts (Tied)
2. #25 BMW - 157pts (Tied)
3. #24 BMW - 145pts (Tied)
4. #62 Ferrari - 145pts (Tied)
5. #17 Porsche - 141pts
6. #911 Porsche - 140pts
7. #912 Porsche - 134pts
8. #4 Corvette - 130pts

Current NAEC Points - Post Watkins Glen:
1. #3 Corvette - 33pts
2. #4 Corvette - 29pts
3. #17 Porsche - 27pts
4. #911 Porsche - 26pts
5. #25 BMW - 22pts
6. #62 Ferrari - 21pts (Tied)
7. #912 Porsche - 21pts (Tied)
8. #24 BMW - 19pts

| | | |
| --- | --- | --- |
| | 2015 Le Mans 24hr: Post Race | |
| | |
| --- | --- |
| June 15 2015 10:53:42 PM EST | |

Now that we have all had a chance to sleep and recover from the celebratory hangover, let's review what happened.

The week started off strong on Wednesday. Both cars showed competitive times. Everything was looking positive.

Thursday Jan Magnussen in the #63 Corvette C7.R had a massive accident in the Porsche Curves. The cause: a small rock was caught in the throttle linkage. The car was unable to be repaired on site, so the team had to withdraw the car from the race for the first time ever.

Lucky, Magnussen checked out ok and walked back to the garage himself. Fortunately Pratt & Miller make the safest race cars around. Unfortunately Magnussen seems to be the team's crash tester: Laguna Seca 2009, Le Mans 2011, VIR 2014, and Le Mans 2015.

VIDEO: Jan Magnussen crash at Porsche Curves
Official Team Statement

Magnussen shared, via Skype at the National Corvette Museum viewing party, that the car would take approximately one month to repair. The team plan on shipping the 2014 car, now owned by Larbre Competition, back to the USA to use in the next two rounds of the Tudor United Sportscar Championship: Watkin's Glen and Mosport.

Down to one bullet in the gun, Corvette Racing came together and put all focus on the #64 car for the race. 2nd place was not an option.

Race day: The challengers from Porsche, Ferrari, and Aston Martin all put on a great battle. We seen 3 wide action on the Mulsanne, pit strategy, mechanical failures, accidents, and more.

All of the stars were aligned. The #64 Corvette C7.R was the only car in GTE-Pro to have a flawless race, and took victory by a 5 lap margin.

This marks Corvette Racing's 8th Le Mans win. First LM24 win since 2011. This also completes the triple crown of winning Daytona 24, Sebring 12, and Le Mans 24 all in the same year. Our research shows that this in only the 3rd time in history that this has been done. Shelby-America Inc in 1966 with the GT40, Oreca in 2000 with the Viper GTS-R, and now Corvette Racing in 2015 with the C7.R.

OLIVER GAVIN:
"Winning Le Mans is always a fairy tale story. The way everything turned out over the week, with the No. 63 Corvette having its issues and not being able to start the race¶ the way the team all came together and led us into the race and enabled us to have this fantastic result today, it's just amazing. It's just been one of those days where you're waiting for something to spring up, like another hurdle to come in your way to stop you from taking a victory. It was a spectacular race for Tommy and Jordan and myself - one of those events where you're having great races with Aston Martin, Ferrari and Porsche but in the end we were the strongest car and we ended up coming away with victory. This is my fifth victory here at Le Mans, and I'm absolutely thrilled to come back here with Corvette Racing. I'm a very happy man."

TOMMY MILNER:
"Where do you start? It's unbelievable to be here with Corvette Racing and to represent the U.S., Chevrolet and Corvette at the biggest race in the world. It's one thing to race but it's another thing to actually achieve that. It is something that has happened twice now, but you don't expect that for one thing. It is just an amazing feeling... a sense of accomplishment. All the hard work that goes into coming here, and I only see part of it. The guys at the shop... when you look at all the people here to make this happen, to achieve victory is incredible. I'm just super happy to be here and be a part of it.

"Then you look at the storyline for us for the week. You have the one car that goes out in qualifying. Typically after many accidents you can fix it, but that one was big enough that there was nothing we could do here. To have the whole team band together and work together throughout the weekend and throughout the race to do exactly this and get a win... I know all the No. 3 guys are disappointed a little bit with what happened after qualifying. But this was definitely a team victory. It's very cool to be a part of it. I can't thank those guys enough to be here in what is a difficult scenario. I've been there. It is difficult to be at a track and not racing. But for them to do whatever they can to help us, help the team, help Chevy and help Corvette achieve victory, this was a team win for sure."

JORDAN TAYLOR:
"I'm obviously a little speechless about the whole thing. The goal in sports car racing and almost any kind of in motorsports in general is to win Le Mans. To win with Chevrolet and Corvette Racing as an American driver doesn't get any better than that. Being with the team for four years now, and the last two years only being able to do Le Mans with the team is tough. I have to thank them and Chevrolet for still believing in me and just to come and do this one-off race with them. So in one way I am happy for the team, but in another way it is a good way to say thank you to them."

JIM CAMPBELL, Chevrolet U.S. Vice President, Performance Vehicles and Motorsports:
"I am proud of how the No. 63 and No. 64 drivers, engineers and crew came together to rally around a single Corvette C7.R entry for the race after Thursday's unfortunate incident. They prepared thoroughly and had each others' back all race long. Perseverance, teamwork and execution were keys to the winning effort." "It was very emotional to be in the garage with the entire team when the checkered flag dropped," he added. "The Corvette Racing team simply never gave up. The enthusiasm of the Corvette and Chevrolet owners was overwhelming, and we received messages of support from around the world. The team even did multiple Skype sessions with National Corvette Museum members that were watching the race at the NCM theater. It was also great to see a full Corvette Corral here at Le Mans.

"Racing enables us to transfer leanings from the track to design, engineer and build the best and safest Corvettes for the showroom."

MARK KENT, Director of Chevrolet Racing:
"This victory adds to what already has been a terrific year for Corvette Racing and the Chevrolet Corvette C7.R. Today's win at Le Mans goes alongside our successes in the Rolex 24 At Daytona and Mobil 1 Twelve Hours of Sebring. It shows the depth of our strengths and determination of everyone at Corvette Racing, GM Powertrain Performance and Racing team, and Pratt & Miller. I'd like to commend all of our partners who contributed to our eighth Le Mans victory."

PHOTO GALLERY: 24hrs of Le Mans
VIDEO: Celebratory Corvette Burnout
VIDEO: Race Highlights (20 min)

We would also like to thank all of the fans who participated in the dialog and enjoyed our 24hr Twitter coverage. We wouldn't do it if it were not for you.





| | | |
| --- | --- | --- |
| | 2015 Le Mans Class Victory for 64 | |

| | |
| --- | --- |
| June 14 2015 11:22:36 AM EST | |