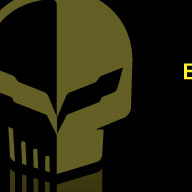 Not already registered?
Register
here.
| | | |
| --- | --- | --- |
| | 2015 Rolex 24hr at Daytona: Results | |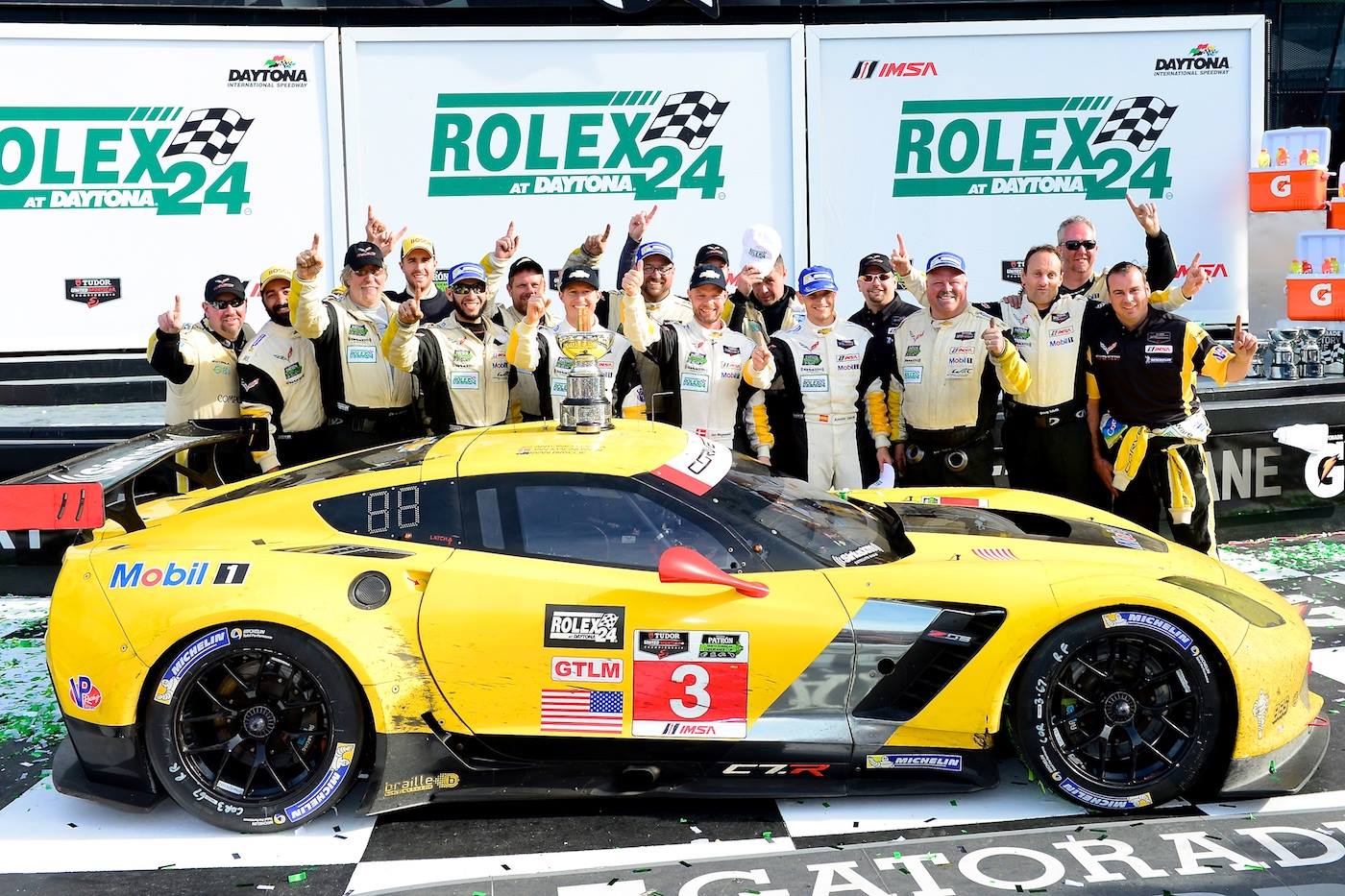 | | |
| --- | --- |
| January 27 2015 04:40:33 PM EST | |
There was a lot of anticipation coming into the 2015 Tudor Championship season. Last year there was a big learning curve by IMSA with the merger of the 2 series, and also Corvette Racing with a brand new car.

First off, we would like to show IMSA major kudos for a much improved show, and no major post race controversy. Everything ran like a well oiled machine. Nice Job!

Second, Corvette Racing once again proved that they are the best in the business. Both cars ran a flawless race apart from some late race contact the #4 made with a couple slower prototypes.

Normally we like to give a detailed breakdown of what happened, but here is the fact. The first 12 hours were very uneventful as far as attrition goes. It was a hard fought, 24hr sprint race from start to finish. The car that had the least amount of issues won.

Ferraris all retired with mechanical issues. Porsches crashed into each other. BMWs both suffered crash dammage. And the Aston Martin had early mechanical problems and was never a factor. It was a dominant victory for Corvette. Let's enjoy this one!

VIDEO: Corvette Racing Celebrates as the #3 Crosses the Finish

ANTONIO GARCIA - #3 CORVETTE C7.R
"I knew that yellow was coming. I don't know how many races we actually won last year. There was that one at Watkins Glen and a few more. I just can't thank the whole team and Corvette fans enough and Corvette Racing and all the guys and these two drivers (teammates). We all did amazing. We stayed out of trouble. The car is in perfect shape. Not a single touch. I think that's what it takes just to keep it alive and bring it home in one piece, that's the thing. So, again, finally I get this watch and I think these guys were waiting a few years for that (laughs).

"I feel like I'm getting to be an expert in these last-minute finishes. We had a few last year and luckily we won all of them. I'm happy about that but there was a lot of pressure. If I had to choose, I'm glad I was in the car because I wouldn't have been able to stand back in the pit box. Everything was perfect. It was 24 hours of fuel, Michelin tires, a few sets of brake pads and windshield tear-offs. And that was it. That's the key. We all drove fast but careful. The thing about this race is that you need to keep everything in one piece for the end. We kept the car alive and working to the end. I'm really excited."

JAN MAGNUSSEN - #3 CORVETTE C7.R
"Well, it's just a fantastic feeling. When you arrive at the race and the car just comes alive and you feel you have a car that you can race with, and you can attack, and you can be fast when you need to; then you've got to be lucky. You've got to stay out of trouble and run to your plan and I think everybody on the No. 3 car, the crew, the drivers and everybody just performed perfectly today. We were fast and made no mistakes and pushed when we had to and relax when we needed to."

RYAN BRISCOE - #3 CORVETTE C7.R
"Yeah, it's awesome. I'm so proud. There's a lot of pressure to do my part and this team just gave us a car that was a dream to drive. We started off struggling a bit I think. The key was Friday in final practice. We really got the car dialed in and it was just so consistent through the whole race and was really, really good. I couldn't wish for better teammates and a better team to race for."

OLIVER GAVIN - #4 CORVETTE C7.R
"Yeah, we've got to take some huge prestige from this today. It was a hard-fought race with many, many competitors. It was wheel-to-wheel action throughout the 24-hour race. Yet, each time you got into the car, you had to be absolutely 100 percent and fully on your game. Otherwise, somebody was going to steal a march on you and take positions away or push your throat. But it really was a 24-hour sprint race with a huge amount of incidents and accidents and lots for the fans to see and great Corvette fans here. It was just amazing to see the Corral and all the people here. It was just wonderful. But also, today will be remembered for the victory and the result for the No. 3 car and the way that Antonio (Garcia) and Jan (Magnussen) and Ryan (Briscoe) drove today. It was fantastic. They just did a phenomenal job. You've got to take your hat off to those guys. It was their day. It was great for the team and great for the program and great for Team Chevy. I'm happy and really thrilled for the team. And I'm very proud of my guys and the way that they kept picking up with the little problems that we had with our machine and fixing them and finding solutions. They were absolutely phenomenal with that. So, once again I've got to say a big thanks to them and I'm proud of my teammates as well, Simon (Pagenaud) and Tommy (Milner) for doing a wonderful job behind the wheel. It's been a tough day, but absolutely very rewarding."

TOMMY MILNER - #4 CORVETTE C7.R
"It was a great finish. A first and third at a tough race like this, for as hard as all of us in our class raced, it's a testament to this team and this car and all these engineers that build a car that we can beat and batter and bruise and every other b-word you can think of, and battle with other cars in our class and come out first and third is amazing. This Corvette was one of the best race cars I've had here, ever. It was super competitive; fast on the straight line, and great on the brakes. It was a lot of fun to drive."

SIMON PAGENAUD - #4 CORVETTE C7.R
"I had a great time. The Corvette Racing team welcomed me really well. It was my first time with Team Chevy as well and it felt really nice. The Corvette C7.R is a beautiful car and very competitive. I was really impressed with the GT class and I understand why Corvette Racing is so involved with this series. It's so competitive between all the competitors and between all the manufacturers. I think it's an incredible series. Every lap, it's one-tenth here and one-tenth there, and you try to gain time on the others. When you end up, after 24 hours, on the podium here in Daytona, you've accomplished something exceptional. And furthermore, Corvette Racing accomplished two cars; and one of them won. So, congratulations to the whole team. I'm very happy to be part of this team and I look forward to Sebring already."


VIDEO: Qualifying
VIDEO: Race - Part 1
VIDEO: Race - Part 2
VIDEO: Race - Part 3
VIDEO: Race - Part 4
VIDEO: Race - Part 5
VIDEO: Race - Part 6
VIDEO: Race - Part 7


PHOTO GALLERY
| | | |
| --- | --- | --- |
| | 2015 Rolex 24hr at Daytona: Info | |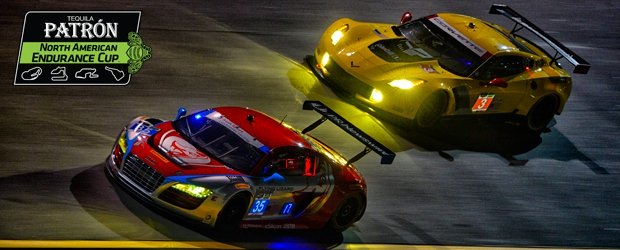 | | |
| --- | --- |
| January 20 2015 02:10:28 PM EST | |
| | | |
| --- | --- | --- |
| | The Original Badboyvette - SR-2 | |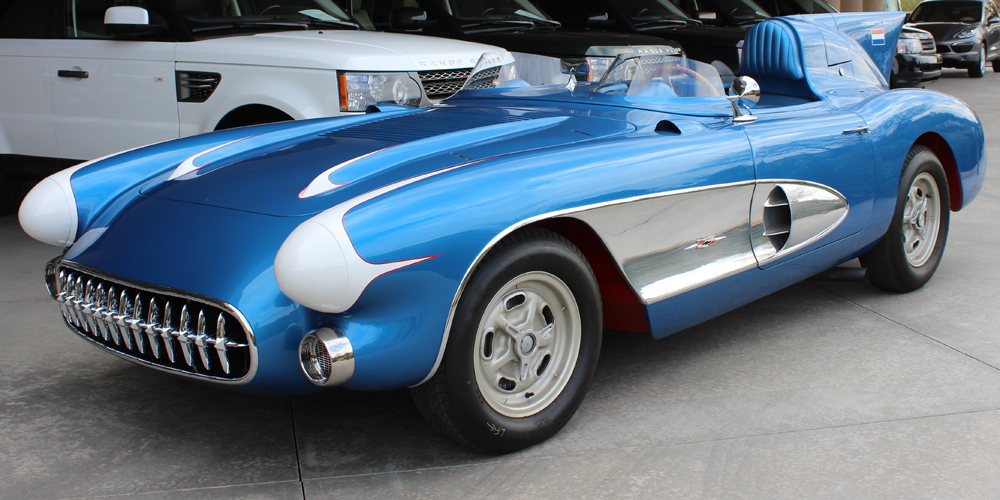 | | |
| --- | --- |
| January 14 2015 11:03:51 PM EST | |
The 1956 Corvette SR-2 was the first ever factory produced Corvette race car. For the first time ever, it is being offered for sale. Asking price? How about $6.885 Million?

A total of three SR-2 Corvettes were made: the original race race, the 2nd one was built for Bill Mitchell, and the 3rd, a show car, went to GM President Red Curtice. The one for sale is #1, VIN #2522.

Early in the Corvette brand's life Harley Earl's son was racing a Ferrari. In 1956 the elder Earl instructed his son to sell the Italian car as GM would assist in building him a serious racing Corvette. Work on the uber vette began in May 1956 with over 17 engineers toiling away. At that time the body was modified and the Sebring Racing brakes and suspension were added. Separate small windshields were added as was a low fin down the middle of the trunk. Additionally, the front was lengthened and the side cove stainless steel was installed. The parking lamps were modified to allow cool air to reach the front brakes. The work was complete by June 13th.

In late June 1956 Jerry Earl drove the car during practice for the June Sprints at Road America in Elkhart Lake, Wisconsin. He eventually spun the car and Dr. Dick Thompson took over the driving duties for the 6 hour race. Afterward Thompson noted that the car needed a diet and more power.

Earl continued to run the car in the Central Region SCCA through 1957. Over the following winter it was morphed into the form we know today. A 331CI fuel injected engine and 4 speed transmission were installed. At this time the larger tail fin was mounted as was the new gas tank filler cap. The SR-2 went on its badly needed diet and had the entire stock interior removed. Fiberglass door panels and lightweight Porsche seats were added as well. Overall curb weight was lowered by 300lbs.

Jim Jeffords, National B/P SCCA Champion in 1958 and 1959, purchased the car on January 28, 1958. The original bill of sale still remains with the car as well as Earl's and Jeffords' original titles and notarized transfers.

----------------------------------------------------------------------------------------------------------------------------------------------

The car was on display in Scottsdale, AZ January 12th-14th. A special cocktail reception was held, and we were lucky enough to attend. Check out all the photos in the link below.

SR-2 Photo Gallery
| | |
| --- | --- |
| January 07 2015 11:37:01 AM EST | |
Corvette Racing's 2015 lineup has been revealed. Antonio Garcia and Jan Magnussen (No. 3) and Tommy Milner and Oliver Gavin (No. 4) will continue as the main 4 full season drivers.

For the Daytona, Sebring, and Petit, Indy Car stars Ryan Briscoe and Simon Pagenaud will join the team.

Ryan Briscoe returns as third driver in the No. 3 car; the Australian raced with Corvette at Daytona, Sebring and Petit Le Mans last year. Simon Pagenaud, now a Chevrolet driver in IndyCar with Team Penske, will join Milner and Gavin in the No. 4.

The 2015 season starts Jan 9-11th at the Roar Before the 24, in Daytona. The Rolex 24h at Daytona is Jan 22-25th.
| | |
| --- | --- |
| December 30 2014 10:48:39 PM EST | |

2014 TUDOR UNITED SPORTSCAR CHAMPIONSHP - RACE BROADCAST

Daytona - Part 1, Part 2, Part 3, Part 4, Part 5, Part 6
Sebring - Part 1, Part 2, Part 3
Long Beach - Part 1
Laguna Seca - Part 1
Watkins Glen - Part 1, Part 2
Mosport - Part 1
Road America - Part 1
VIR - Part 1
COTA - Part 1
Petit Le Mans - Part 1, Part 2, Part 3




| | |
| --- | --- |
| October 08 2014 03:32:44 AM EST | Sportscar 365 |

2014 was a difficult year a number of levels. We had a merger of the two major sportscar racing entities in the United States, new cars, new tracks, new rules, bad calls, no calls, balance of performance...the list goes on and on.

Corvette's mid-season performance adjustment were obviously out of line, and something was going on behind the scenes that no one wanted to talk about. All became clear Monday morning after Petit Le Mans.

Headlines broke that Chrysler was discontinuing the factory Viper GTLM program effective immediately. Earlier in the season when it was announced that they were pulling their 24hr of Le Mans entries, it was clear that a review of the program was happening. Viper sales have been poor since the new Viper was launched, possibly due to the overwhelming competition by the new Corvette Stingray and the upcoming Z06 for a fraction of the Viper's price.

Looking back, it was clear that Chrysler was communicating with IMSA behind the scenes and they wanted to get something out of their investment before pulling the plug. In our opinion, this is very unfortunate for everyone involved. It takes an army of people and countless hours of dedication and time away from family to even get a program of this scale up and running, let alone running smooth and having a competitive car. On average, it takes a manufacture three years to have a well oiled and competitive team. In just it's 2nd full year of competition, SRT Motorsports managed to win the driver's championship. It has to be a shock to the system to have the high of winning the championship, then the next day be told that you are out of a job.

We salute the people like Ralph Gilles who are the true enthusiast who know what it takes and know what a program like this does for a company. Unfortunately in the corporate world, the bean counters almost always win. Those at Chrysler do not understand that despite lack of sales, Viper is the flagship for the entire Chrysler corporation. Corvette does not race just to sell Corvettes. It has taken many years for people like Doug Fehan to convince GM execs that. And when the times got tough, and GM went bankrupt, all of the programs were reviewed and Corvette Racing survived because the ROI was realized. Ask any fans at the race track and they will say they own more that one Chevy product.

Corvette Racing is a 15 year veteran of the sport and is clearly here for the long term. That being said, BoP has been a hot topic this season. It was noted by some fans that were present at the Corvette Corral at Petit that Doug Fehan, although democratic, was clearly aware and unhappy about the BoP situation. Corvette Racing ambassador Ron Fellows was said to be a little less democratic. Either way, a meeting with IMSA is in the works.

Risi Competizione has had a rough couple of years. Since the rise of AF Corse, Ferrari has not given the support to Risi like they once did. And to top it all, the team has had 3 cars destroyed in the past 2 seasons. All of that combined with bad luck and lack of anything in return has caused some stress. To top it all, the pit lane accident at Petit Le Mans, and IMSA's lack of action sent team owner Giuseppe Risi and team over the edge. Risi's decision to continue racing in the IMSA series is now in question.

Team RLL is confident that they will be back for 2015 with the V8 powered BMW Z4s. The current Z4 was always planned to only be used through 2015 with a replacement for 2016. It was just anounced that BMW will be developing a M6 GT3 for its future motorsport program. No word yet if a GTE or Le Mans spec version will be made. They may still be waiting for confirmation of "GT convergence" like many manufacture's.

Falken, winners of Petit Le Mans for the 2nd year running, have just announced that Falken will continue in the Tudor Championship for 2015. They are currently trying to acquire more sponsors for the possibility of running a 2nd car. Something that the team has had as a goal for a few years now. Falken has gained some success over the past few years and is now a serious contender.

Core Autosport took on the huge task of being to new home of Porsche North America's new factory team for 2014. Out of the gate they won Dayton and Sebring and ended up taking home the team and manufacture's championship. Look for them to be a strong force in 2015 as well.

At this time it is unknown if Aston Martin will make a return to IMSA competition. They left the 2014 season early after frustrations with BoP.