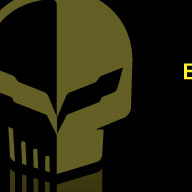 Not already registered?
Register
here.
| | | |
| --- | --- | --- |
| | 2016 Long Beach: Race Results | |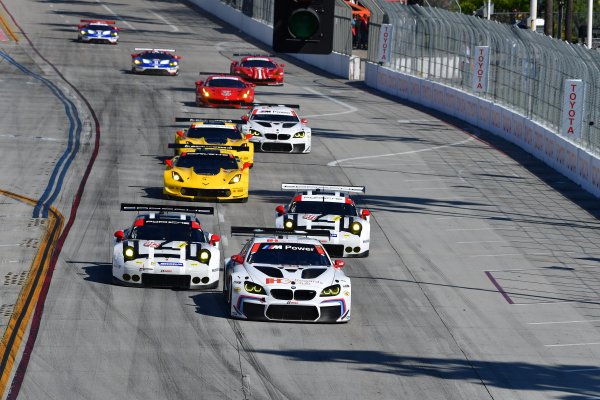 | | |
| --- | --- |
| April 17 2016 09:28:38 PM EST | Michelin Alley |
Coming off winning 36hrs of racing in Florida, Corvette Racing heads to Long Beach for the shortest race of the year.

The Corvettes would start 4th and 5th behind a BMW and both Porsches. Only one second covered the entire GTLM field in qualifying.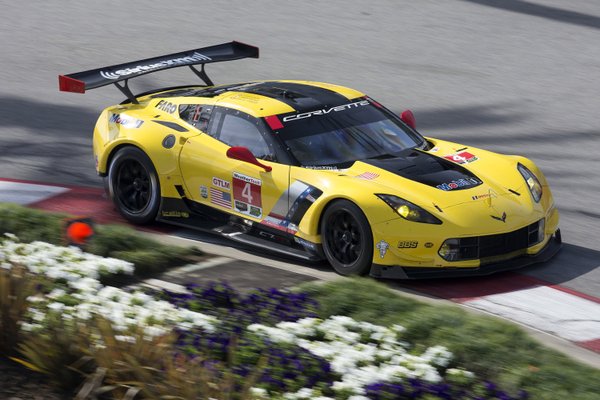 Photo by Team Chevy

After only 25 minutes, Gavin made an early pit stop due to a tire going down. This put the #4 car on the different strategy and they would have to conserve fuel all the way to the end in order to not have to come in a second time.

After everyone else made their pit stops both Porsches received penalties for speeding in pit lane. The leading BMW also received a penalty for taking out an LMPC car. This now put the two Corvettes 1-2 in the GTLM class.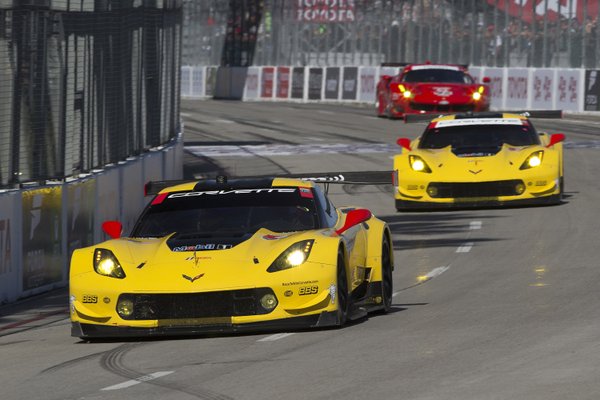 Photo by Team Chevy

With the rest of the GTLM field either having issues, or battling back from penalties, it was looking good for a possible 1-2 Corvette finish.

With 8 minutes to go, Garcia in the #3 spun on his own with the Porsche duo putting pressure on him lap after lap. Garcia later took to Twitter to say "All I said was sorry. That's what happens when you run 18.5's on a 19.0 car." Unfortunately the #3 was not able to finish the race.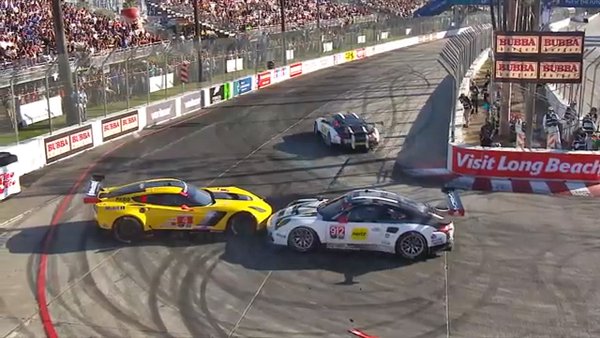 Photo by Fox Sports

THE MUGGING
As the clock was ticking down to the final minutes of the race, Tommy Milner in the #4 Corvette C7.R was leading the race with both Porsche North America team cars on the charge. The Corvette was clearly the slower car, but that does not mean you just give up and let your opponent pass. You fight to the end and do everything in your ability, within the rules, to make life difficult for the cars behind to make the pass. The Porsches were clearly getting anxious. Coming up to the final corner of the penultimate lap of the race, Fred Makowiecki in the #912 Porsche made a dive-bomb move that had a 0% chance of working, in an attempt to make a pass

VIDEO: #912 Assaults #4 Corvette

This dirty piece of "driving" handed the #911 Porsche the win, with the #4 Corvette able to recover and take P2. The #912 did not continue due to the self inflicted damage.

Was it intentional, probably but we will never know for sure. One thing is for sure, it was a disgusting piece of driving.

The only consequence was IMSA handed the #912 a drive threw penalty, but with 1 lap to go and the car unable to finish, it didn't much matter.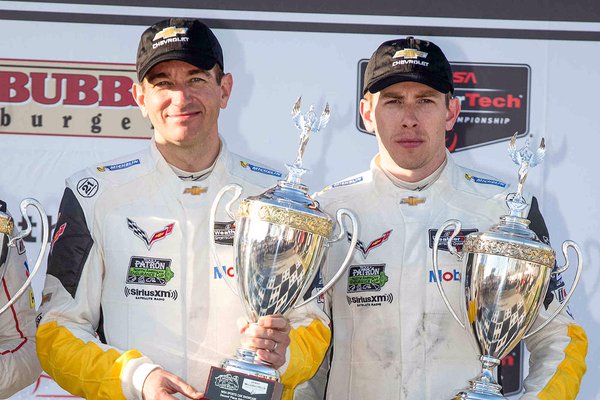 Photo by Team Chevy

TOMMY MILNER
"It was fairly well under control until I had a wiggle apparently. But that wiggle was tiny. I just got wrecked basically. Two Porsches running nose to tail… it is pretty clear what happened there. It is pretty disappointing that this is the kind of racing we have here where we are better than that for sure. At the end of the day, it could have been worse for us for sure. Second place is obviously great points. Oliver was unlucky there with the puncture (tire) and it was looking pretty bleak for us for a little bit there. But with the yellow, and we were at the right spot there at the end. There were very difficult conditions there after the yellow flag I was locking fronts all over the place and then the tires came back and they were good. Then with three to go, just taken out. It's disappointing but certainly could have been a lot worse. I don't mind finishing second if it is clean and it happens the right way, but that wasn't the right way. It hurts a little bit to be second in this case the way it happened, but again, end of the day second place is great points for us. We can hold our heads high that we raced as hard as we could today, the right way."

OLIVER GAVIN
"When you look back on today at the end of the year, we would hope that this was one where we ended up getting a good result from it. Yes, we felt like we got robbed of the victory. But with the puncture we had early-on and the pit stop, Tommy having to save fuel, the tires only lasting for so long… for us to come away with second place is a very good result. If you had asked us after the pit stop or told us we were going to finish second, yes we would definitely taken that. It is a little hard to swallow right now. We felt like we were going to win and we were robbed of that."

ANTONIO GARCIA
"It was not the outcome we expected. We played our strategy very smart. With the pace we had early, we showed that we had to do something. We didn't have the fastest car but we were – up until the yellow – first and second. For sure the first yellow helped the 4 car stay in the lead. The Porsches were very fast. If I wanted to stay ahead of them, I needed to have the best drive of my career. There was a lot of pressure from them. Maybe there were some taps but nothing special. Then a mistake happened. I can't say I felt contact. We probably need to view the replay but I was driving the whole race on the limit. That's what happens on a street circuit sometimes. It can bite you at some point. I wasn't going to be happy to finish second, so I was doing all I could to try to win the race."

JAN MAGNUSSEN
"My stint itself was pretty uneventful. I wasn't really in a position to attack anybody. We started getting messed up in traffic and lost a lot of ground to the guys in front. I tried to take care of things, but it was difficult. We did a bunch of laps in qualifying, so we were starting to lose a lot of performance in the tire. I was just taking care of things."


| | | |
| --- | --- | --- |
| | 2016 Sebring 12hr: Race Results | |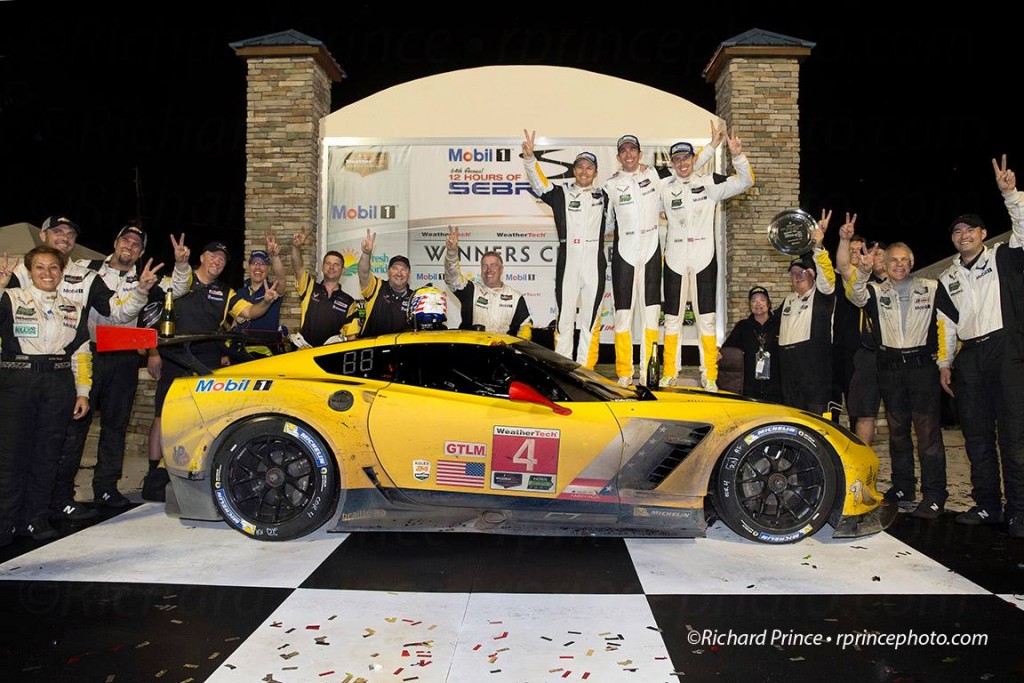 | | |
| --- | --- |
| March 21 2016 02:42:06 AM EST | Richard Prince |
The 12hrs of Sebring is a special race. Some say it is more brutal than 24hrs at any other track. Only the best of the best are successful, and Corvette Racing has seen success and failure at this old airfield.

Corvettes qualified 5th & 6th. The gap between 1st & 10th was 0.7 seconds.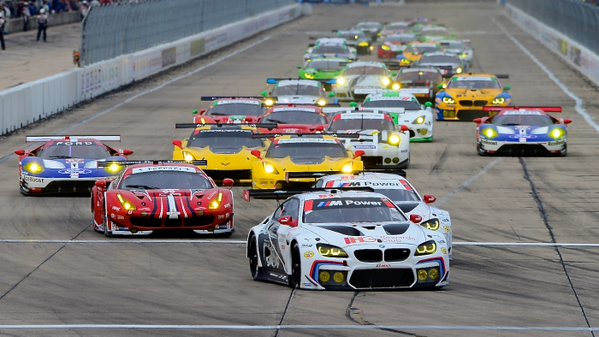 Photo by Jan Magnussen PR

Right out of the gate the GTLM battle was fast and furious. Lead changes between BMW, Porsche, and Corvette were exchanged frequently in the opening hours. Then, for the first time in 18 years, it started raining.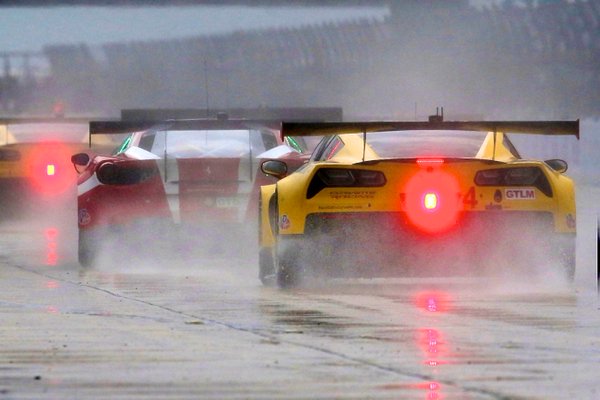 Photo by Michelin

Cars were spinning off at every corner. The #3 Corvette nearly was taken out by an out of control Lamborghini in T17. The rain then slowed but lighting started. The corner workers were called in to safety reasons, therefore the race had to be red flagged.

Once the race eventually got going again, the #4 Corvette, driven by Marcel Fassler at the time, had an off and collected some debris in the front grill. This caused an unscheduled pitstop. Then another unscheduled pit stop for rain tires put the #4 Corvette 1 lap down.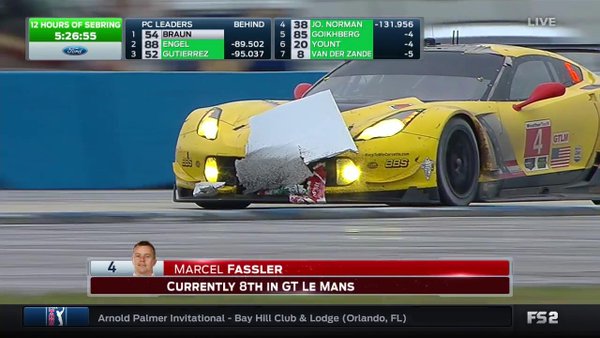 Photo by Fox Sports

A dry line started forming and the battles raged on. Coming down the front straight. the #3 Corvette and #911 Porsche were racing for the class lead. They split a GTD car with the Corvette on the outside dry line and the Porsche on the inside wet line. In the heat of the battle, the driver of the Porsche though he could late brake Jan Magnussen into T1 not realizing he was on the wet side of the track. He had no hope of slowing down and plowed right into the Corvette sending both cars hard into the tire wall in T1.

VIDEO: 2016 Sebring - GTLM Leaders Crash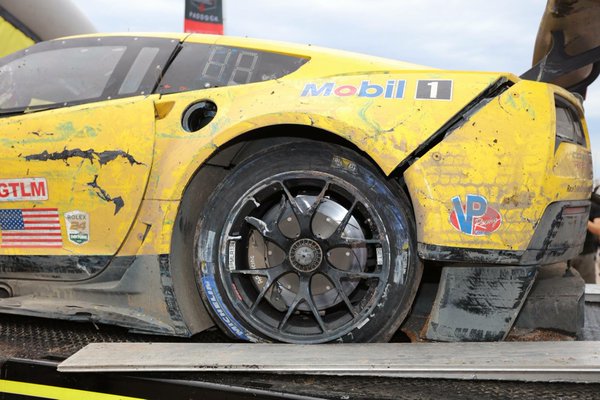 Photo by Nigel Scott Dobbie

Unfortunately for Jan Magnussen, he continues his unintended roll at the Corvette crash test driver, but the good news is both drivers walked away unharmed. The crew got the car back to the garage and in 35 minutes time had the car back out on track, although 36 laps down. The Porsche never returned.

VIDEO: CR Crew Pushes #3 Out of the Garage to the Applause of the Fans

All hope was now on the #4 Corvette. One lap down and in P8, but still strong and fast. The team never gave up and one of many FCY gave then the wave by to get back on the lead lap.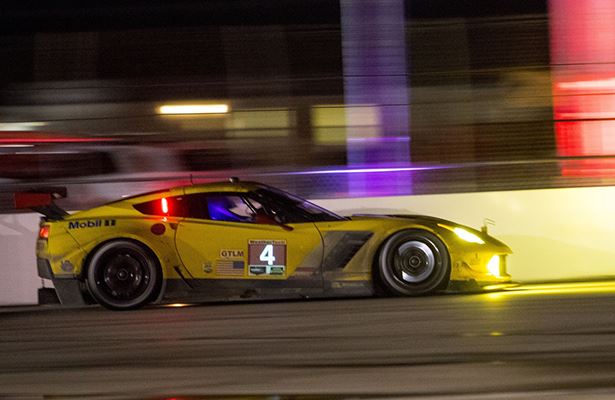 Photo by Sportscar 356

With 2 hours left in the race, Tommy Milner had fought his way back up into the lead of the GTLM class. He was consistently pulling in laps 1-2 seconds faster than any other GTLM car on track, and in changing conditions. Inevitably, caution after caution came out and Tommy's lead, as much as 20 seconds, was taken way time after time. At the end, Corvette Racing had the fastest car on track and Tommy Milner brought the #4 Corvette C7.R home to victory.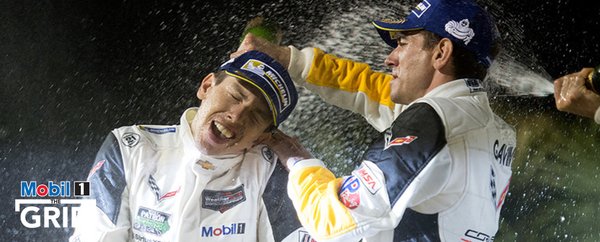 Photo by Mobil 1

-This marks Corvette Racing's 10th victory at Sebring.
-Corvette Racing wins Daytona & Sebring 2 years in a row.

OLIVER GAVIN, CORVETTE RACING NO. 4 CHEVROLET CORVETTE C7.R – GTLM RACE WINNER:
"The race started with us not knowing how much pace we were going to have compared to our competition. Then Tommy and Antonio were both marching up the order. Tommy got us into the lead with some great pit stops and some good strategy. Then of course the rain came and we had that big stoppage. It is hard to get yourself focused after that. But you do, you manage, you use your experience and you get going again. Then it was a case of us battling away with a few things – some bits and pieces – the weather; the track; the tires – generally the conditions. I got the car back onto the lead lap and got us into the top-three. Then I handed it over to Tommy and he did a great, great job. I knew we were in great position toward the end of my double-stint because I knew the car was good because it was underneath me. It had a little bit too much understeer hear and there, but the car was really strong. We got back on the lead lap and into the right spot. Tommy could then get it and run to the end. He had been on fire all day. I had to do exactly what he did at Daytona which was sit on the pit box and watch and fret and pace and stress about is there going to be another yellow. Or is this going to happen, or is that going to happen? Is the last pit stop going to go okay. The guys did a brilliant job with that. Once again the team had their stresses and strain through the day. Jan's accident was huge and it just shows the quality of the car and the ability of the team to bounce back from that and get that car back out. It was just an exceptional day again. This is 60 hours of racing that we've won with the No. 4 with Le Mans, Daytona 24 Hours and now Sebring 12 Hours. That is just amazing that we have been able to do that in the last 12 months. I am very, very happy with the performance of the whole team."

TOMMY MILNER, CORVETTE RACING NO. 4 CHEVROLET CORVETTE C7.R – GTLM RACE WINNER:
"What a race. We sort of had an up-and-down race. At the start of the race the car wasn't super quick, but we weren't bad by any means. We had a great pit stop there and got me to the lead. Then the rain came, and we weren't super good in the wet for sure… third or fourth quick there for sure. But then when I got in at the end, I've NEVER had a race car that good. That Corvette was absolutely on rails and I could tell as soon as I left pit lane… I knew we had a fast race car. I just immediately knew – the car felt that good. We didn't have the best car at the start; certainly not in the rain. But at the end we had THE best car – here we are P1. I'm super, super happy for these guys – for Oliver and Marcel. And for all the crew guys. They have worked super hard. Just fortunate to be in the car there at the end and get to have some fun like that."

MARCEL FÄSSLER, CORVETTE RACING NO. 4 CHEVROLET CORVETTE C7.R – GTLM RACE WINNER:
"It's an amazing day. Two events with Corvette Racing and two wins. I'm really, really happy and proud to be a part of this winning team. Looking back at my race, it was quite tough after the red flag for me. I had never driven this track in the wet, especially not in a GT car. It was difficult to find the right racing line early but after that I felt OK. On my last stop, I think we went a little too early on slick tires, and it was really tricky for me to stay on track. Unfortunately I went off and hit one of the banners. We had to stop because the engine was getting warm. So yes it was a tricky situation. We lost some laps but we were able to catch up. Oliver and Tommy did a really good job out there. It was great to watch them, especially Tommy. I think he did half the race which was really impressive and an unbelievable job. The team made no mistakes and the car was a rocket."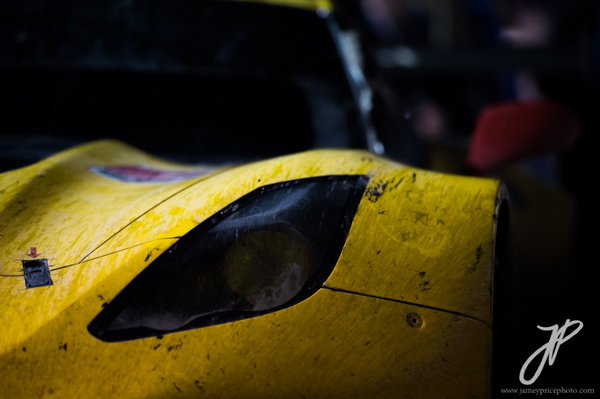 Photo by Jamie Price

ANTONIO GARCIA, CORVETTE RACING NO. 3 CHEVROLET CORVETTE C7.R – FINISHED NINTH IN GTLM:
"When the rain came, it was a bit of a disaster. It looked from the outside like it was hero time for everybody wanting to take a risk. I wasn't that keen on doing that. I stayed safe but aggressive. I stayed in touch with the leaders. But it was very, very difficult with the conditions. I don't know how the 25 BMW and I didn't crash at the end of the straight. We were literally navigating for half a straight not controlling the car at all. I was able to come to a full stop before the tire barriers. Luckily some other GT cars avoided me spinning, and I had a couple of cars going by sideways and backward. I avoided the wall but unfortunately the pits were closed at that time so we had to go back around on slick tires."

JAN MAGNUSSEN, CORVETTE RACING NO. 3 CHEVROLET CORVETTE C7.R – FINISHED NINTH IN GTLM:
"It's such a huge shame for everyone on the team really. The weather made it really difficult out there. The decision to go to slicks felt wrong, but we did it. After awhile I could see that times were coming down and I could build a little bit of temperature. I kept working at it. I don't know how far back we were but we were a long way but caught everything up. We got into the lead there for a very short while and then it all went south. It's a shame. (Kevin) Estre (911 driver) came and apologized. That's nice enough but it doesn't change the fact that we are in here building the car. I really, really feel bad for the crew because man we were fast."

MIKE ROCKENFELLER, CORVETTE RACING NO. 3 CHEVROLET CORVETTE C7.R – FINISHED NINTH IN GTLM:
"Congrats to the No. 4 team. They did a great job. Like Daytona, we had a chance to win the race but it didn't work out. The result for me was quite frustrating, but overall it was great to be with this team and to be part of it. I tried to everything I could. Two races… unfortunately not the results I was hoping for. But in Sebring we had all the chances. We had a car that could win especially in the dry. That is a positive."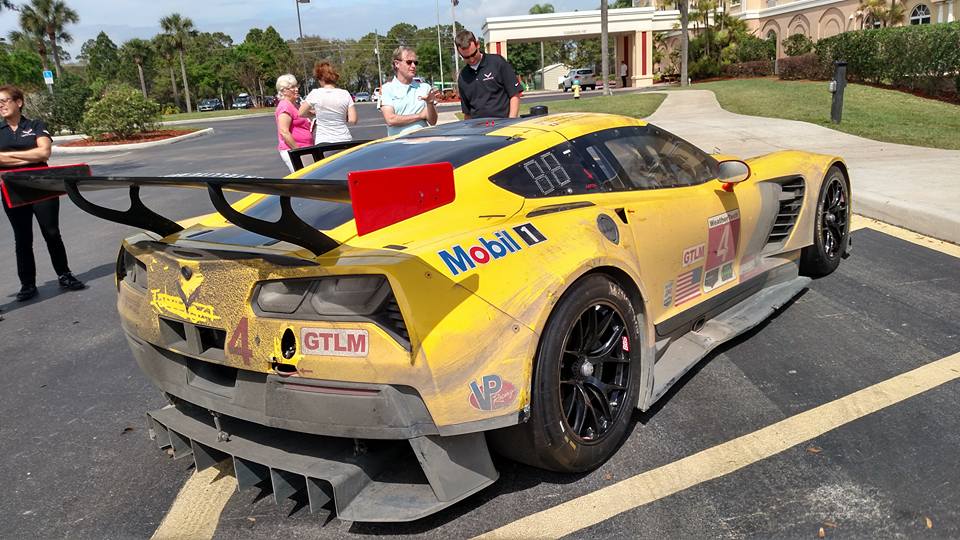 Photo by David James

DOUG FEHAN, CORVETTE RACING PROGRAM MANAGER:
"Just when you think you've seen it all – with the tremendous wins at Le Mans and Daytona – Corvette Racing comes back from one of our cars being taken out and the other two laps down with six hours to go and standing here in Victory Lane… it's a great team, great drivers, tremendous strategy and engineering, flawless execution on pit stops. It takes an effort like this to win in this race and in this series. We're racing against the world's best. And today we demonstrated why Corvette Racing is the world's best GT racing team."

| | | |
| --- | --- | --- |
| | 2016 Sebring 12hr: Race Info | |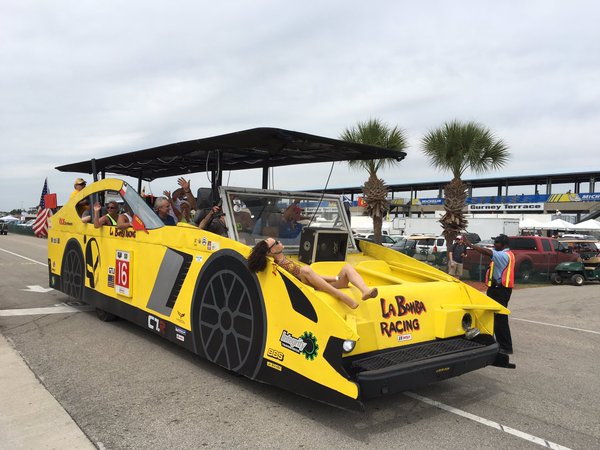 | | |
| --- | --- |
| March 19 2016 02:59:28 AM EST | Michael Goodwin |
| | | |
| --- | --- | --- |
| | With Victory Comes Inspiration | |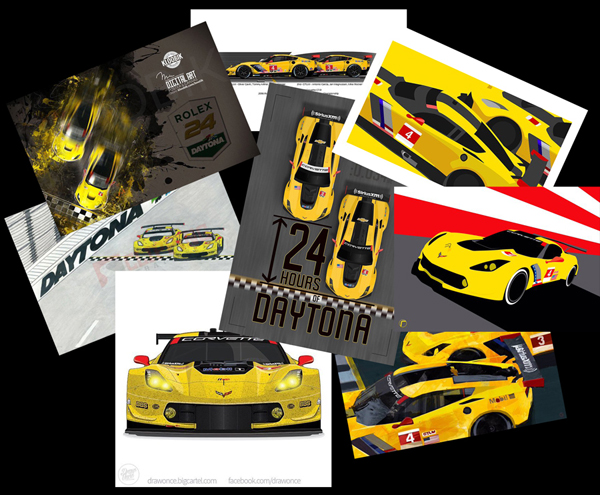 | | |
| --- | --- |
| February 18 2016 09:40:40 PM EST | |
With any great accomplishment or victory, inspiration follows. In this case, Corvette Racing's amazing 1-2 finish at the 2016 Rolex 24hr inspired many artists to recreate the moment using their media of choice.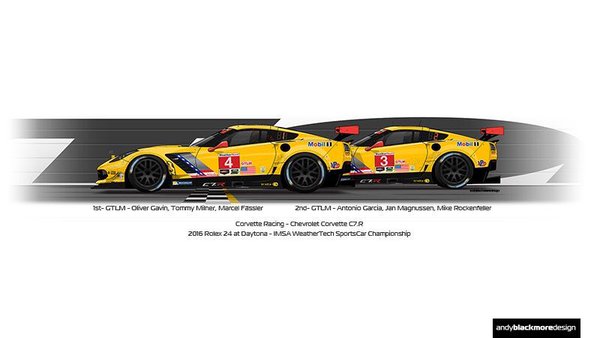 Artist: Andy Blackmore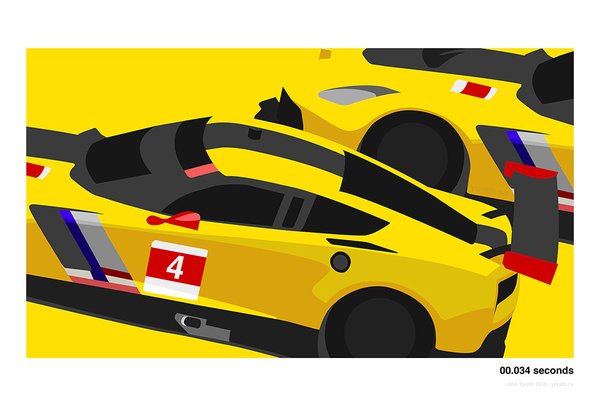 Artist: Jake Yorath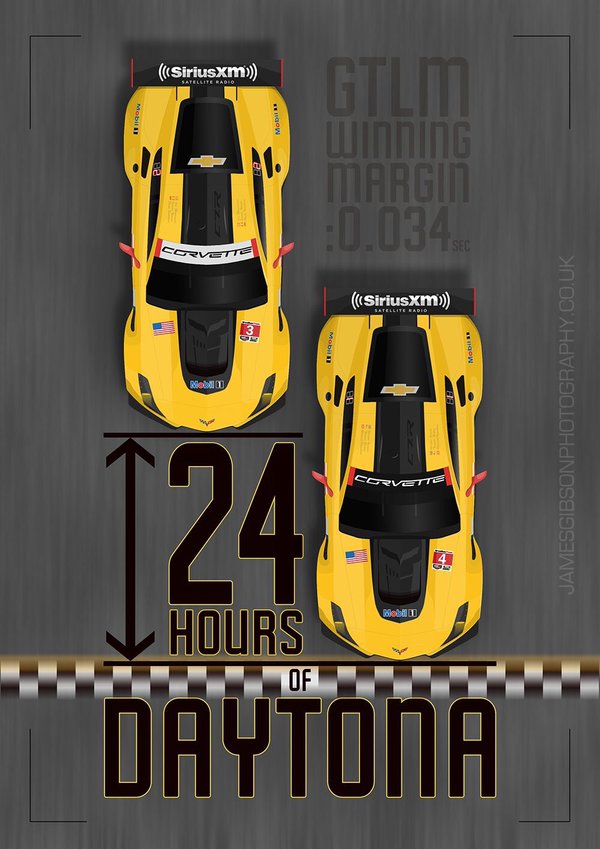 Artist: James Gibson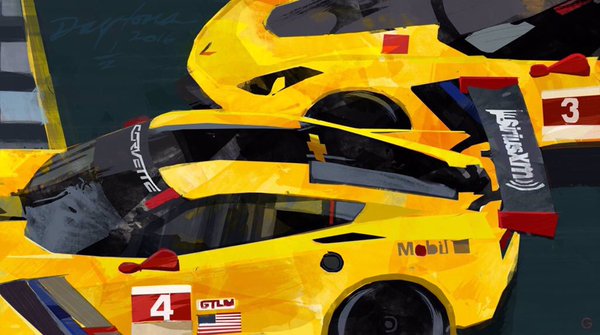 Artist: Doug Garrison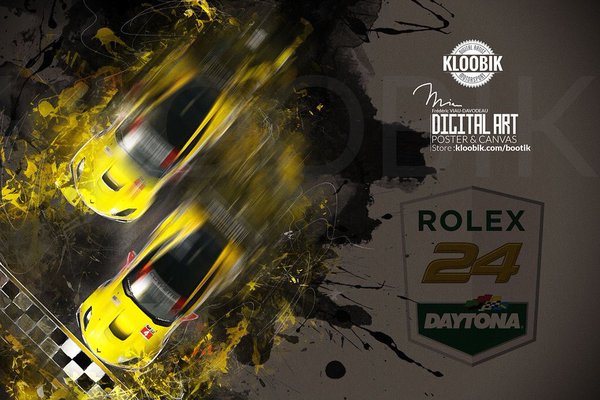 Artist: Kloobik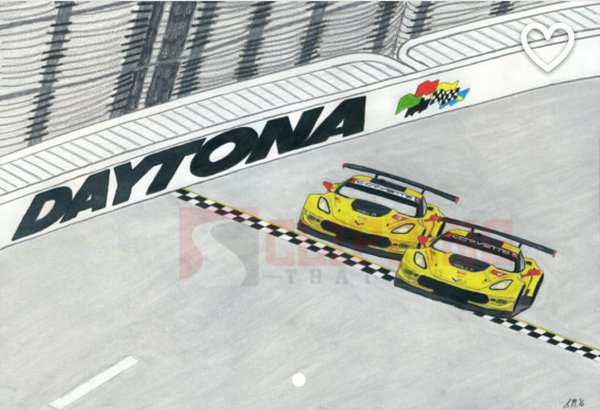 Artist: Scott MacKenzie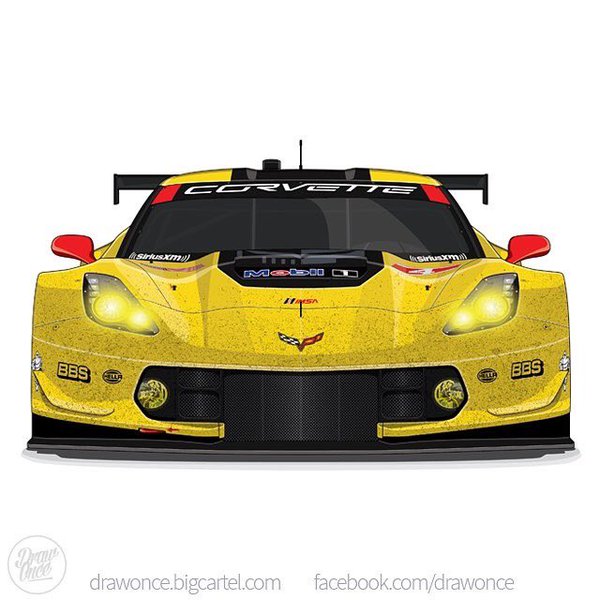 Artist: Draw Once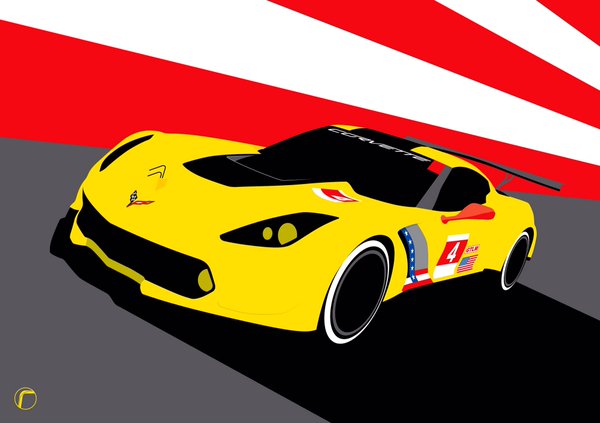 Artist: Racing Line Designs

| | |
| --- | --- |
| February 04 2016 11:42:14 AM EST | |

How passionate of a Corvette Racing fan is Charley Robertson?
Pretty damn hardcore in our book:
She currently owns 3 Corvettes, including a C7 Stingray and a special GT1 race edition in velocity yellow and Jake on the hood - for a lifetime total of 10.
She has been a supporter Corvette Racing since 1999 and was present at the grueling and historic 2001 Daytona race, probably the greatest Corvette race of all time.
She is a lifetime member of the National Corvette Museum.
She regularly writes and contributes her racing photos to Vettes Vue Magazine, posts daily to Corvette forums and sends out daily email blasts that keep us all updated on all things Corvette Racing.
And now she's told us that she's going to LeMans in June. That's pretty damn hardcore.
Charley needs an access pass to the Corvette pits so she can continue her excellent and unique reporting -- the question is, how do we make this happen?




| | | |
| --- | --- | --- |
| | 2016 Daytona 24hr: Corvette Scores 1-2 Victory | |

| | |
| --- | --- |
| January 31 2016 10:09:10 PM EST | |

The 2016 Rolex 24 Hours at Daytona was a race for the ages. A new era of GT racing starts here. With all new cars from Corvette, Ferrari, BMW, and Ford, as well as an updated Porsche, the bar was set high and the competition delivered.

In the off-season, the voices of fans and teams were heard. The BoP practices IMSA had been using were not working. As Doug Fehan explained at a Corvette owners meet and greet over the weekend, GM opened up their wind tunnel to IMSA and tests were run on every car (in 2014 trim). The information was shared with all the manufactures, and some not-so surprising results were found. IMSA, with the collaboration with the ACO, have now come up with a new balance of performance process. A new proprietary scrutineering data logger system, mandatory on all GTLM and GTD cars, that measures various things such as RPM, throttle position and airbox pressure. According to Fehan, these data loggers cost approximately $18,000 USD per car. All of the manufactures are extremely excited about this, and judging by the car to car performance from this race...it works very well.

Practice 1, 2, 3 and Qualifying were all in rain conditions. Corvettes qualified 6th and 8th, but never really tried to lay down a lap time due to the conditions.


Photo Credit: Marshall Pruett

The hype coming into the weekend was all about Ford's return to GT racing with the new GT. Chip Ganassi Racing has been testing the new car for months, and showed that they had the pace in the pre-race practice sessions, but there is no replacement for real race experience for new car development. Both Fords were out of contention within the first hour with mechanical and electrical issues. Both cars were repaired but continued to have problems throughout the 24hrs.

Throughout the afternoon, evening, and into the night, battles ensued up and down the GTLM field. Every manufacture lead the race multiple times.

At the 13 hour mark, the #3 Corvette was turned around by former team mate Olivier Beretta in the #62 Ferrari, pushing Jan Magnussen back to P8. The #3 team fought back through the night and eventually got back to the front of the field.


Photo Credit: Jamey Price

Hours 18, 19 and 20, both Corvettes lead the field 1-2 until in hour 20 Marcel Fassler in the #4 Corvette ran the red light at pit exit during a full course caution period, prompting a stop plus 60 second hold penalty. Fassler owner his mistake, took the penalty, and was pushed to the back of the GTLM field, but still on the end of the lead lap. Later a safety car came out, allowing the #4 to close the gap the the rest of the GTLM field, and it was game on.


Photo Credit: Sput Dodge - Sports Car Unleashed

With about an hour left, and final pit stops completed, the race was on between the #912 Porsche, #4 Corvette, and #3 Corvette. Oliver Gavin in the #4 Corvette pushed to the maximum. Earl Bamber in the #912 Porsche involuntarily conceded the position at the International Horseshoe after Gavin snuck the Corvettes nose in and bumped the Porsche wide.

"Earl and I were racing hard. There were a couple times were I slammed on the brakes and I just managed to miss him," Gavin said. "I knew that we were quicker, our car was better, and it was getting towards the end of the race. The gloves are off. I just left my braking a little too late and he opened the door a tiny bit and so I stuck my nose in there."

Antonio Garcia overtook the Porsche as well, putting Gavin in his cross-hairs. The question on everyone's mind wasn't whether or not Garcia could catch him, but would the team let them race when he does.


Photo Credit: Corvette Racing (Twitter)

"As soon as he passed the Porsche, I asked my engineer 'how this is going to work?' He tells me that Doug (Fehen) says we're clear to race, as long as we race clean and fair," explained Gavin.

Gavin and Garcia proceed to produce some of the most nail-biting entertainment ever seen on a race track.

"I knew if we had an incident, we'd be in really hot water. But racing Antonio is so much fun, he's hard, he's tough, but he's fair. He's a really good friend, so it's really fun racing against him. It got really close a few times, but it was so much fun. A great race."

Garcia scoped out Gavin for several laps, but was unable to make a pass until he made a bold move on the outside of the front stretch. Garcia made the pass, but overcooked the entry to turn 1 and Gavin slipped right back by. As the checkard flag came out and the Corvettes came around, Garcia made one more desperate attempt on the high side the the Daytona banking. Gavin crossed the finish line with a margin of victory of 0.034 seconds. The closest in class finish ever at Daytona.

"What you saw today was simply the two best road racers in the world with the two best cars in the world," said Doug Fehan. "You'd be hard pressed to find a better race than this. You don't spend 23.5 hours working this hard and not let those guys continue to race."

VIDEO: Gavin & Garcia Battle for Victory at 2016 Daytona 24hr


Photo Credit: GM Media