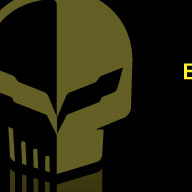 Not already registered?
Register
here.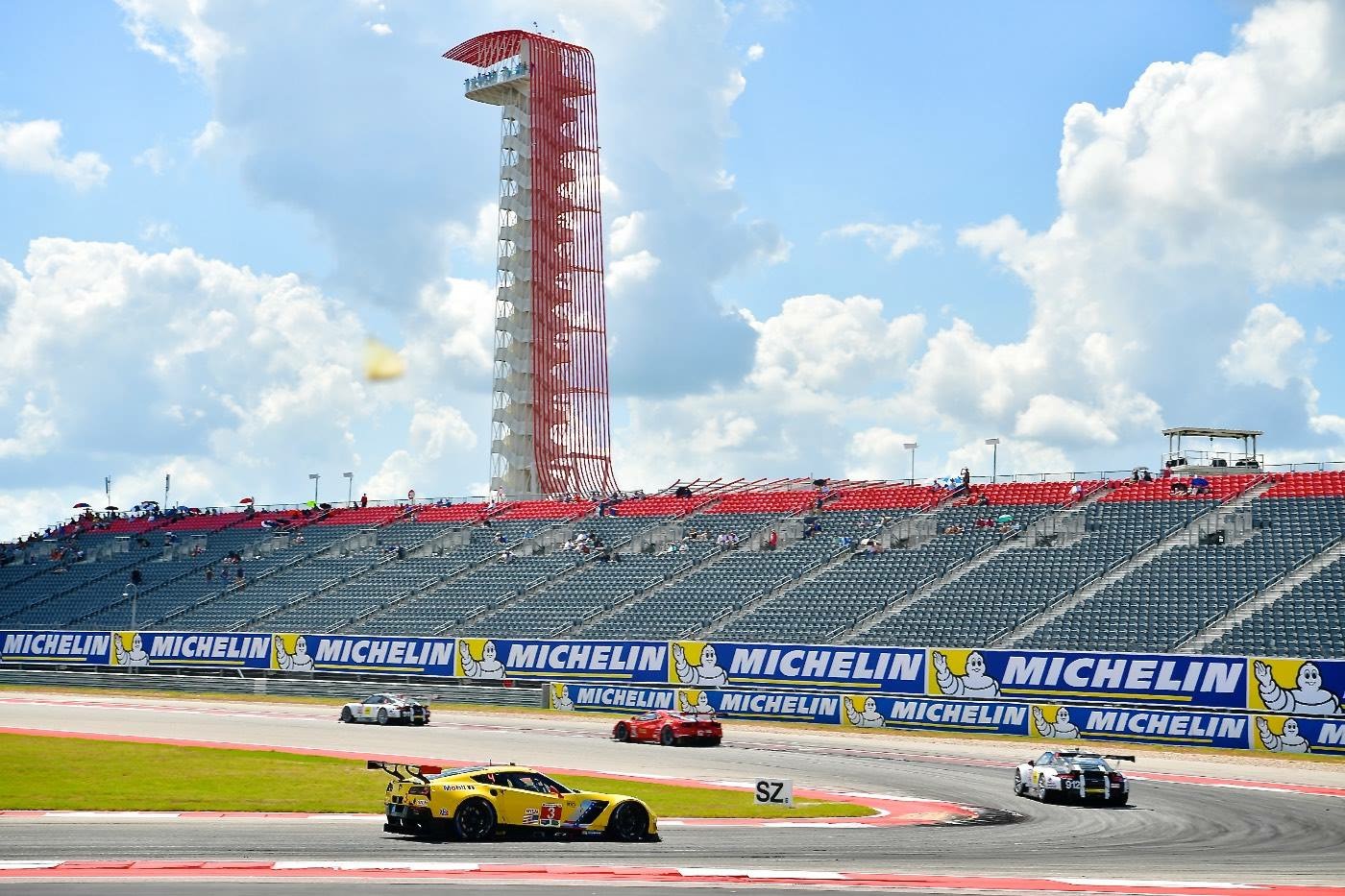 | | |
| --- | --- |
| September 20 2016 07:56:16 PM EST | Jan Magnussen PR 2016 |
After 3 wins in a row for Corvette Racing, they avoided BoP adjustments going into COTA, although others were given some performance back. Ferrari was given some extra boost and fuel capacity. BMW was given a 10kg weight break and 0.5mm refueling restrictor increase. Ford was give a 1mm refueling restrictor reduction.

Going into the final 2 rounds of the 2016 championship, it is going down to two teams. The #4 Corvette and the #67 Ford GT.

The #67 Ford GT took the pole position, with the Corvettes back in 6th and 8th. Come race day, the #62 Ferrari owned the track, only rivaled by the Porsches on occasion.

The #62 Ferrari, with 10 minutes left in the race and a 10 second lead, suffered an electrical glitch and had to make an unscheduled pit stop, effectively throwing away the easy victory at their home track.

The #67 and #4 had a mid pack battle when the Ford make contact with the Vette. The Ford suffered a front right suspension failure. This allowed the #4 Corvette to grow the points gap despite a lackluster performance, finishing P5.

With the Ferrari dropping off the podium, this promoted the #3 Corvette to 3rd place. This is the 2nd podium in a row for the #3.

VIDEO: 2016 COTA Qualifying
VIDEO: 2016 COTA Race Broadcast

The 2016 IMSA Weathertech Sportscar Championship all goes down to the final round at Petit Le Mans. The #4 holds a 7 point lead over the #67 Ford in the Weathertech championship. The #4 Corvette also holds a 1 point lead over the #67 Ford in the Tequila Patron North American Endurance Championship.

ANTONIO GARCIA
"The further we went into the weekend, the better the Corvette was. From the first practice through the warmup and race, we never stopped working on it. At points, we made some big swings on the setup side because we had nothing to lose. At some point we found our way a little bit. The first surprise was that in qualifying, we werenít as far off the pace as we thought. The warmup was the same. It was very hard, especially with traffic. At the end, I think we had a Corvette that could have challenged the race winners. Weíre looking forward to Road Atlanta now and wrapping up the Manufacturerís Championship for Chevrolet. We have a really good chance, and I really want to win that race. Iíve come close a couple of times so that will be my focus."

JAN MAGNUSSEN
"It was a pleasant little surprise. I think that itís a good couple of spots better than I thought we were going to be. The car was quite good in my stint. We were able to kind of keep up with the guys in front, whereas I thought we would be out of it real fast looking at the practice times and qualifying. But the race car was pretty good I have to sayÖ better than I thought it was going to be. Iím happy for the result. Iím happy for Corvette Racing and Chevrolet getting closer to that manufacturer championship."

OLIVER GAVIN
"This could be a real turning point for us in the championship. I think we will have to go to Petit Le Mans and get a seventh or an eighth place if the No. 67 was to win. Itís not a super comfortable cushion, but we just need to execute at Petit. I think we just need to be smart. We werenít the greatest today, we werenít the fastest. We were battling with the car a little bit and we made a couple of changes during the race. One was the wrong way and the other one was, I think, back in the right direction. But we need to go back and look at the data to see where we were missing it. Ultimately, we came away with scoring good points. We have extended our lead in the championship and at this time of the year that is all you need to be doing. You just need to be executing, getting the points on the board and extending our points lead. Looking at all the practice sessions, all the qualifying and everything that we did, I really didnít think we were going to be coming away with extending our points lead over the No. 67. But we have, and itís positive. We move forward and we go to Petit very positive."

TOMMY MILNER
"Coming away with the points lead we have was best-case scenario. Itís not really how I would have liked to have gotten that points lead. We struggled all day today and really all weekendÖ just looking for pace and just sort of comfort driving the car. That part wasnít so much fun, but yeah, we lucked out today for sure. We definitely had, as Olly (Gavin) said, weíve had either all of the luck in the world or none of it. Today it looked like we had none and then we had all of it pretty quickly there. Part of me feels bad for the No. 67 guys, but that is kind of a bummer way to lose some points. But I canít say Iím too unhappy about it. Weíve all fought really hard all year long and some races weíve had some good races and so have they. Now it comes down to Petit Le Mans where the gap is fairly large, but we still need to execute for the whole race. We certainly canít just jog across the finish line there; we still have to push hard. It will be a big challenge for sure, but we are in a good spot."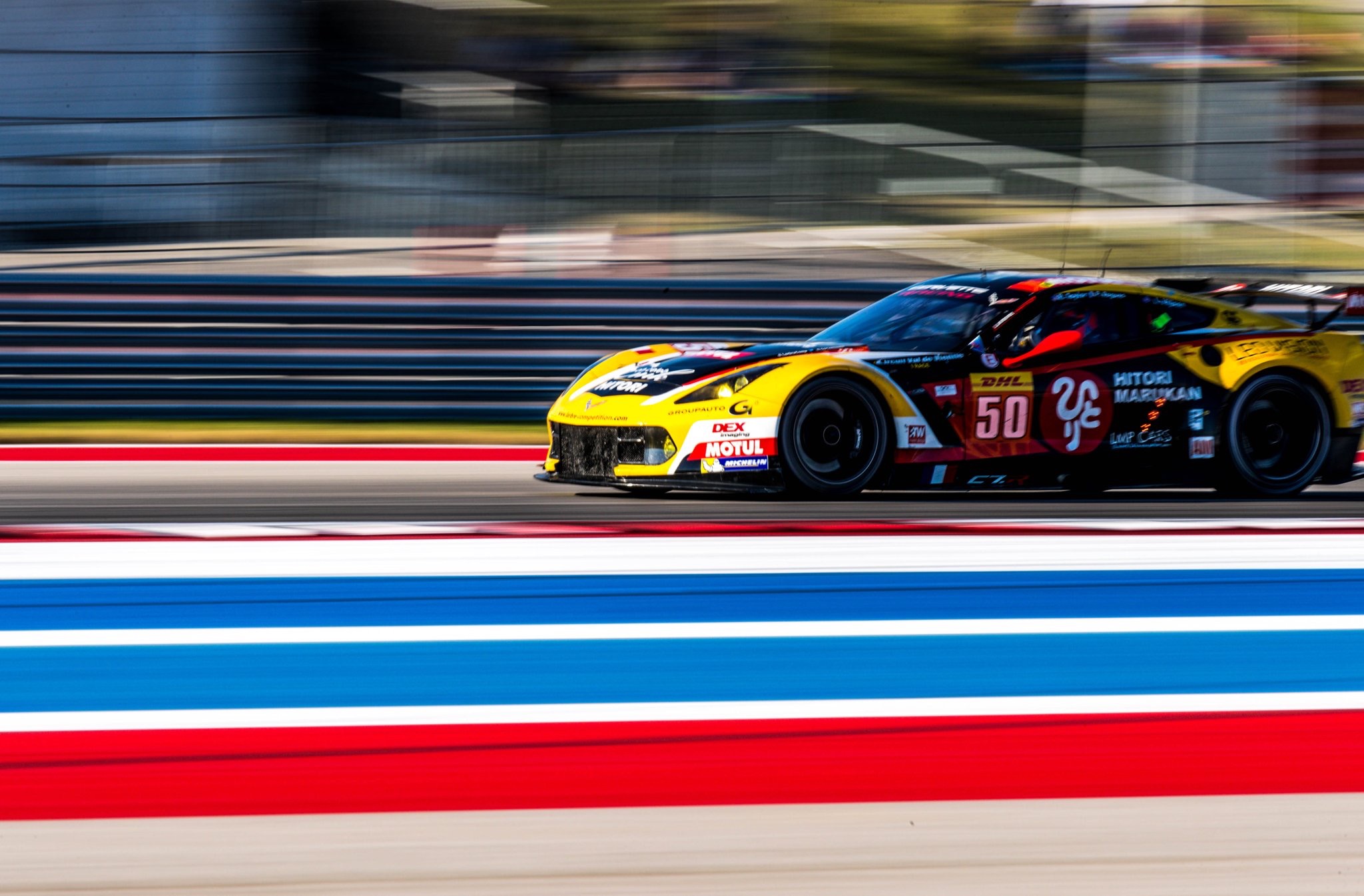 FIA WEC at COTA

After scoring the overall Prototype victory in the IMSA race with brother Jordan, Ricky Taylor joined Larbre Competition for the 6 hr round of FIA WEC at Circuit of the Americas. The team scored a 3rd place podium finish in the very competitive GTE-AM class.

PODCAST: Sportscar 365 - Double Stint: Weekend Recap - Ricky Taylor Interview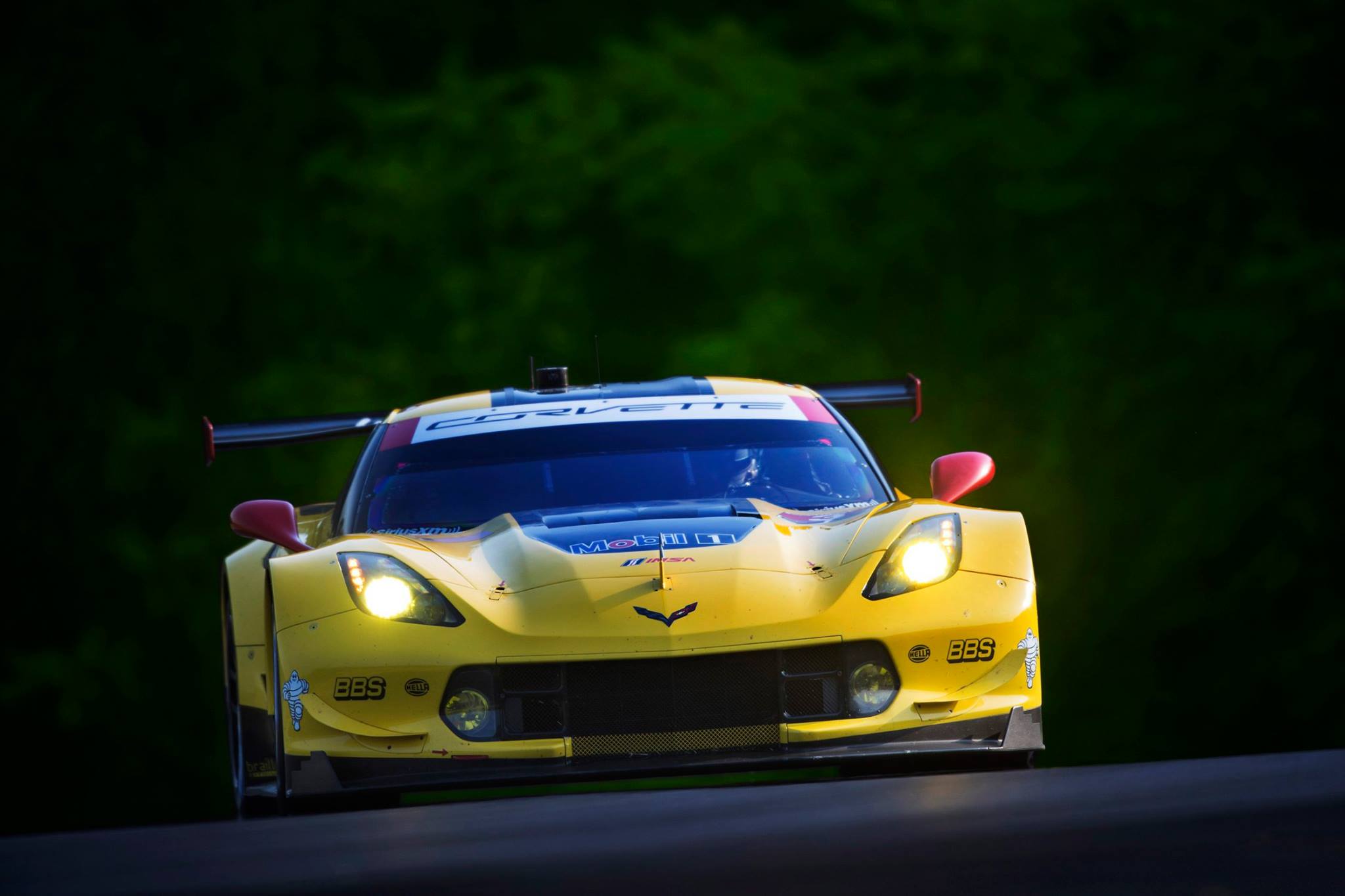 | | |
| --- | --- |
| September 11 2016 09:40:21 PM EST | Jan Magnussen PR |
A week before VIR, the the testing, and it payed off. Corvette Racing qualified 1-2 at VIR.

Unfortuantly for the championship leading #4, it wasn't their race. They lost positions at the start and never regained. With a few minutes left in the race, oil on the track caused the #4 to have an accident.

The #3 Corvette however had a flawless race start to finish. This is the first victory of the #3 in 2016.

VIDEO: 2016 Michelin GT Challenge At VIR Broadcast

JAN MAGNUSSEN
"We were all pretty equal all day in the class. The Corvette Racing team did a great job with the tire pressures. We had a plan where we would be better from the middle of the stint and not so much in the beginning. It wasnít much fun early on with the tires but as things went on our Corvette got better and better. Iím super happy. Itís our first win in a long time. We have had plenty of opportunities, so Iím really pleased and hopefully this starts a streak for us now!"

WE TALKED EARLIER AND YOU THOUGHT THE FIRST STINT WAS SPECTACULAR, BUT WHAT DO YOU THINK ABOUT ANTONIOíS STINT? "It was a fantastic drive by Antonio. He kept the gaps and opened them a little bit. I know it got a little scary at the end with one lap to go. It scared the hell out of me. But he did a fantastic drive and always does."

WINNING FIRST RACE OF 2016: "Oh man! Itís about time! It was a great job by the whole team all week. Green with one lap to goÖ I donít know what that was about; it scared the hell out of me. The No. 3 Corvette team has had a tough run this year and itís great to be back in the Winnerís Circle."

ANTONIO GARCIA
"It was really hot and super close. It was a very difficult, tricky race. The racing line was super narrow; I think thatís why we saw some mistakes at the end. I had a few up and downs in the race. Our pit stops were perfect. After the tire pressures went up and stabilized, the Corvette felt great. I was able to make a little bit of a gap in traffic but it went back and forth. It was just like qualifying except you are trying to save fuel. Luckily I was able to run a good pace and economy with our Chevy engine. I got a really good job on the restart and already had a good gap at the start-finish line. Iím happy for Jan and everyone at Corvette Racing. We have been so close so many times this year that I really think our No. 3 Corvette crew deserved it today."

YOU HAD TO SAVE FUEL AT TIMES AND THEN YOU SAW THAT FULL COURSE CAUTION AT THE END. FUEL WAS NO LONGER A CONCERN, I THINK IT WAS MORE ABOUT THE CARS BEHIND YOU? "Yeah, it was a very hard race. My team got me a three- to four-second gap and then it was a classic green/white/checkered. Not even green then white, it was like white and checkered. It was an amazing race and the Corvette was brilliant. So I just need to thank the whole Corvette team and Chevy. Corvette Racing did a fantastic job today. It really paid off to be out testing on Monday and Tuesday (at Road Atlanta). I have to say, because the car was fantastic."

OLIVER GAVIN
"Itís obviously a disappointing way to end the day. We heard reports that there may have been oil or fluid down near the final turn so maybe that contributed to the incident. The Corvette C7.R is a very strong and well-built car, and we are always thankful for that. It seemed like today we got behind and never could catch up. That is how difficult it is in this championship. We are still thankful to maintain a points lead and will do whatever we can to protect that lead over the final two races."

TOMMY MILNER
"Itís hard to pass and make up ground. I kind of got hung out at Turn One and didnít have much grip. I had to play some avoidance also with a couple of the cars in there and had some junk on my tires. My first lap free from the pitlane was a case of me going too fast and got loose. The car would understeer behind everyone else, and I didnít realize how loose it was. It was a mistake on my part."

DOUG FEHAN
"This race today was victorious today on two different levels. Obviously for the Corvette Racing team, Jan and Antonio to bring the No. 3 Corvette home first after battling all day against the best competition of the world speaks very highly of not only the crew work but the engineers that put together a setup that they could race for an entire day in this extreme heat. That should never be overlooked. On another level, I think this is one of the best races we have had since the sports car merger in 2014. The Balance of Performance was very, very tight. You only had to look at the practice times, qualifying or the race times to see that any of the cars that started the race today had the capacity to win. And thatís what makes great racing. So we were all winners today Ė everyone who participated today in the IMSA WeatherTech SportsCar Championship."

DRIVERS CHAMPIONSHIP POINTS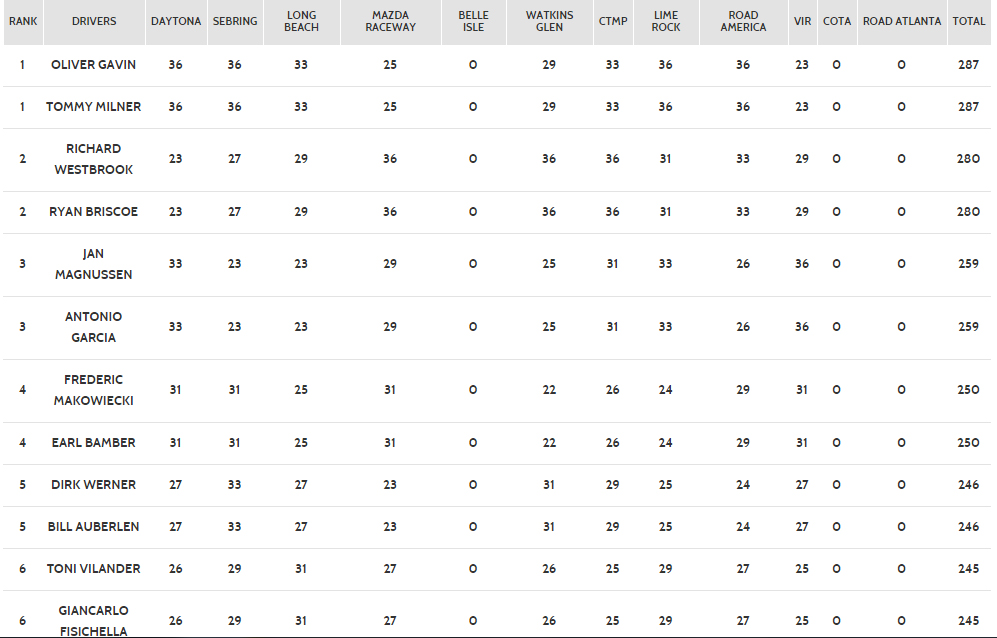 TEAM CHAMPIONSHIP POINTS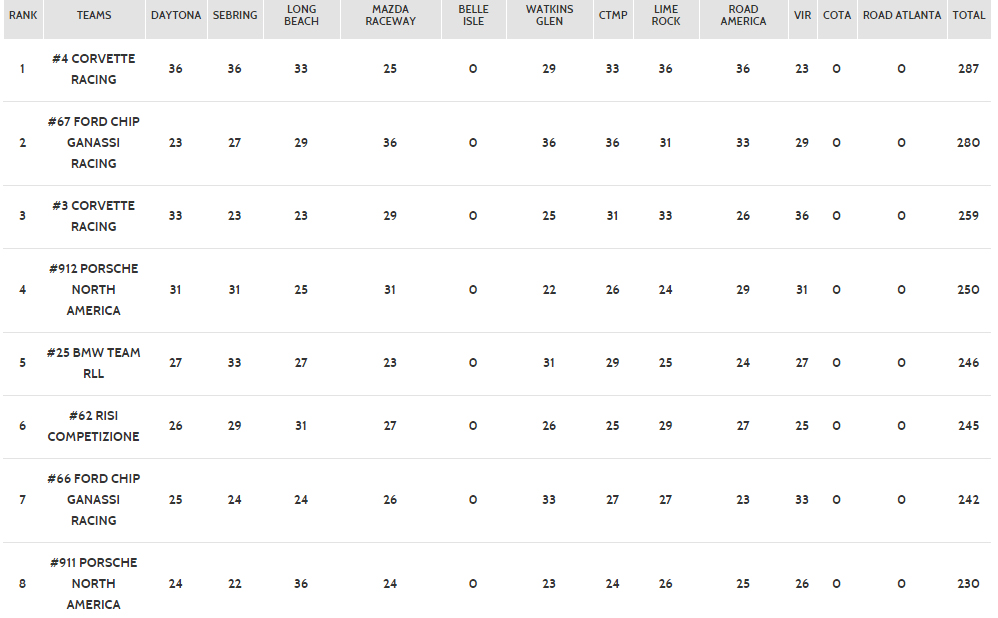 MANUFACTURE CHAMPIONSHIP POINTS


| | | |
| --- | --- | --- |
| | 2016 Road America: What Just Happened? | |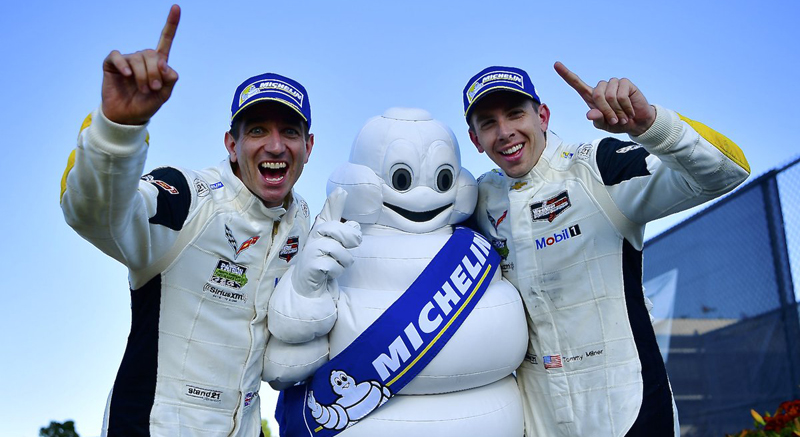 | | |
| --- | --- |
| August 22 2016 06:38:49 PM EST | Michelin Alley |
With just under 20 minutes to go, Road America was looking to be Corvette Racing's worst result of the season. The #4 Corvette was sitting P6 and the #67 Ford was leading, and looking like was going to take over the championship points lead.

During the final pit stop, the #4 crew made some adjustments that brought the car to life, but it was thought to be too late. The leading GTLM cars were far into the distance. Tommy Milner made a pass for position on one of the BMW to get up to 5th then full course caution came out and bunched everyone back up.

The green flag came out with 5 minutes left to race, and all hell broke loose.

Screenshots by Fox Sports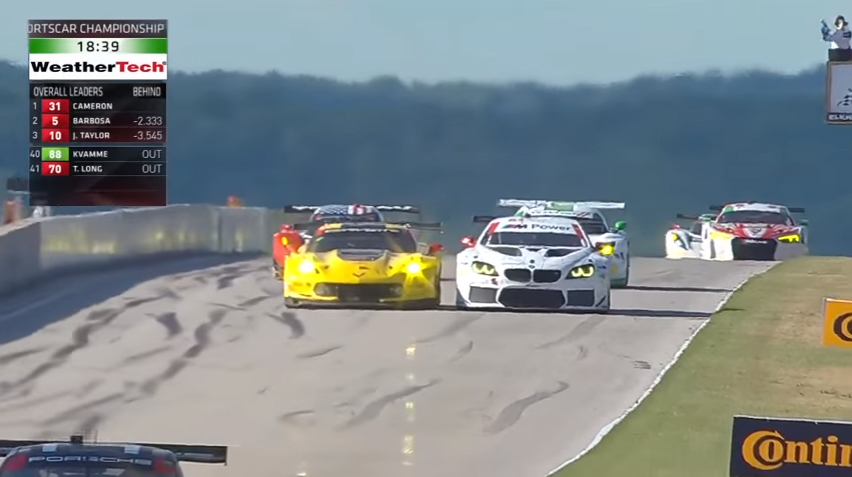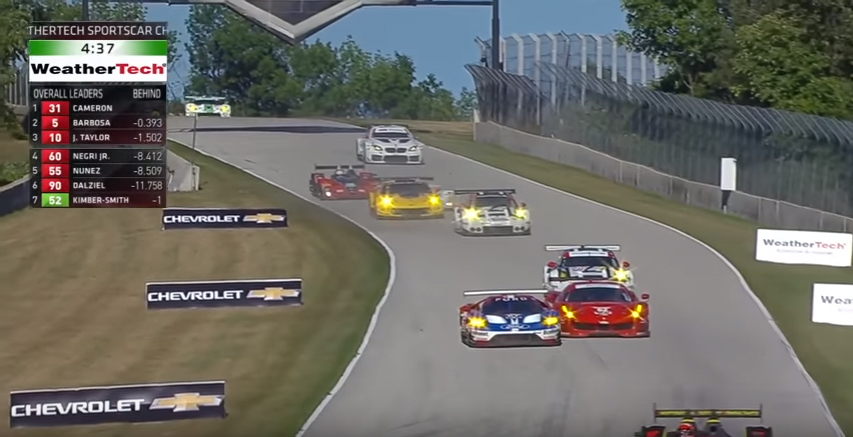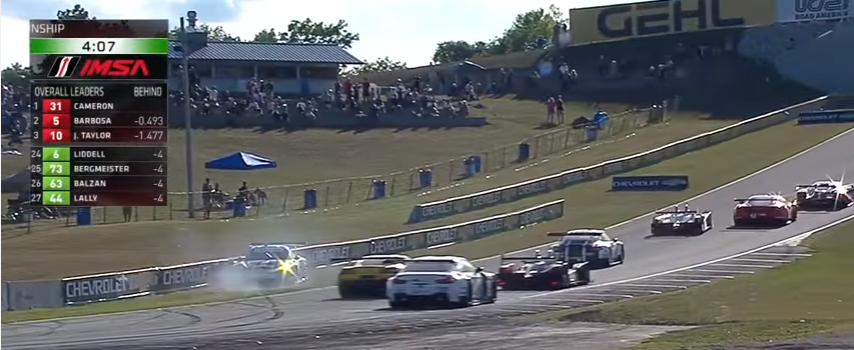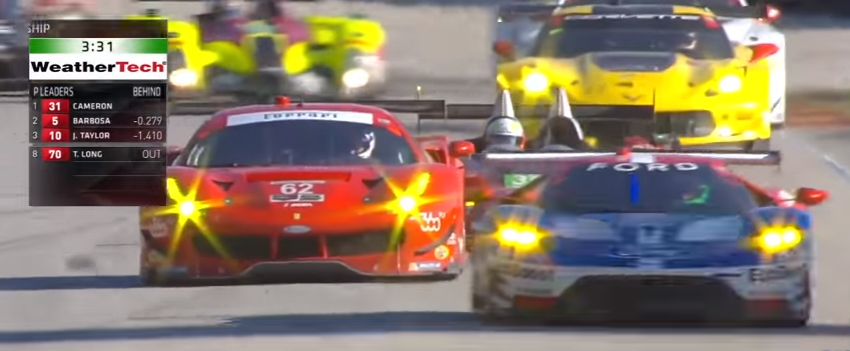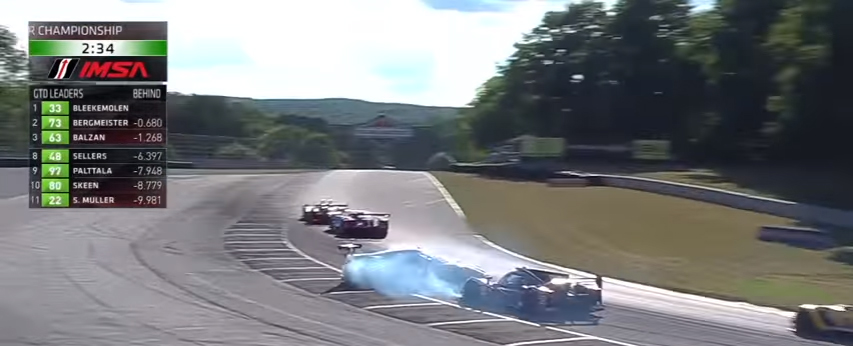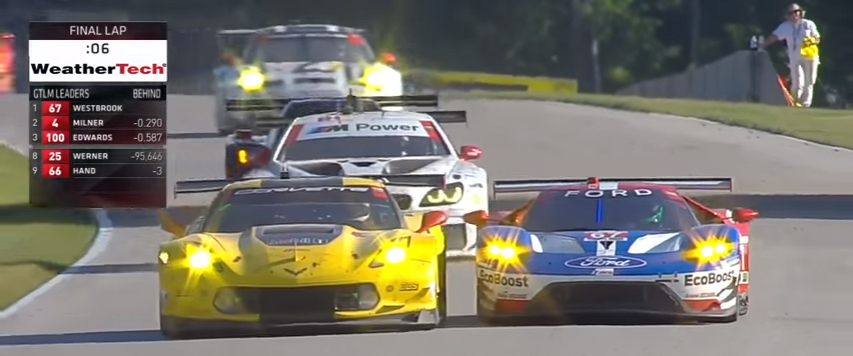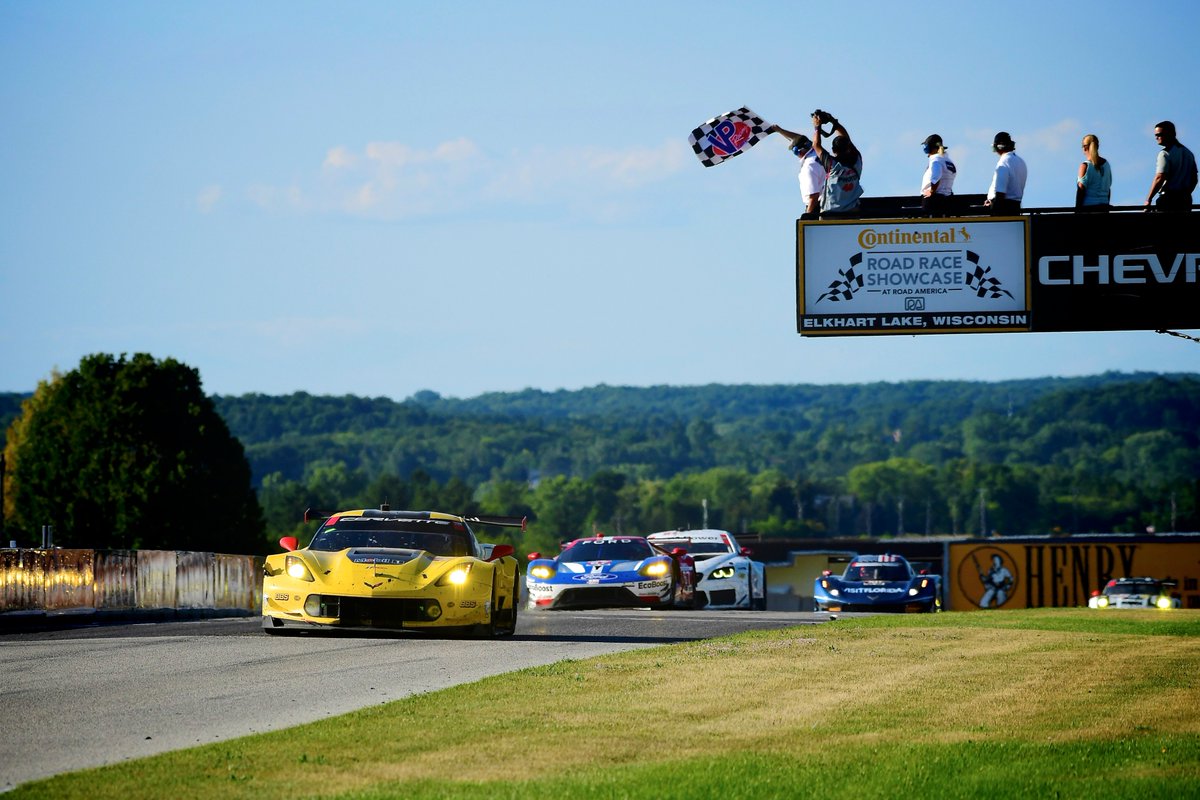 Photo by Michelin Alley

VIDEO: 2016 Continental Tire Road Race Showcase Broadcast

OLIVER GAVIN
"An extraordinary finish! It was an amazing, amazing job by Tommy, the crewÖthe strategy at the end there! It just seemed like the car came alive. We made a change on that last stop, and it just brought the car to life. That was what we were missing in the first part of the race. I donít think Tommy can believe it. We were looking at fifth, then that caution came and it mixed everything up. There was contact and crazy stuff happening. It is just wonderful. This is such an amazing result for us and it is big, big, big for the championship. Iím so thrilled!"

TOMMY MILNER
"Iím speechless! I know everybody says that, but literallyÖ We did not have a very good car at the start; it was super loose. But Chuck (Houghton, No. 4 Corvette engineer) made a great change there at the very end; new tires, a bit more wing in the Corvette and it was the best race car I have ever had. I know I said that at Sebring, but this one somehow topped it. This is the best race car Iíve ever had in my life right there. At the end there, it seemed like the other guys couldnít get their tires up to temp, and mine were ready to go and were there. With two laps to go, there is nothing more that you could ask for than everyone in front of you and a Corvette underneath you!"

JAN MAGNUSSEN
"The strategy sometimes works and sometimes it doesnít. Today was one of the days that it didnít. The car never really felt right today. We kept thinking it would come to us with the setup and tires. That has been the story of our season. Congratulations to Oliver and Tommy. We will keep working and hope to get on the right side of it at VIR."

ANTONIO GARCIA
"It was a good start. I had a chance to be a tiny bit aggressive into the first turn, but I backed off because I thought it was a little too early to try something that bold. After that things were good. I was able to stay with the lead pack. I thought we might have something for the Porsches especially with our tires. I didnít think we had the pace to win and just needed to stay close."

#NeverGiveUp #TakeNoPrisoners

| | | |
| --- | --- | --- |
| | 2016 Lime Rock: 100th Win | |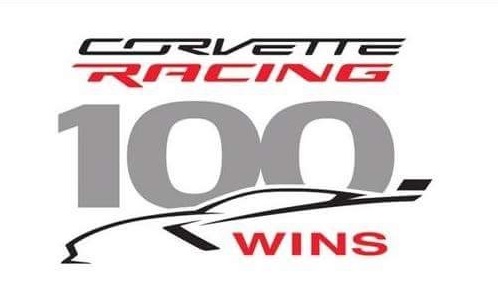 | | |
| --- | --- |
| July 25 2016 11:55:08 AM EST | GM Media |
After a disappointing result at Mosport, after leading most of the race, the team headed to Lime Rock. This was the first return to Lime Rock since 2013.

Lime Rock is know for close competition. Sometimes too close. Corvette Racing took full advantage of several other competitors misfortunes and finally claimed their 100th win, as well as their 60th 1-2 finish.

OLIVER GAVIN - #4 C7.R - Winner:
"It is pretty amazing to get the 100th (win for Corvette Racing). We have had some great wins this year. When you look at Daytona this year, that was phenomenal; Sebring too. Our Le Mans win last year. But to get the 100th is pretty special. I have to thank the team and everybody involved. I have had a few of the wins with the team, but I have to say this is a pretty special one. To fight off the No. 67 car and having our teammates on the podiumÖ it is pretty special for everyone at Corvette Racing!"

TOMMY MILNER - #4 C7.R - Winner:
"I feel very lucky to say I was in the car that got the 100th win for this team, but you think about all the people that have worked on this team Ė all of the drivers, the crew, the marketing and PR people, everybody that has contributed to this, I just feel fortunate to be a part of that. It is good to get that monkey off of our back. It was a small monkey, but it was lingering."

"We still have five races to go in the season and the lead in the championship in the moment. So thereís a bigger picture to think about in a lot of ways. So that mindset paid off in the middle of the stint. We lost quite a bit of track position there in the end. The car isnít bad. Itís pretty slippery out there but itís the same for everyone. As usual traffic is pretty difficult. You can gain a lot and lose a lot with the traffic here. Iím pretty happy with this Corvette but we have to be smart. I knew going into this race how amped up I was after qualifying because the car was so good; I kind of had a little moment to remind myself that there is a lot more going on than this race. Everyone in the class was racing super-hard in our class."

JAN MAGNUSSEN - #3 C7.R - 2nd Place:
"It is a fantastic result for the team and well deserved. Everyone works so hard to try and win every single race that weíre in. Today was just a hard-fought race all the way through for both cars. Just a fantastic result. The 100th win and 60th 1-2Ö not a bad day!"

"There was so much going on the whole time in traffic. I was quite happy with the Corvette. Itís too bad we got a penalty in the pitlane so that put us back. I could keep up with the field and catch them in certain situations. But I didnít really have the speed to pass any of them. It was so close."

ANTONIO GARCIA - #3 C7.R - 2nd Place:
"For Corvette Racing to get 100 victories is really, really good. That number is just huge when you think we are a single program with two cars. So to achieve that is just amazing. Iím glad I won a few of those. I am very proud of that. Today, I was probably the only car that overtook today and probably the only car that really made positions up. I was fifth at one point and then there two mistakes by the Ferrari. I passed both of the Fords, actually twice. Iím very proud of Corvette Racing today and very happy to get a 1-2 finish."

DOUG FEHAN:
"If youíre going to win your 100th race, you may as well do it with a 1-2 finish. We never diminish the input the engineers have in giving the team great Corvettes, and the crew today just had absolutely terrific pit stops. But today, this one goes to the drivers. On this race track and in these conditions, those guys brought it home. Iím tipping my hat to the drivers today."
| | | |
| --- | --- | --- |
| | 2016 Watkins Glen: Results | |
| | |
| --- | --- |
| July 06 2016 03:34:10 AM EST | Richard Prince |

The sand has been released. No BoP changes for the 6hrs at Watkins Glen. Results were as expected. The only reason the #4 Corvette finished P4 was due to the phenomenal pit work by the hard working crew at Corvette Racing.

VIDEO: Final Pit Stop

TOMMY MILNER - #4 Corvette C7.R: Finished 4th
"Iím smiling. I feel like we just won the race. We had the perfect raceÖ absolutely perfect race. Great pit stops, no mistakes anywhere at all. At the end I drove as hard as I possibly could. I could tell that the Ferrari in front of me was slow to start the stints. I just got lucky in traffic and got a big run on him in the Bus Stop. I also got a nice draft from a PC car that was passing him and was able to sneak by him in the Bus Stop. Iím just so proud of the effort that this team gives. It doesnít matter if we are the fastest car or the slowest car. We try. We try hard all the time. It was a great job by Olly. It was a great job by the crew guys. Itís a great result for Corvette Racing."
ON THE LAST PIT STOP: "We gambled a little bit with staying out a little bit longer. That is always a risk. The later you make that last stop, or even you back-track a little bit, you risk getting caught out with a full-course yellow. However, if it goes green you have a shorter fill at the very end. That is really where we gained all that time and track position; our fill at the end was shorter than anybody else because we were the last car to stop. It takes some luck in racing for sure, but Iím really, really happy with the result today."

OLIVER GAVIN - #4 Corvette C7.R:Finished 4th
"Todayís finish boiled down to that last pit stop. We had to take less fuel than the No. 3 car but the pressure was on the guys to execute on that final stop and they did an amazing job. The tires were done just as the fuel coming out as well. The car was down and Tommy just blasted it out of the pitlane. He then executed in that final stint and got past the Ferrari and just did a fantastic job. Fourth place for us today is like a win. If someone had offered us that at the start of the day with our starting position and the pace compared to our competitorsÖ yes, it is like a win. We are still leading in the Driverís Championship. Weíve extended in the Manufacturerís Championship for Chevrolet, which is great. I really donít think we could have asked for any more. A great job by everyone here at Corvette Racing Ė a real team effort."

JAN MAGNUSSEN - #3 Corvette C7.R: Finished 7th
"It was a pretty uneventful couple of stints for me and was about keeping our position. We were trying to stay ahead of the Porsches. It seemed like at certain points during the stint we could fight a little bit with the Ferrari but most of the time they can drive away like some of the other cars."

ANTONIO GARCIA - #3 Corvette C7.R: Finished 7th
"It was a disappointing day for our team in a lot of ways. Seventh place is not a result we are happy with. We will move ahead to Canada next weekend and try to improve on today."

DOUG FEHAN, CORVETTE RACING PROGRAM MANAGER:
"Today was a perfect example of why Corvette Racing never gives up. It was a combination of great strategy, great execution in the pits and great driving to come home with a fourth-place finish. We were able to maximize our results on a very challenging day, which every member of Corvette Racing and the Corvette community should be proud of."

The team now has less than a week to turn around and head to Canada for the second of back to back race weekends. IMSA has issued special BoP adjustments, knocking Ford back a notch and giving Corvette and Porsche some more performance. We have our doubts that it will be enough, but it's better than nothing.

IMSA: Special BoP Changes for CTMP

PODCAST: Doug Fehan on Le Mans Frustrations





| | | |
| --- | --- | --- |
| | 2017 Le Mans: Historic For All The Wrong Reasons | |

| | |
| --- | --- |
| June 27 2016 04:12:46 AM EST | Team Chevy |

It's been a week since the checkered flag. We all know what happened. It's hard to forget, and even harder to forgive.

It's been a week and we still don't know what to say...here it goes....

ISSUE #1: Ford GT - Waivers
Ford built a racecar to go to Le Mans and win on the 50th anniversary of the historic Ford GT40 victory in 1966. There is a roadcar in the works, but here in-lies the problem. Per the GTE regulations, a specific number of road cars must be produced and before a racecar can be homologated and able to race. Ford played the chicken and the egg scenario to their advantage and received permission to race before a single production car was ever built. This has caused a major stink with fans, but the reality of the situation was that a special waiver was given to Ford, with the agreed upon permission with all of the competing manufactures, to allow the GT to race in 2016. Nothing more can be said.

ISSUE #2 - Is the GT within the spirit of the race?
As said before, GTE cars are homologated after their road going counterparts. The GT is a racecar of which a roadcar is being built to legalize the racecar. Is this debatable, yes. Is it true, yes. Will Ford ever admit it, no. Is it within the spirit of the race, not in our opinion.

ISSUE #3: Sandbagging
It has been know by everyone except the ACO that the Ford GT has been sandbagging all season in the WEC, and all the way up to Wednesday practice at Le Mans. It became clear to everyone when they managed to find an extra 5 seconds of lap time in qualifying. It's normal for teams to not show all of their performance before qualifying, but usually it's 0.5 - 1 second. NOT FIVE SECONDS!!!!

ISSUE #4: BoP - Part A
Balance of Performance....the great equalizer and hot button topic for teams and fans alike. If it is done properly, it can and has been shown to provide iconic and historical racing memories that will be featured on highlight reels for decades to come. The first issue with BoP in this case is Turbo vs Naturally Aspirated engines. There was a clear performance gap between turbo and N/A cars. In the history of motorsport, no one has ever successfully balanced tubro cans with N/A cars. With today's data logger technology and if BoP is implemented correctly, it is as close as it can get. We have seen it nearly perfectly executed at Daytona 24 earlier this year.

ISSUE 5: BoP - Part B
The other BoP issue for Le Mans this year is the ACO's complete lack of proper execution of BoP. Corvette was the quickest overall at test day with most of the field within 1 second. After test day, the ACO issued a BoP adjustment with massive adjustments without any real reasons why. Corvette was hit the hardest and went from the front of the field to the back of the field.
After the obvious sandbagging was exposed, the ACO issued another BoP adjustment in an attempt to bring everyone closer together. It didn't work.
Just to drive home how bad the BoP was, the winning #68 Ford GT had several issues throughout the race, was issued a post race time penalty, and still won. The #63 Corvette had ZERO issues, just came in for fuel and tires for all 24 hours, and finished 5 laps down to the leader.

ISSUE 6: BoP - Part C
2016 is the 50th anniversary of the iconic Ford vs Ferrari battle. Could this BoP catastrophe have been a complete setup from the start? It's pretty curious how both Ford and Ferrari were by far the quickest cars in the class. So much so that 7 out of the 14 cars (50%) in class were completely uncharacteristically uncompetitive. The fairy-tail script was written before the green flag flew. All Ford had to to was execute.

ISSUE 7: Unsportsmanlike Conduct from Ford
Already having the bad guy reputation, Ford added fuel to the fire when nearing the end of the race a senior member of Ford entered the Risi Competizione garage with a piece of paper, revealed as an official protest over a non-operational leader light on the side of the #82 Ferrari, then running second, behind the leading #68 Ford, and ahead of the #69 and #66 Fords. This was a clear power move by Ford with a greedy desire to sweep the podium. Guiseppe Risi clearly wasn't having it and the protest was filed. The #82 Ferrari never came in for the repairs and was issued a black and orange flag. The Ferrari never complied. Risi then issued a counter protest against the winning Ford for a slow zone infringement earlier in the race. The race stewards imposed time penalties on both cars, post race, but the overall finishing order did not change.

There has never been a more controversial race on so many levels that we have seen since Corvette Racing entered the scene. Corvette Racing was going for back to back Triple Crown victories, and it's 100th team victory. They were never given a chance. This team works too hard for this...

Motorsport Magazine: The problems with Balance of Performance
Automobile: Political Decisions at Le Mans Could Lead to Sports-Car Explosion
DSC: Rob Bell on the GTE Pro BoP
DSC: Five Things To Worry About From The 2016 24hrs of Le Mans

PRESS RELEASE: Garcia, Magnussen, Taylor Complete 24 Hours
PHOTO GALLERY: Team Chevy - 2016 Le Mans 24hr
VIDEO: Corvette Racing Returns To Le Mans 2016



On a happier note, Corvette Racing's #1 fan Charley Robertson made the trip to Le Mans.

"I had the chance of joining the NCM's Museum in Motion Tour to France. This is one trip I strongly recommend to everyone. The NCM will be doing the trip again next year so be on the watch for it."

It looks like she had a blast....maybe we might just have to make the trip ourselves soon.

Photo Galleries:
PHOTOS: Paris
PHOTOS: Le Mans

Videos:
VIDEO: Race Start
VIDEO: #64 Pit Stop - Day
VIDEO: #64 Pit Stop - Night