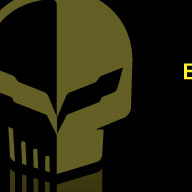 Not already registered?
Register
here.
| | | |
| --- | --- | --- |
| | 2017 Le Mans 24hr: Race Results | |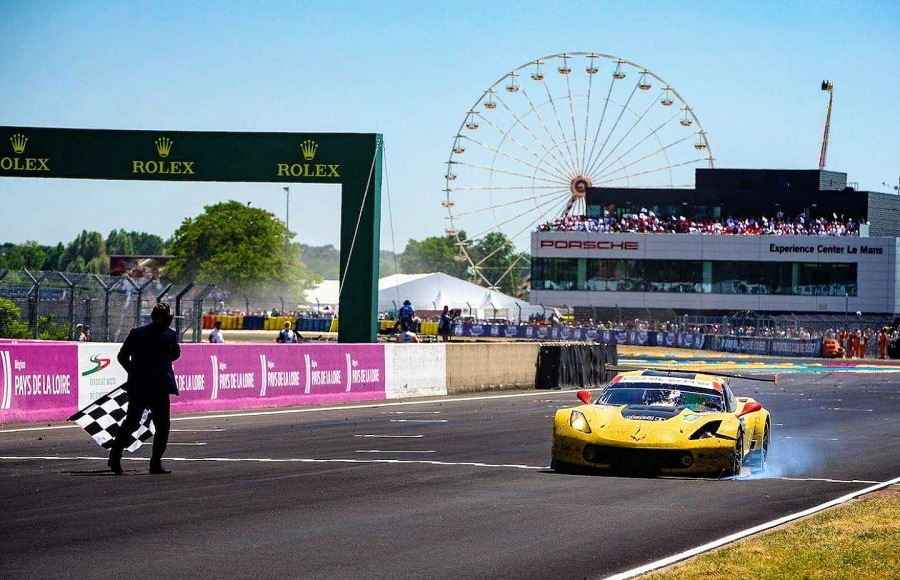 | | |
| --- | --- |
| June 21 2017 11:12:00 AM EST | |
There is a reason why the Le Mans 24hr is the holy grail of motorsports. Not only is it an accomplishment to be invited to participate, but to even finish the race is a major feat, let alone set foot on the podium, let alone win. From drivers, to crew, to spectators, to fans watching on TV, this event can make grown men cry tears of joy or sorrow.

Le Mans can be cruel. You can be on top of the world, and in a split second your day can be done. Time and time again in endurance racing, we say it is never over until it is over. Corvette Racing have more experience with this than any team in the world. They have been on the positive side other's misfortunes many times. They have also been the ones with misfortunes. That is just the nature of the sport.

This 2017 GTE-Pro class field was over flowing with talent. 5 manufactures and 13 cars all with a legitimate shot at victory. For the first time, in a long time, Balance of Performance (BoP) was not a factor. P1-P13 lap times were within 1.5 seconds in qualifying. The closest spread we have ever seen. The bar was set higher than ever before.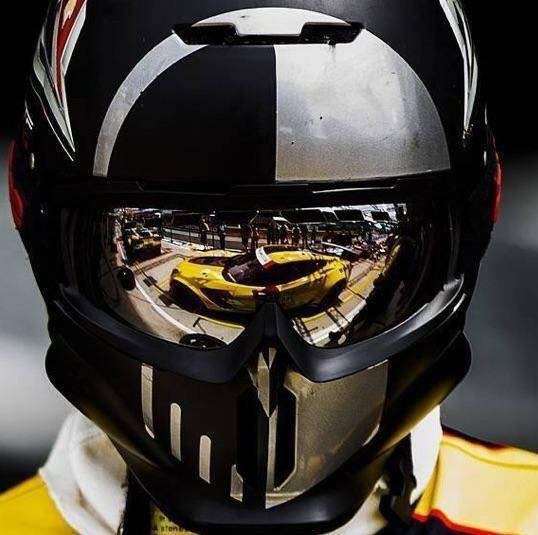 Race Day:
The #63 Corvette had a tire puncture in the early in the race, putting them off sequence with the rest of the field. They would spend the next 18 hours fighting back.

The #64 Corvette was battling near the front of the field, when in the 8th hour the wheel came off the car and Tommy Milner had a major accident. He did eventually get the car back, the team fixed it and sent him back out, but they were 4 laps down.


With some great tire strategy and hard work, the #63 found its way back to the front group of GTE-Pro competitors with about 5 hours remaining. The #64 crew even assisted the 63 team with their brake change in the night hours, and changed all 4 brake assemblies in 1 minute 18 seconds. Incredible!

As the hours went by cars were falling by the wayside and coming into the final pit stop it was the #63 Corvette and the #97 Aston Martin gunning for the victory. After the cars left pitlane for the final time, with about 50 minutes remaining, the gap for the lead was 1.5 seconds with the Corvette leading the charge. At this point, the teams have been in France for the better part of a month. Millions of dollars, and thousands of manhours have been spent. 23 hours into the race and with a whole lot of hard work and even more luck, these 2 competitors found themselves battling for the highest honors they will see in their lifetime. It was time to leave it all on the table.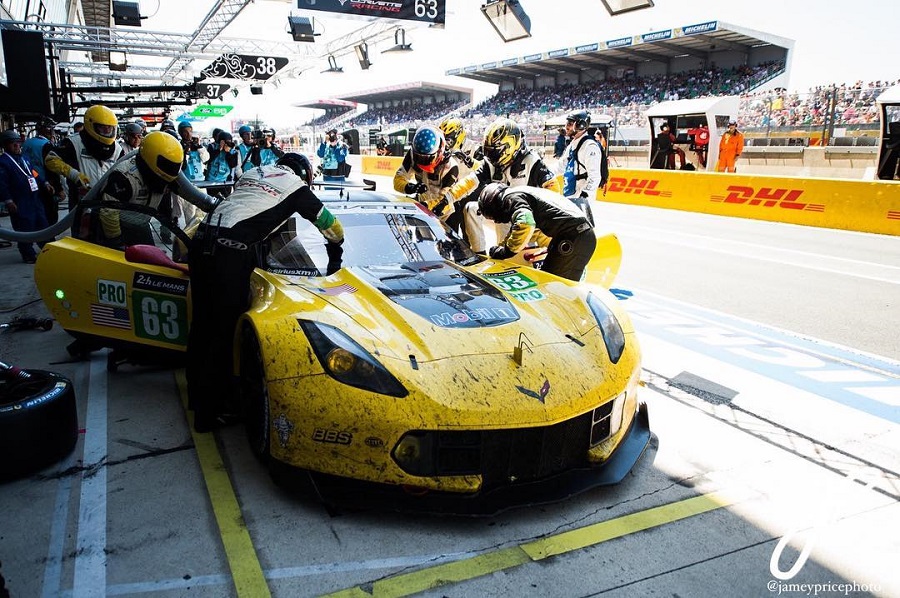 Photo by Jamey Price

Jordan Taylor (Corvette) and Johnathan Adam (Aston Martin), proceeded to drive the next 50 minutes like ever lap was the last lap. Taylor managed to stay in the lead, even after a divebomb from the Aston Martin in the closing laps of the race. coming to the 2nd chicane on the Mulsanne, Taylor had a major lockup and shortcut the chicane through the gravel. Coming to the start/finish line on the penultimate lap of the race, Jordan Taylor gets a tire puncture, and as they cross the line going into the final lap the Aston Martin makes the pass. There was nothing Taylor could do but try to save the car and make it around the 8.5 mile track one last time in order to be classified as a finisher.

In a Motorsport.com interview, Jordan explains what happened:
ďThey (tires) were pretty well used up. When the lock-up happened it was so abrupt and unexpected - usually you lock in the second part of the brake phase, but these just locked as soon as I touched the brake, so it caught me off-guard."

ďWhen I knew I wasnít going to make the chicane I decided just to go straight, try to make the most of it, so I went flat-out through the gravel trap to try to maintain the gap. But at that point I had such a big flat-spot on the tire, and I think I had another tire going down at the same time. It was just a train of unfortunate events."

With the tire shredding bits of the car as Taylor made his was around, it managed to hold together just long enough to make it back to parc ferme. As the car crossed the finish line, spectators and competitors were giving the Corvette a standing ovation for it's relentless competitive spirit. Emotions were at an all time high. Unfortunately, it wasn't their day to stand on the top step.

The history books may not show Corvette as the 2017 GTE-Pro class winner, but in our book, that was a win.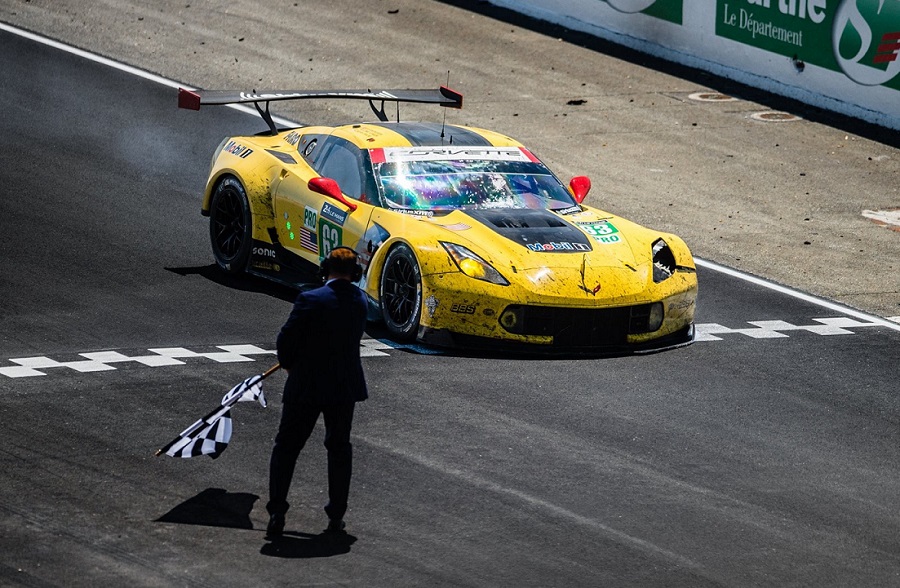 Photo by Chevrolet

VIDEO: Final Laps - Corvette vs Aston Martin
VIDEO: GTE-Pro Podium Ceremony
VIDEO: Full Race Highlights

OFFICIAL PRESS RELEASE:

LE MANS, France (June 18, 2017) Corvette Racing has experienced highs and lows in its 18 appearances at the 24 Hours of Le Mans. Americaís premier GT racing team added to that Sunday with a dramatic third-place finish in the GTE Pro category with Antonio Garcia, Jan Magnussen and Jordan Taylor climbing onto the podium together for the second time in four years.

The No. 63 Mobil 1/SiriusXM Chevrolet Corvette C7.R came back from an early-race puncture and clawed its way back into contention before barely missing out on its ninth class victory at Le Mans since 2001.

Oliver Gavin, Tommy Milner and Marcel Fšssler placed eighth in the No. 64 Mobil 1/SiriusXM Corvette C7.R. The trio had a fight-back of their own after Milner lost a wheel in the opening half of the race. It proved to be the only mistake by that trio but the four laps lost proved costly as the GTE Pro race was as much as a seven-car fight into the last six hours.

"The GTE Pro battle was intense and certainly garnered the most attention of any race that I can recall," said Jim Campbell, Chevrolet U.S. Vice President, Performance Vehicles and Motorsports. "While our goal is always to win, it occurred to me that the Corvette Racing team has a never-give-up attitude. That element has been critical in many of the eight class wins in our Le Mans history. Jan, Antonio, Jordan and the entire 63 crew held together strong as a team and demonstrated incredible heart and determination all race long. I also want to thank the Corvette owners and fans around the world for the support they have been giving Corvette Racing at Le Mans from 2000 until today."

The early puncture for the No. 63 Corvette set the stage for a phenomenal drive back toward the front by the driving trio, the crew and engineers. The crew performed a perfect brake change near the 10.5 mark it took approximately 75 seconds to do all four wheels and the engineering team got the car back on the same pit strategy as the race leaders just after dawn Sunday.

From then on, the Corvette asserted itself and cycled through the lead up until the final hour. Magnussen and Taylor alternated single stints over the last three-and-a-half hours. The Corvette Racing team elected to take fuel only and change to Taylor in order to gain track position over the final 46 minutes. The two cars ran within 1.5 seconds of each other until the final lap.

The next event for Corvette Racing is the Sahlenís Six Hours at The Glen on Sunday, July 2 from Watkins Glen International in Watkins Glen, New York.

ANTONIO GARCIA - #63:
"That is this race. If you have a small mistake, your plan changes and this turns into a catch-up race. Thatís what happened to us. It took us 18 or 19 hours to catch back up to the leaders after the small puncture in my first stint. Another small puncture took out the opportunity for us to win this race. We had two of them at exactly the wrong moments. Itís a shame. After all the good work and strategy calls we made today, itís disappointing. We were in the right spot to win. It was a fair fight with the Aston Martin. We had a chance but it didnít happen. We come here to win this race. There is no other place we want to be. Itís a shame for the entire team. We all worked very hard in preparation. Both Jan and Jordan did fantastic jobs driving. There were just a number of things that went against us."

JAN MAGNUSSEN - #63:
"The race was one where everyone was so close and so evenly matched. When Antonio had a cut tire and had to come in early (in his second stint), that put us behind everybody and on a different strategy. That also meant that we would not be catching the slow zones in the same everyone else and that really started to bite us. So we fell further and further back. Until we got back on the same strategy as everyone else, it was an uphill fight. But the car was good and the team worked fantastic the whole time. Antonio and Jordan drove perfect throughout the whole race. When we perform like this as a team, itís difficult not to be disappointed with the outcome. A podium at Le Mans is pretty decent; itís just not what we came for."

JORDAN TAYLOR - #63:
"Obviously it was a disappointing finish. But if you look at the whole 24-hour race, we werenít always up front. So leaving with a podium finish is something we can be proud of. When you come so close, extremely close, that is the frustrating part. I think we showed a never-give-up attitude. We went two minutes down early in the race and fought back from there. A lot of people doubted that we could bring it back. I think everyone executed well and unfortunately it just wasnít our day."

OLIVER GAVIN - #64:
"It was one monumental battle in GTE today, whether we were dealing with the conditions, the competition or the traffic. We were right up there when we had our incident which cost us four-and-a-half laps and basically ended our race. The competition in GTE is so tight itís impossible to catch up that kind of delay. At Le Mans you canít but recognize the efforts of everybody involved with Corvette Racing, especially the guys of the 63 car. I feel terribly sorry for them to have lost the race in this way."

TOMMY MILNER - #64:
"This was a race all of us at Corvette Racing had high hopes for. But those hopes fell just a bit short. For us, Iím disappointed to have had the problem we did, which put an end to our race. Iím super bummed for the No. 63 guys to have come that close to a win. But they did a great job all race long. Everyone at Corvette Racing can hold their head up high as this has been one of the greatest GT races Le Mans has ever seen. Itís always a pleasure to come to Le Mans with Corvette, and this result makes you want to start to prepare for next year starting tomorrow."

MARCEL FńSSLER - #64:
"I enjoyed the race and the Corvette really a lot. We had great overall speed, all three of us, and I think we would have had the chance to fight for the win or a podium finish like the sister car had we not had our issue. But Le Mans decides for you and it cost us four laps the same four laps we were down on the winners at the end. I also feel sad for the sister car which had the puncture on the last lap. Even though it was a tough race, I enjoyed the event and the team enormously."

DOUG FEHAN, CORVETTE RACING PROGRAM MANAGER:
"Just as predicted this may have been one of the most epic GT races in Le Mans history. To have all the manufacturers so closely matched is a testament to all the hard work of the ACO and the FIA. We saw an event over the past 24 hours in which all of the 13 cars entered in GTE Pro were capable of leading and winning. Thatís good racing and we couldnít be more proud to have been part of it."

GARY PRATT, CORVETTE RACING TEAM PRINCIPAL:
"Whenever you have a great race like that itís always nice to win, but you canít feel bad about having a great race like that and it coming down to the last lap of a 24-hour race. Itís just fantastic racing and hats off to those guys. They did a good job and we were one lap shy."

| | | |
| --- | --- | --- |
| | 2017 Le Mans 24hr: Race Info | |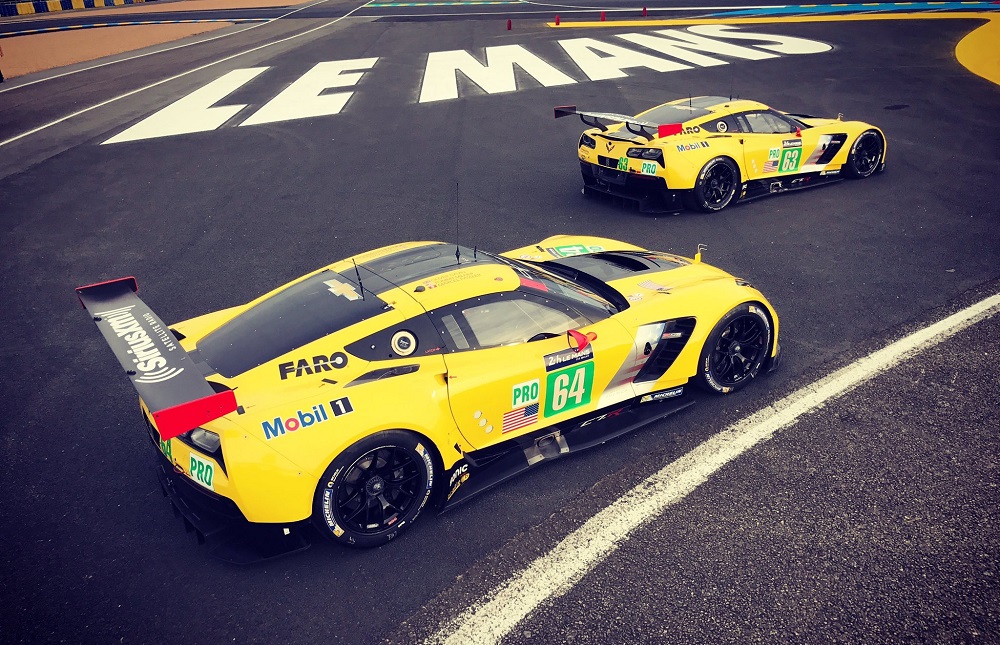 | | |
| --- | --- |
| June 14 2017 01:15:00 PM EST | Jan Magnussen |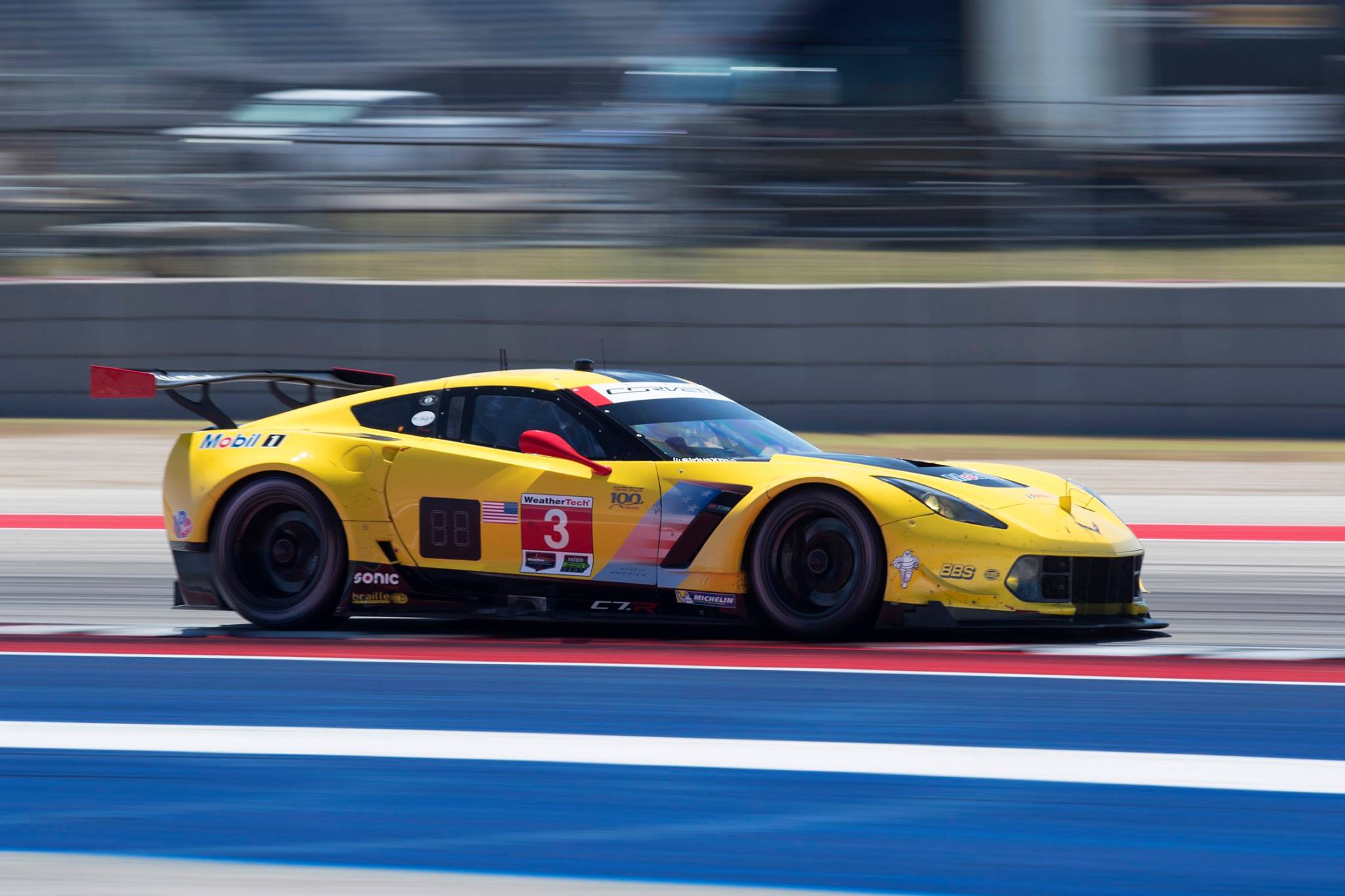 | | |
| --- | --- |
| May 15 2017 04:54:56 PM EST | Team Chevy |
VIDEO: 2017 COTA Qualifying
VIDEO: 2017 COTA Race Broadcast

Over a 2 minute lap, most of the GTLM field was covered within 0.5 second in Qualifying, but that would all change on lap 1 turn 1.

Going into the first corner, the 66 Ford got into the back of the 62 Ferrari which proceeded to crash into the 67 Ford and 4 Corvette. The 4 Corvette also made contact with the 912 Porsche. CLICK HERE to see the indecent.. Tommy Milner managed to drive the 4 Corvette back to the garage with major front end and suspension damage. The team went to work, never gave up, and got the car back out, but many laps down.

After all the dust settled, the 3 Corvette was 4th in class and falling behind the leaders at about 0.5 seconds a lap. Later in the race a GTD Lamborghini stopped on track. The 3 Corvette team made a heads up decision to pit before a full course caution came out. When the caution did eventually come out, the remainder of the GTLM class made their pit stops which allowed the 3 Corvette to move to the front of the field.

The Corvette definitely did not have the pace, but the remaining competition in the GTLM class continued to make mistakes and allowed the 3 Corvette to drive home to victory.

Call it what you will, but maybe the racing gods returned the luck from the final lap incident at Long Beach.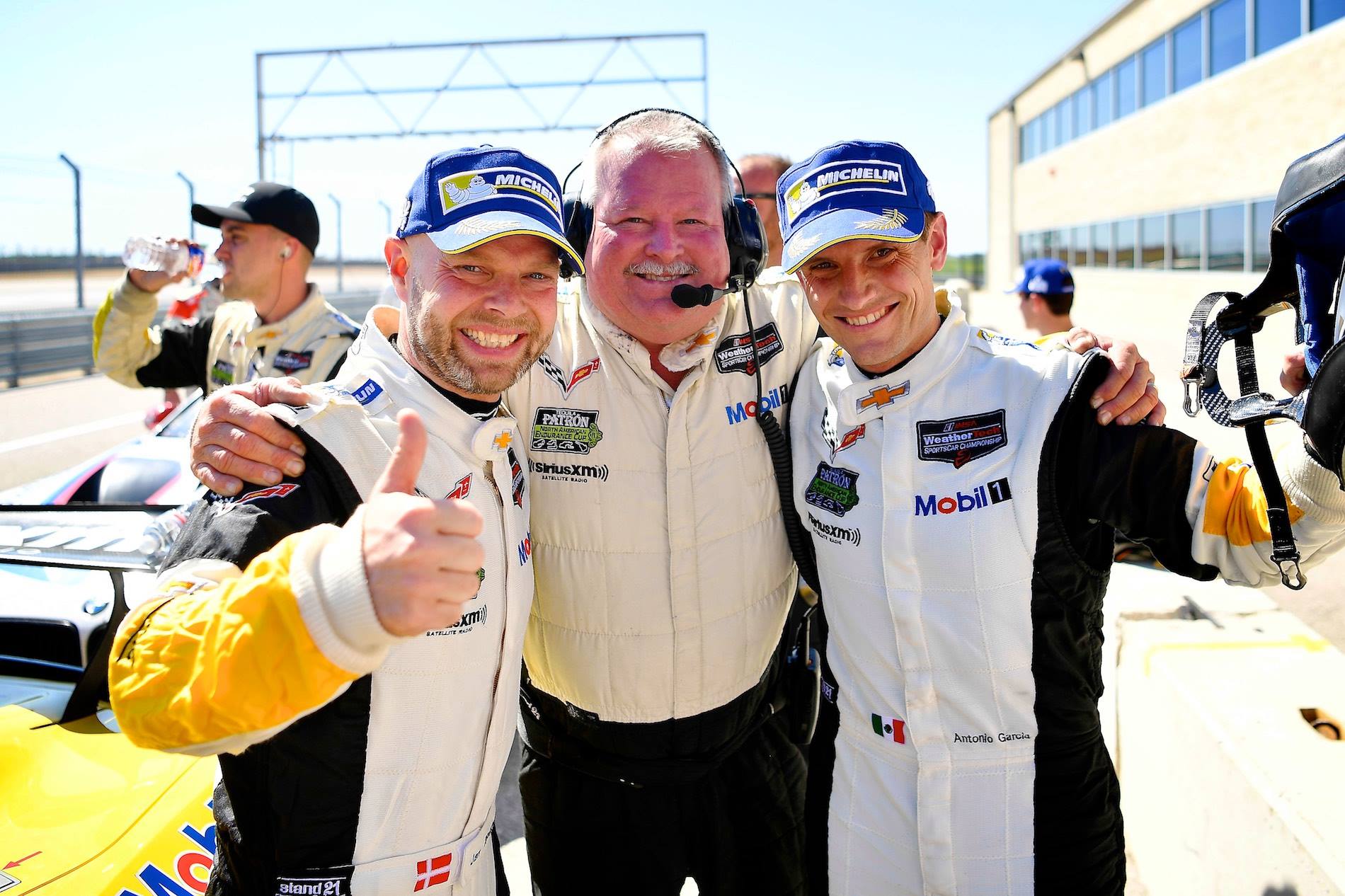 Jan Magnussen PR

OFFICIAL PRESS RELEASE:
AUSTIN, Texas (May 6, 2017) Ė Corvette Racingís Antonio Garcia and Jan Magnussen won their second race of the season in the IMSA WeatherTech SportsCar Championship on Saturday with a GT Le Mans (GTLM) victory in the Advance Auto Parts SportsCar Showdown.

The victory at Circuit of The Americas for the No. 3 Chevrolet Corvette gave the pairing the lead in the GTLM Driverís Championship, as well as moved Chevrolet into first place in the classí Manufacturerís standings. It was the 105th all-time victory for Corvette Racing.

"This was a great result for Antonio, Jan and the No. 3 Chevrolet Corvette C7.R team," said Mark Kent, Chevrolet Director of Motorsports Competition. "Not only has Corvette Racing won three straight races in the IMSA WeatherTech SportsCar Championship, we now lead the GTLM Manufacturerís, Drivers and Team championships. This is a great way to head into our break for the 24 Hours of Le Mans."

Garcia and Magnussen won by 2.498 seconds after the No. 3 Corvette had led by upward of a half-minute before a late-race, full-course caution bunched the field back together for the final five minutes. The duo won at COTA for the second time together, the first coming in 2013. Unofficially, they lead the GTLM Driverís Championship by six points after four of 11 rounds.

Chevrolet and the No. 3 Corvette squad lead the class Manufacturerís and Team standings by six points, as well.

Oliver Gavin and Tommy Milner, winners last month at Long Beach in the No. 4 Mobil 1/SiriusXM Chevrolet Corvette C7.R, saw their race Saturday effectively end at the first corner of the opening lap. Milner couldnít avoid another spinning GTLM car and also was hit from behind after the initial impact.

The No. 4 Corvette Racing crew worked quickly to replace several suspension and brake components at the front and rear. Despite the setback and multiple trips to the garage, the No. 4 Corvette finished seventh in class.

Magnussen avoided the first-turn melee from his sixth-place starting position and settled into fourth for the balance of his stint. The key point in the race came when No. 3 Corvette lead engineer Kyle Millay called in Magnussen to the pits at the 51-minute mark as another car stopped on track. Magnussen reached the pitlane before the caution flag flew and handed off to Garcia, who got a full tank of fuel and fresh Michelin tires.

None of the three leading GTLM cars made the pits before they closed, giving Garcia a huge advantage in track position when the other contenders stopped. Garcia never trailed again.

Corvette Racingís next event is the 24 Hours of Le Mans on June 17-18 from Le Mans, France. It returns to IMSA competition for the Sahlenís Six Hours of The Glen on July 2.

ANTONIO GARCIA:
"I think it is the perfect way to come back after what happened at Long Beach. We have had four races this year with zero mistakes by Corvette Racing in any of them. That is what it takes to be there if you have the pace to win. If you donít have the pace, you finish fourth Ė like what happened at Daytona. Then we took the win at Sebring; that one was a bit unexpected but we really worked for that.

"On pure pace we didnít have the best car. But it is not the first time we have won here not being the fastest. It was a perfect call to pit just before the second yellow. That gave us track position. It feels like we put a lot of pressure on our competitors and they started to make mistakes. Iím very happy with that if that is what it takes. From then I just tried to maintain the gap to second place. We were all just counting down minutes and laps, and seeing how much slower I could go. I didnít care so much about the other car catching me because I donít mind winning by three seconds or 20 seconds. I knew that if there was a late yellow, which we had, I needed to have better tires.

"I donít know if I saved enough tires to be faster than (Alexander Sims), but in a way that was enough. I am very glad and very happy for Corvette Racing. It is a shame the No. 4 car had that contact at Turn One. That was very unfortunate. But again, it is three wins in a row for Corvette Racing. I think no one expected that, but that is what it takes for those results: Zero mistakes."

JAN MAGNUSSEN:
"This is a nice way to move on from what happened at Long Beach. But it was a crazy race. So much stuff happened all the way through from Turn One when a few cars got taken out and got in trouble. I got a good start and got clear of all of that. My first stint I was trying to pay good attention to the tires and give good feedback to the team to the changes that needed to be made for Antonio. When he got in, the team made a fantastic call on that pit stop to beat everybody outÖ again! Then a few cars got in trouble and got some penalties that gave Antonio a massive lead which he was kind of nurturing. I donít think he was pushing too hard, just making sure not to make any mistakes. It is a fantastic result for the team. This is a really, really nice way to head to Le Mans."

OLIVER GAVIN:
"Our race was ultimately shaped by what happened at Turn One on Lap One. Some over-optimistic driving by some of our competitors resulted in Tommy having nowhere to go at the first corner. We basically spent the rest of the race getting our Corvette right so we could go out and complete the race. Thatís the never-give-up attitude within Corvette Racing. The car felt OK at points but we were burning through the tires really quickly. When the car is as damaged as it was at the right-front and left-rear, you have to change out so many parts to get it back out. The crew at Corvette Racing did a great job and worked as fast as they could to get us back out. It was a rough day for us but congratulations to the sister car, Antonio and Jan. They ran a clean, smart race, and thatís what you need to do."

TOMMY MILNER:
"It looked like one of the Fords and the Ferrari were a little off line at the exit of (Turn) One. There must have been some contact or something like that got the Ferrari coming back across the track. It looked like racing a little bit too hard at the start. We were just unlucky and got the right front into the Ferrari and then we got it from behind from someone unsuspecting as well. Itís not the way we wanted to start our race, but the guys did a great job working to get Oliver and I back out so we could get as many points as possible."

DOUG FEHAN:
"When youíre good, youíre good. When youíre good and youíre lucky, you can be unbeatable. We had a great Corvette today, a great team effort and good fortune Ė all that allowed us to bring home a victory in the No. 3 C7.R. I donít think there were many people on the grid that gave us much of a chance. Inside Corvette Racing, however, everybody believes. And today everybody executed. Itís unfortunate we lost one of the Corvettes on the first lap, weíve been there before. Our experience came in today. Flawless execution is going to get you to the finish line. Once again Corvette Racing got there first."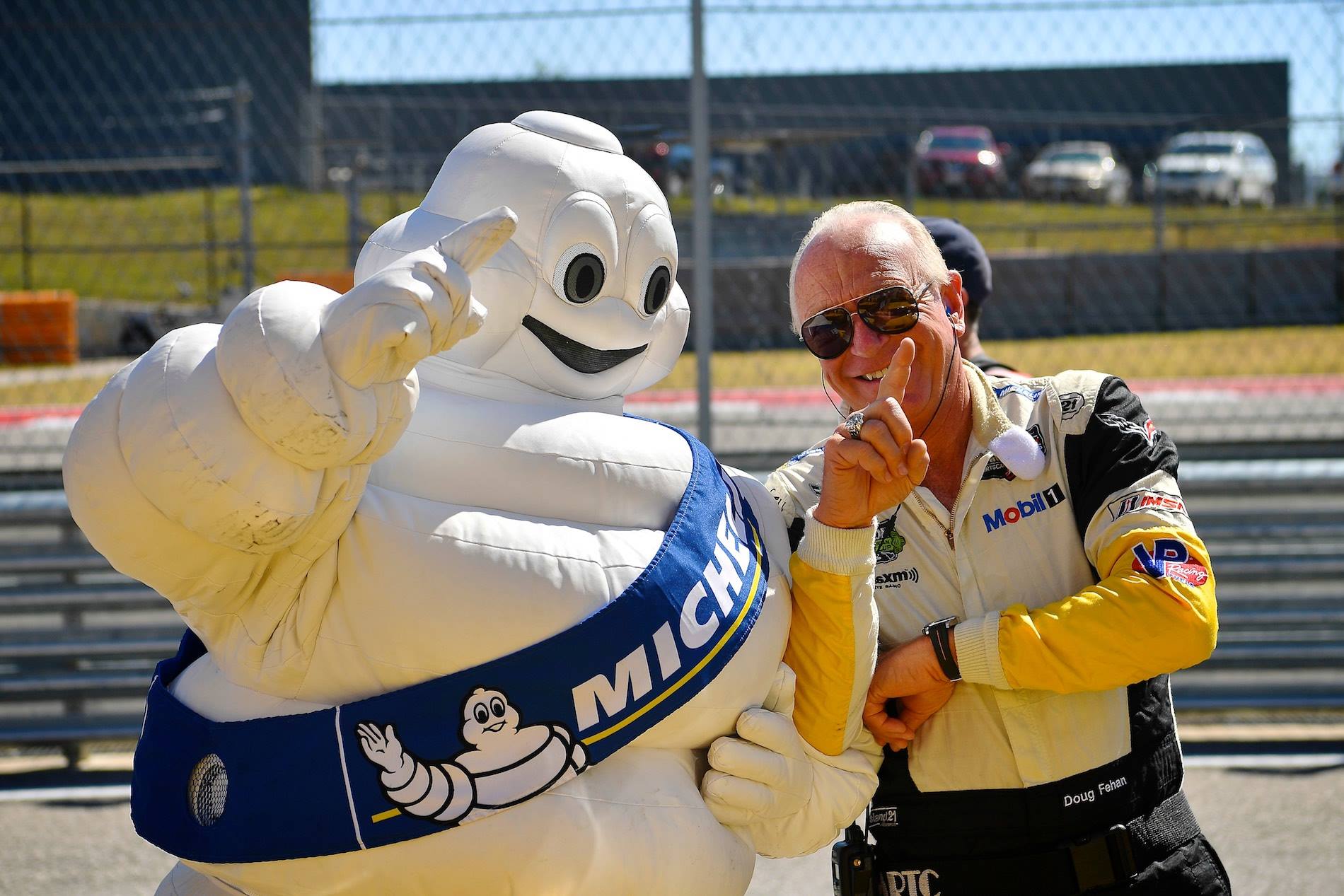 Jan Magnussen PR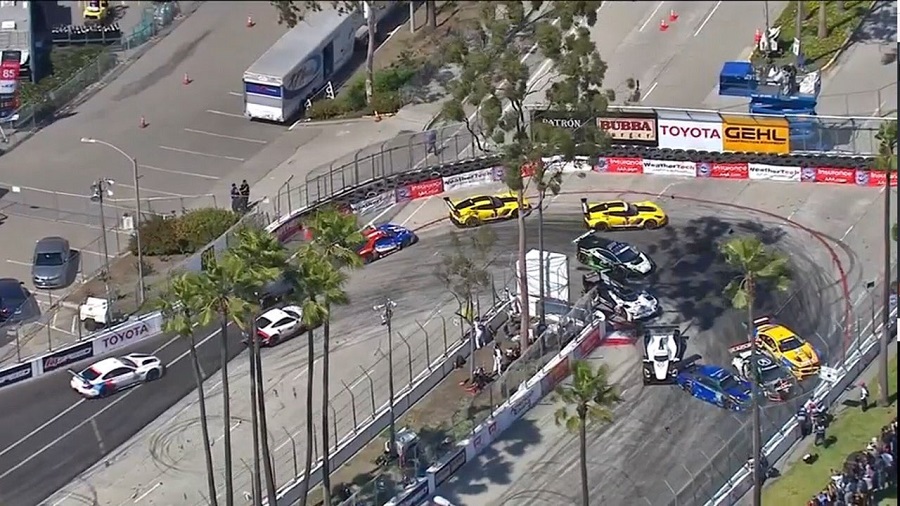 | | |
| --- | --- |
| April 12 2017 09:23:14 AM EST | |
Long Beach is always a high risk high reward race. Passing is nearly impossible, and making the wrong move could prove disastrous. Qualifying position is very important. Jan Magnussen managed to whip out a quick lap to take the GTLM pole in the #3 Corvette, and the #4 grabbed 6th in an ultra tight qualifying session.

Lap 1 Magnussen was passed in turn 1 and at turn 5 got caught up in a spun prototype pushing him down the order. It seemed the pole was all for nothing until a series of cautions and pit stratagy played to their favor. Somehow with just a few laps to go the #3 saw itself in the lead with the #4 sister car right behind. It was going to be a great day for Corvette Racing until the field made it's way to the hairpin for the final time and came to a roadblock with several cars stopped on track. Antonio Garcia was stuck so Tommy Milner had no choice but to go around for the race win.

VIDEO: 2017 Long Beach TV Broadcast
VIDEO: Sights & Sounds of the 2017 Long Beach Grand Prix

OFFICIAL PRESS RELEASE:
LONG BEACH, Calif. (April 8, 2017) Ė Corvette Racingís Oliver Gavin and Tommy Milner won the GT Le Mans (GTLM) class at Saturdayís Bubba Burger Sports Car Grand Prix of Long Beach in the No. 4 Mobil 1/SiriusXM Chevrolet Corvette C7.R. It is the sixth class win for the team and Chevrolet at the historic Long Beach street circuit.

Gavin won for the fourth time at Long Beach, and the victory was Milnerís second at the event. They won together in 2012, and on Saturday came from sixth at the start to record a surprising but rewarding victory in the IMSA WeatherTech SportsCar Championship.

"After a hard-fought battle, it was rewarding to see Tommy Milner roll the No. 4 Corvette C7.R into Victory Lane today at Long Beach,Ē said Jim Campbell, Chevrolet U.S. Vice President, Performance Vehicles and Motorsports. "Tommy and Oliver Gavin overcame adversity early in the race to be there at the end to capture the win.Ē

Antonio Garcia and Jan Magnussen, coming off a GTLM victory at Sebring three weeks ago, placed fifth in class Saturday with their No. 3 Mobil 1/SiriusXM Chevrolet Corvette C7.R. Garcia seemed headed for certain victory until a multi-car incident at the final turn blocked the track and brought a handful of cars to a stop Ė including both Corvettes. Garcia became trapped on the left-hand side of the track while Milner, on the right-hand side, was able to slip through the traffic jam and won by 1.830 seconds.

The two Corvettes found themselves running 1-2 in class with 10 minutes left despite different race strategies. Magnussen was caught up in an opening-lap incident and suffered damage to the front of the No. 3 Corvette C7.R. Garcia drove the final 78 minutes on the same set of Michelin tires and tank of fuel, aided by five full-course caution periods.

Gavin drove the first 42 minutes in the No. 4 Corvette before handing off to Milner. Not long after Milner left the pitlane, an incident Ė similar to the once that impacted the raceís finish Ė blocked the final turn with Milner stuck in the outside lane. Nearly an hour later, he found himself approaching the same situation but chose to take the inside line. As it turned out, it again was the lane that was able to clear the pileup.

"While the outcome of the late local caution was frustrating, it is the never-give-up attitude of everyone at Corvette Racing that continues to result in these exciting races and finishes," Campbell said. "We had two strong race cars today and look forward to the next race at COTA."

The next race for Corvette Racing is the Advance Auto Parts SportsCar Showdown on May 4-6 from Circuit of The Americas in Austin, Texas. FOX Sports 1 will air the race at 7 p.m. ET on Saturday, May 6. Live coverage will be available on FOX Sports Go with live audio coverage from IMSA Radio is available on IMSA.com.

OLIVER GAVIN:
"This was a very bizarre day and finish. We will take this victory, and weíre glad that Corvette Racing and Chevrolet have won again at Long Beach. It was just a very unfortunate way that it worked out for Antonio and Jan. Weíve all raced together for so many years now. Itís definitely not the way Tommy and I would have liked to have won. But at the end of the day, a victory is a victory. The good thing for Tommy and I is that it has gotten us back in a good direction heading to COTA for the next round."

"The start was pretty interesting. Coming down into Turn One, it looked like Jan had been jumped by a couple of cars. On first laps here, youíre always looking to see who has their tires up to temperatures, who is using a little bit of extra road and who is taking chances. When I came to Turn Five, the Patron car was already backward going over the apex curb. Knowing that the camber falls away, I knew everyone would be going outside and into the wall. Three of us managed to avoid any contact and got through. From there, it was a lot of insane racing. "Yes itís a 100-minute race but some people were trying to win it with 75 or 80 minutes left. My goal was to keep the Corvette clean and hand it off to Tommy at the appropriate point whenever the team called us in. We managed to do that and our crew managed to get us out and in front of the cars we felt we were racing. Even past that point, the race kept getting turned on its head. You never knew which way it was going to go."

TOMMY MILNER:
"It was a weird race today for sure. There was a lot of giving and taking throughout the day. As for the finish, Iíve never seen things work out that way for me or anyone else for that matter. You feel bad for the No. 3 guys, for Antonio and Jan. They had a great race and did everything right. It was just unlucky to lose it that way in a big pack. You need luck in racing sometimes, and today we had that on our side. It feels good for us to get a win and to get points for our No. 4 Corvette and Chevrolet.

"We were a bit behind at one point and it didnít look like our strategy would play out for us. All those cautions allowed the cars who pitted early could make it on one stop for fuel. Our hope was to get past them if they had to make a late splash for fuel. That didnít happen. I was hoping for another yellow to get us bunched back up again, which is what happened. I had 13- or 14-lap newer tires and I was able to get around the 24 and I went door-to-door with the 67. That allowed Antonio to get out in the clear, and then so was I. He was quick but then his tires started to go away. In that situation, getting by him was going to be really tough."

"In the last corner at the end, my first reaction was that the race was over. Antonio had a gap over me and also over the 67. I figured it would end up like that but I heard on the radio that there was another crash at the hairpin. At first the track was clear and then it wasnít. I was in that exact situation earlier in the race and went to the outside; it didnít work and I lost a spot there. I went to the inside this time, and it opened up. When I got out of the hairpin, I saw green but thought the race was over until they told me on the radio that we had won. It was definitely an unusual way to take a victory. Now we have to regroup as a team and get ready for the next race at COTA."

ANTONIO GARCIA:
"Iíve never been part of a finish like that. Itís for sure very difficult to go through; Iím very confused with how the officials judged both incidents in the last corner. Our No. 3 Corvette team did everything we needed to do in order to have the best chance at another victory. I donít understand the ending and unfortunately for us the results are what they are. All we can do is put ourselves in position to go for a win the next race in Austin."

JAN MAGNUSSEN:
"The start was unfortunate. I didnít get a good getaway. I kind of got swamped going into Turn One. Then I was just in the wrong place going in to Turn Five when the Ferrari got it wrong with one of the prototype. I got caught in all of that and set put us back. We were on a different strategy from there. Our team did a fantastic job. It just an unsatisfying result."
| | | |
| --- | --- | --- |
| | 2017 Sebring 12hr: Results | |
| | |
| --- | --- |
| March 29 2017 06:42:32 AM EST | Michelin Alley |

Going into Sebring Ford was the strong favorite after winning the 24hrs of Le Mans and then winning the 24hrs of Daytona. Some said the Fords still have a performance advantage. And sure enough, they took pole in qualifying at Sebring. Was Ford going to run away with it like Le Mans?

Corvette Racing does not race just to make a showing. They race to win. They were not the quickest cars on track, as they usually aren't, but they gave the class a run. Great teamwork, strategy, flawless pit-stops, and the drive of a lifetime by Antonio Garcia in the final stint took the #3 Corvette C7.R to victory lane for the 11th time at Sebring.

VIDEO: Doug Fehanís Pre-Race Q&A Session
VIDEO: Final Pit Stop - #3 Corvette C7.R
VIDEO: Celebration in the #3 Corvette Pits
VIDEO: Michelin GTLM Sebring Recap
PODCAST: SC365 Double Stint Podcast - Antonio Garcia Interview
PHOTO GALLERY: The BLOCK - Capturing Sebring with Matt Best

OFFICIAL PRESS RELEASE
SEBRING, Fla. (March 18, 2017) Ė Corvette Racing stormed to a stunning class victory in the Mobil 1 Twelve Hours of Sebring Fueled by Fresh from Florida on Saturday Ė its third straight in North Americaís oldest endurance sports car race. Antonio Garcia, Jan Magnussen and Mike Rockenfeller drove the winning No. 3 Mobil 1/SiriusXM Chevrolet Corvette C7.R to a 4.453-second victory for the teamís 11th Sebring class victory.

It ended an amazing comeback for the No. 3 Corvette, which ran sixth as late as the eight-and-a-half-hour mark of the IMSA WeatherTech SportsCar Championshipís second round. After maintaining through difficult conditions and bad luck in the afternoon, a series of strategic calls, strong pit stops and exceptional driving resulted in another Sebring triumph for Americaís sports car.

Garcia drove a stunning final two hours and 53 minutes to claim victory. He led the final 35 laps and withstood intense pressure from other contenders in the class. While Sebringís brutal conditions and bad luck began to claim other entries, the No. 3 Corvette and its team ran a nearly flawless race.

Saturdayís victory was Magnussenís fifth at Sebring, the third for Garcia and first for Rockenfeller. The trio also won the second of four Tequila Patrůn North American Endurance Cup rounds of the season.

The No. 4 Mobil 1/SiriusXM Corvette C7.R was forced to retire with water temperature issues that arose in the opening hour. The root cause remained unclear, and it brought an early end to the day for defending class winners Tommy Milner, Oliver Gavin and Marcel Fšssler.

Garcia, Jan Magnussen and Mike Rockenfeller each rotated through with two stints each in the first six hours. The No. 3 Corvette C7.R led at the three-hour mark but a combination of greasy track conditions and bad luck with traffic and caution periods hindered its standing at six hours.

An emergency stop for fuel near the halfway point was particularly cruel. Rockenfeller was set to pit for new Michelin tires, fuel and the exchange to Garcia but the yellow flag ruined that plan and strategy. Instead, Rockenfeller had to stop for five seconds of fuel and then again one lap after the GTLM leaders completed their stops.

Fortunes reversed for the No. 3 Corvette with a timely full-course caution with four hours left. A perfect pit stop moved Magnussen from sixth to third on a restart. That the stage for the late-race heroics.

ANTONIO GARCIA:
ďI knew it was going to be really, really tough. Since yesterday in qualifying it was super close, the first two hours I managed to make my way up to P2. I did two hours first following the No. 66. Then I did that third hour and I was kind of sick of following Fords. So at some point I just needed to go. We made that really good call to come in with the Ferrari. So the Fords stayed out on a poorer set of tires than us. I knew that had to be my stint. That first stint with two or three stints to go, I needed to make the moves and pass the Ferrari. I passed the No. 68; I passed (Scott) Dixon. I passed everybody because I knew it had to be done then because that was probably the only time they would be a little bit weaker than we were. It worked. At the end the Porsche looked very, very strong. That second-to-the-last time they pitted quite a bit later than us, and they were flying. They passed all the way up to us until that last safety car. Again, there was a magnificent stop by the Corvette Racing crew. I think the Porsche made a mistake there. Without knowing, I thought it was Joey (Hand) behind us, but it was again the Porsche. I knew it was going to be tough. I didnít know if I was going to be able to hold him , but probably. The car kept going faster and faster. When you lead the way, the aero works pretty decent compared to when you follow someone. At the end things went a little bit in our favor. It was a sprint to the end. I canít believe what Corvette Racing did today. Just awesome. Amazing.Ē

JAN MAGNUSSEN:
ďI donít even know where to start. What a fantastic race. It was a tough raceÖ a hard race. I mean I am so happy about this. The boys did a great job with the pit stops. Antonioís last stint there was just fantastic. What can you say? It is just fantastic. It was all about running our own race and then at the end when we had to do something, to then be able to do it. The crew Ė those last couple of pit stops Ė awesome. As I said Antonioís last stintÖ just fantastic!Ē

MIKE ROCKENFELLER:
"It is still hard to believe right now because I didnít expect it. We had a tough race, and Antonio (Garcia) did just a fantastic job Ė like always. But it is very special what he got out of the car today. That is why I am speechless. I am very happy for the team. Thanks to Corvette Racing and everyone on the teams Ė all the mechanics and engineers. They always believe. We had a tough start in Daytona and even here. We werenít the quickest all the time, but at the end when it counted, we were there. This team is just amazing!Ē

DOUG FEHAN:
ďI think what we saw tonight may have been the most intense mix of tremendous engineering and strategy from our engineering crew and flawless pit stops all day long by our Corvette Racing crew. Then there was the driving exhibition that Iím sure will be a highlight of Antonioís career Ė certainly at Corvette Racing. When you put those three elements together, we are hard to beat. It was an amazing demonstration by everyone at Corvette Racing.Ē




| | | |
| --- | --- | --- |
| | 2017 Sebring 12hr: Race Info | |

| | |
| --- | --- |
| March 12 2017 03:21:52 AM EST | Oliver Gavin |